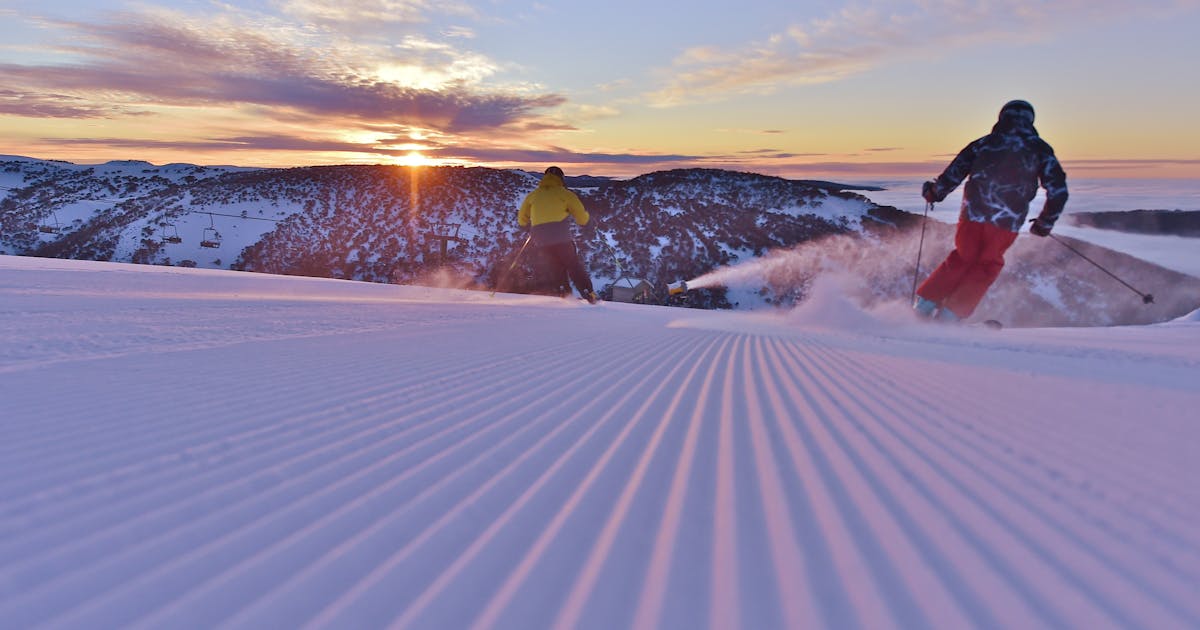 4 reasons to visit Mount Hotham this winter
Is there a better feeling than, well, losing the feeling in your face to the jaw-dropping icy wind as you cop down a mountain? Maybe so, but it's just having hot chocolate after said descent. Yes, we are of course talking (or skimming) about the skiing experience. In our books, there's only one place that comes to mind: Mount Hotham. You may know them and love them as much as we do, but we're here to tell you why you need to visit Hotham this winter, not just on the weekends – and not just to ski.
It's a secret hideaway for foodies
Who the hell would think that hidden in the mountains you will find truly delicious food? First of all you know we live our best hot choccy in the snow at The Bird Café and Bar which is conveniently located a few meters from the Summit chairlift so you can ski straight in. Looks like the guys at the Bird also light it up at sunset with theme nights, live music and happy hours. Zirky's, right on the slopes, is your one-stop-shop for easy feasting. With loads of easy takeout, pastries and coffees plus a deli type section filled with loads of local gourmet food, wine, beer and prepared food to take to your room. A little more whimsical Jack Frost has what you need to heat up drinks like spiced mulled chai wine or a hot buttery whiskey and the menu is next level; think braised pork belly with star anise and tangerine, Baja fish tacos and beef brisket blackened with mountain yuzu verde. Reservations are essential if you want to get in on the action. There are literally so many more restaurants on offer, like the Alberg Bar and Bistro which is also home to the Mount Hotham Brewery. The gang offers weekly specials, hearty meals, daily happy hours, bar snacks, and pizza until 9 p.m. Give these guys a social media stalk for midweek and off-peak specials and events – they're worth the trip.
Luxury accommodation
Now you know we're so much about a staycation. Close enough to Melbourne to just hop in the car to get there but also a total change of scenery from the bustling city? Oh yeah, it just went to the top of our staycation list. Now let it be known, with all the options available, you can literally bring the whole team AND their partners, all stay in the same (fancy) chalet and still have rooms free. Whitemount caught our eye, but maybe you have the kids, in which case the Lodge for ski players right next to the children's ski and board school might be more your style. There are loads of options with ski-in and ski-out as well as village parking too. Thrill seekers shouldn't miss a Howling Husky Dog Sledding Tour where beautiful Siberian huskies will take you into the winter wonderland of Mount Hotham's backcountry trails. If you are looking to relax and indulge, be sure to plan a Off-road BBQ live at the Tipi. Here you will embark on a short scenic sunset drive to the unique Alpine Nature Experience eco-village and enjoy a delicious, freshly grilled barbecue dinner in a fire-heated tipi, complete with entertainment. Talk about a mid-week reset.
Top Level Views
Ok before you ask – yeah, if you see someone sporting a lady-gaga-in-house-of-Gucci-snow snowsuit, are we okay? But there's a good reason for that: the views from Mount Hotham are downright lush. The insane altitude of the Village means that the surrounding views, from your room, of the slopes or one of the many restaurants on offer, are truly panoramic on top of the world. Oh, and it's like that in and out of season.
Snow worthy of shredding
What you would see in your view is virgin, thick snow. Australia's highest alpine village, Mount Hotham very consistent snowfall throughout the winter and has been dubbed the powder capital of Victoria. The considerable height of the mountains means there is a race for everyone – from beginners to double blacks with the top staff of course at every turn. They also just announced the best start to the season in 22 years with huge snowfall meaning the season is shaping up to be one of record breaking.
Already packed your bags? For more information, reservations and even snow forecasts go to here.
Editor's note: This article is sponsored by Mt Hotham and proudly endorsed by The Urban List. Thank you for supporting the sponsors who make The Urban List possible. Click on here for more information on our editorial policy.