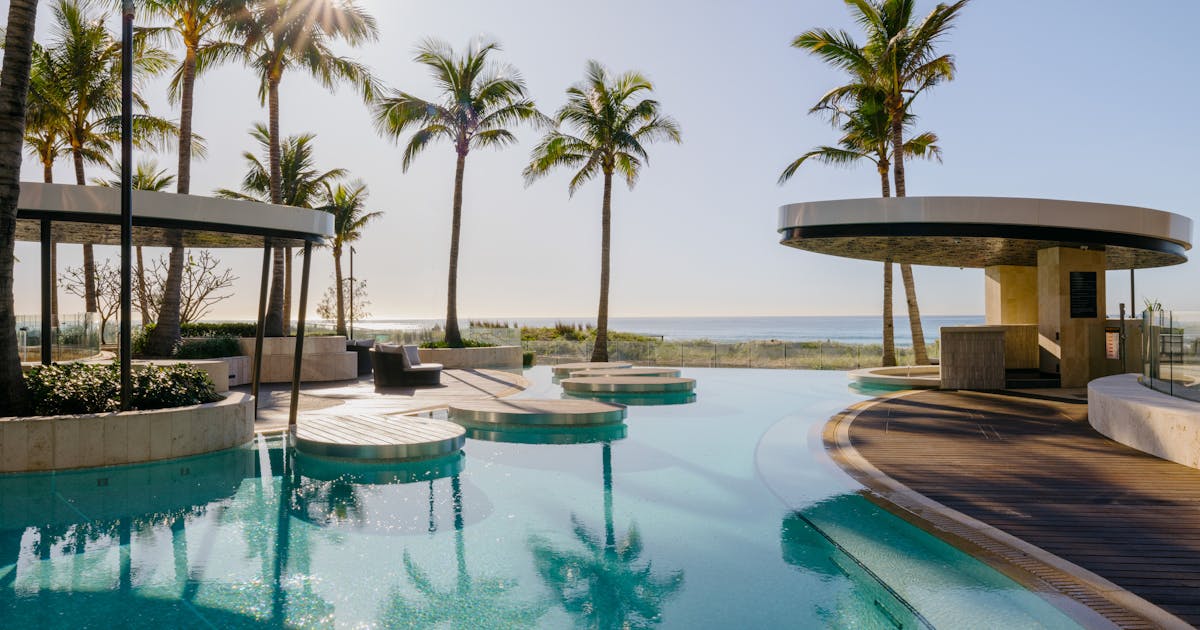 5 reasons to visit the luxurious New Langham Hotel on the Gold Coast
Tired of gloomy weather and chilly days? We hear you loud and clear. The winter blues may be in full swing, but the perfect antidote is upon us.
Submit your annual leave because we have found the place to offer you a luxurious spring getaway. The Langhams new digs have just opened in the heart of the Gold Coast, and we plan to be the first in line.
Reputation alone tells us that a stay at Queensland's premier Langham hotel will be one to remember. From designer rooms to spa treatments to elegant afternoon tea, a night here will transport you to a state of permanent relaxation.
Pack your vacation gear, here's exactly why we're booking a room at the Langham, stat.
Sample The Langham's Signature Afternoon Tea
London's Langham establishment is the master of afternoon tea, in fact, it's been serving it since 1865. As for The Langham's GC digs, you'll want to make some tracks for the Palm Court room, a bright and inviting space decorated in serene furnishings overlooking the lagoon pool and partake in that classic British tradition.
As for the food, you're in safe hands with world-class Executive Pastry Chef Ryan Stevenson at the helm. The list of flavors features bites like Fraser Coast Key Crab Salad and succulent slow-roasted beef. Meanwhile, foodies can try the toasted pecan and orange sprouts or Sunshine Coast strawberry cheesecake. Of course, scones, tea and champers are also on the menu.
Indulge yourself at Chuan Spa
No getaway is complete without a well-deserved spa stop. Luckily, the Langham's Chuan Spa opens its very soothing doors to guests in October. The philosophy here is to combine Eastern wellness practices with the principles of Traditional Chinese Medicine to create a true healing experience.
Whether it's a massage, a facial or a more specialized treatment, you'll find it here. In October, we recommend devoting a day to a yoga or meditation session at the health club, followed by an afternoon dip in the lagoon pool.
Lay your head in style
The Langham team is no stranger to delivering unparalleled luxury, and the rooms at this hotel are just that. Before we even get to the scenery, let's shout out the breathtaking views of the Pacific coast and the hinterland.
There are options for every traveler, from a humble and elegant Superior Room to Executive Ocean Suites. Each offers the same peaceful atmosphere, accentuated by elevated coastal tones, natural furnishings, and large windows. Once you check in, you may never want to leave.
Treat yourself to gourmet dishes
Like everything else, the team behind the dining experience here is nothing short of world class. Executive Chef Craig Robertson leads the team with over 35 years of experience behind him. Whether you're looking for a casual seaside brunch or a delicious dining experience, there's a place for you.
On the more laid-back front, try the beach hotspot 26 & Sunny, or you can opt for a cocktail at the Lobby Bar. Seafood lovers can't skip a course – or three – at Akoya, an indulgent abode overlooking the glistening coastline. But would you believe us if we said that's not all? The hotel is also set to open T'ang Court, its famous Michelin-starred restaurant, as well as Coral Moon, a cozy destination for cocktails.
Dive into the Dreamy Lagoon pool
Let's be honest, the Langham's new coastal pool is one of the best we've seen. Overlooking the beach and surrounded by towering palm trees, you are instantly transported to a tropical oasis. Plus, did we mention there's a fully equipped swim-up bar right at your fingertips? Catch us here any afternoon, pouring down a spritz and snacks alongside the stellar views.
Editor's note: This article is sponsored by Langham's Gold Coast and proudly endorsed by The Urban List. To learn more about who we work with and why, read our editorial policy here.
Image credit: Supplied