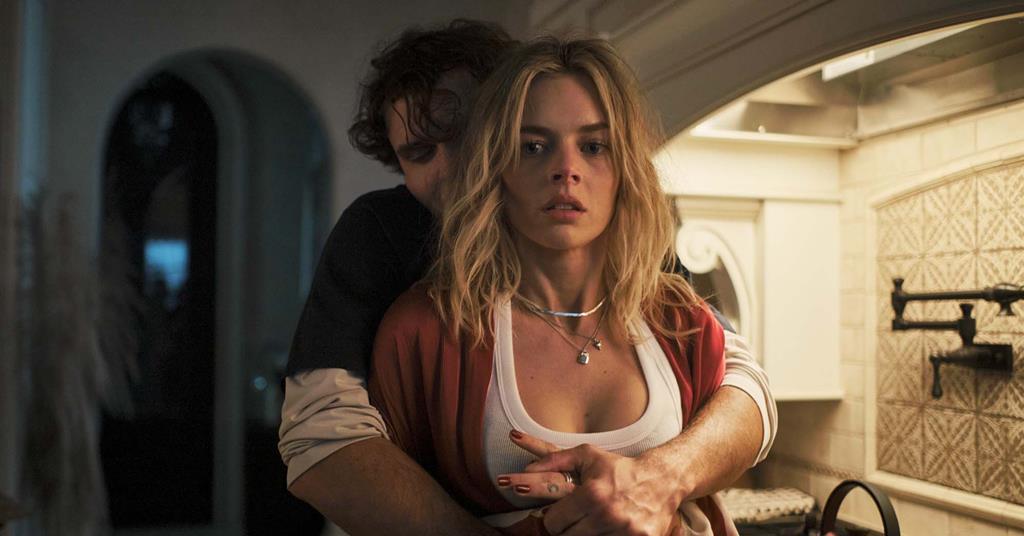 AFM 2022: North American buzz titles | Features
Lionsgate International to kick off pre-sales of Lionsgate and Twisted Pictures' tenth installment, $1 billion global horror flick Seen franchise, which began production in October and will see Tobin Bell reprise his role as the infamous Jigsaw. Kevin Greutert directs. Lionsgate's slate also includes Tim Story's comedy horror Blackeningone of the highlights of Toronto's Midnight Madness sidebar which follows a group of black friends on a deadly escapade in a cabin on June 19th.
FilmNation enter into talks with international buyers on The Island (working title), a dramatic thriller from Pawel Pawlikowski to star Joaquin Phoenix and Rooney Mara, an awards season contender for women who talk. The 1930s story centers on a couple who build an island paradise that goes horribly wrong. WME Independent represents American rights. FilmNation also has international sales on a night of the living dead reboot of Village Roadshow, which co-represents US rights with CAA Media Finance.
AGC Studios brings Joel Kinnaman action thriller The silent hour. He is producing with Eric Paquette's Meridian Pictures the story of a hearing-impaired Boston police interpreter and former detective who must thwart corrupt cops searching for a deaf murder witness. Brad Anderson (The machinist) will direct and producers have planned to start production in early 2023.
Veterans launches international sales of a psychological thriller The pack starring Florence Pugh and Alexander Skarsgard, who makes his directorial debut on the story of a documentary crew whose story around an expedition to Alaska takes place at an awards show. 30West jointly finances and represents US sales with CAA Media Finance.
international black bear launch talks on The unkind War Department in turnaround from Paramount, which has Guy Ritchie lined up to direct and Jerry Bruckheimer to produce. Henry Cavill and Eiza Gonzalez star in the wartime spy thriller about Winston Churchill's secret unit set up to defeat the Nazis.
Independent WME has worldwide rights to the Hilary Swank thriller NRA, about a downed pilot who is rescued by a secret US Department of Defense program. Greg Kwedar directs and Peter Berg stars and produces.
Highland Film Group arrives with worldwide rights to sand and stonesa survival thriller starring Nicolas Cage as the father of two teenage sons in a sparsely populated future who must protect his family from ferocious nocturnal creatures.
Voltage Images launches global sales on Blunt, with Amy Smart, Matt Davis, Ne-Yo, Billy Zane and Greer Grammer. Anna Elizabeth James (Deadly illusions) directs the mystery thriller about a single mother who wakes up tied up in her vacation rental and must uncover the identity of her attacker. James is producing through his Kiss and Tale Productions alongside Richard Switzer, Julie Gause, Paul Luba and Chad Verdi Jr.
The exchange will entice buyers with crime thriller Guy Pearce and Jeffrey Dean Morgan Neponset Circle (working title). Pauline Chan tells the story of a disgraced detective released from prison who teams up with his ex-partner to hunt down a serial killer in Boston.
Radiant Films International starts discussions on a completed comedy thriller Limit with Samara Weaving, Ray Nicholson and Eric Dane. Radiant and CAA Media Finance jointly represent the U.S. rights to the story of a romantic sociopath who escapes from a mental health facility and invades the home of a 1990s pop superstar. Tom Ackerley and Josey McNamara produce via Margot Robbie's LuckyChap Entertainment, along with Hadeel Reda and Brian Duffield.
Myriad of photos brings canadian thriller The boy in the woods from Lumanity Productions. Rebecca Snow directs the true survival story of a Jewish boy hidden in the forests of Nazi-occupied Eastern Europe during World War II, based on Maxwell Smart's memoir of the same name and Snow's documentary Fooling Hitler: Surviving the Holocaust.
blue fox entertainment will start discussions on the sci-fi family film Tribeca Spatial oddity about a man whose dream of traveling to Mars becomes complicated. Kyra Sedgwick led a cast that includes Kyle Allen, Alexandra Shipp and Kevin Bacon. Blue Fox also brings Fix the linewhich features Successionby Brian Cox, Perry Mattfeld, Patricia Heaton and Wes Studi in the story of a returned Afghan war veteran who bonds with an older soldier who fought in Vietnam. Joshua Caldwell conducts.
Contest Media has Leader position, starring Aaron Eckhart, Alex Pettyfer and Olga Kurylenko in Jesse V Johnson's thriller about a grieving former CIA agent who teams up with an adversary to uncover a conspiracy. Production is set to begin on November 14.
Magnolia Pictures International will launch discussions on the world premiere of the Edinburgh International Film Festival 2022 neon spring, a Latvian LGBTQ+ drama directed by Matiss Kaza. The story follows a 20-year-old from a troubled family who discovers Riga's rave scene and falls in love with a seasoned clubber. Magnolia owns the US rights.
Epic Image Group tempts buyers with double blind, an Irish horror-thriller about a drug trial that goes wrong, resulting in the death of anyone who falls asleep. The Epic production cast includes Millie Brady and Pollyanna McIntosh. The slate also includes a horror anthology satanic hispanicsfeaturing the work of five Latino filmmakers.
Visit Movies has a genre horror thriller Avoid, about a troubled couple who find a black hole near their remote cabin. Matt D'Elia is directing and the cast includes Aya Cash, Joshua Leonard and Alison Pill.
Red Sea Media will initiate talks on Latency, about an agoraphobic professional gamer who gets a device to improve her game and begins to wonder if it controls her mind. James Croke will direct from his script, Jordan Gertner is producing, and the cast includes Sasha Luss and Alexis Ren. The Red Sea also has a thriller Paradox Effect with Olga Kurylenko and Harvey Keitel about a mother who will do anything to save her kidnapped child. Iervolino & Lady Bacardi Entertainment is producing and Scott Weintrob is directing. Both titles are in pre-production.
Commercial agent based in Buenos Aires MovieSharks has singular crime (An Argentinian Crime) stylized as The usual suspects to encounter Zodiac. Based on the novel by Reynaldo Sietecase, the story follows an investigation into a missing businessman against a backdrop of power and corruption. Lucas Combina directs. The Particular Mob of Warner Bros Discovery is producing with Mediabyte, Pampa Films and Bravura Media. Warner Bros distributes in Latin America. FilmSharks' slate also includes stop-motion animation My Grandfather's Demons directed by Nuno Beato.
VMI around the world officially launches sales of black comedy Tribeca by Joachim Back Corner desk starring Jon Hamm in the story of a corporate climber who discovers a secret room in his lackluster office, causing trouble with his colleagues. Ted Kupper adapted the screenplay from Jonas Karlsson's novel Bedroom. The producers are Dylan Collingwood of Tilt9 Entertainment, Robert Mitchell, Matt Clarke, David Milchard and Luke Rivett for Anonymous Content in association with Oliver Ridge and Andrew Harvey of Space Pilot Media.
Pictures of Pinnacle Peak will filter High expectations starring Kelsey Grammer and Taylor Gray in the story of a football player who falls out of favor with his coaching father and tries out for a rival team. Jonathan Southard and Christopher D White co-directed. Fathom Events was released in the United States on 850 screens last spring.
Toronto-based gender specialist raven banner will start talks on The fighting machine, in which two men from different backgrounds meet in the world of illegal bare-knuckle boxing. Andrew Thomas Hunt is directing the action drama from a script he co-wrote with Craig Davidson. The cast includes Dempsey Bryk, Greg Bryk, Noah Danby, Greg Hovanessian and Michael Ironside.
Film exchange brings the fantasy thriller from Blind Hummingbird Productions Fangaa ride on the The beauty and the Beast story in which an unstable farm girl is captured by a flesh-eating beast. Max Gold wrote and directed the film, which shot in Iceland and stars Andrea Snaedal, Ingi Hrafn Hilmarsson and Gudmundur Thorvaldsson.

MSR Media will speak Alex Pettyfer sci-fi action black noise. Philippe Martinez and Leigh Scott are currently co-directing in St. Kitts and Nevis the story of an elite security team dispatched to rescue a VIP from an exclusive island where they encounter masked gunmen and a mysterious presence. .
First Entertainment Group has a murder mystery What's left featuring the Dusk The franchise's Kellan Lutz. He plays a convict who returns to the small town where he committed a murder, as the sheriff (Anne Heche, in one of her later roles) investigates another mysterious homicide that may be connected. Nathan Scoggins is directing from his original script and Ralph Winter is producing.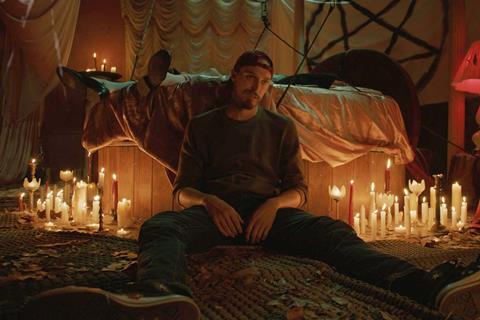 Entertainment team comes with fiery villain, a horror-comedy about a failed YouTuber whose weekend in the Pocono Mountains in the eastern United States turns into a nightmare when a demon joins the party. Jeff Ryan led the Frightfest 2022 selection.
MPI Media Group will bring the market premiere of night of the bastard, about a recluse who shelters an injured woman and must defend her possessions against a bloodthirsty cult and an insatiable witch. Erik Boccio directed the horror thriller starring London May, Henry Mortensen and Mya Hudson.
Cinema mode brings horror mystery All my friends are dead, in which college friends who rent an Airbnb for a music festival start dying. Marcus Dunstan (The Collector franchise) directs and John Baldecchi produces. Jade Pettyjohn is part of the cast.
digital entertainmentsister company of The Coven, presents a documentary little hearts about the work of pediatric cardiac surgeon William Novick, who operates on children in troubled and war-torn countries. Chris dela Cruz directed.
Cardinal XD will speak Bootyology, a rap "rockumentary" about a crew of filmmakers and a missing rap duo. Joe Eddy directed the film which features original music from District 78; it is produced by District 78 and Ryan Richter of Headcase Pictures.