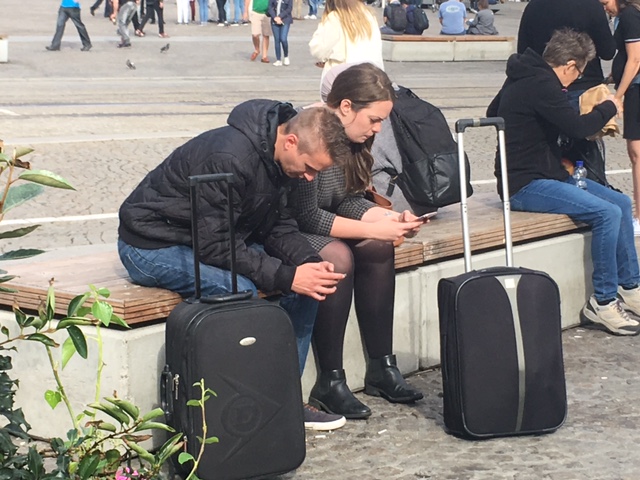 Airbnb faces 30,000 complaints from Dutch residents over consumer service charges
When Marjolein van der Harst takes a break from managing renovations for an all-female painting company, she enjoys visiting Ibiza, Budapest, Portugal and the Netherlands through apartments listed on Airbnb.
"I love vacationing with Airbnb because I don't like big hotels and normally it's a bit more private," she said. "I enjoyed my vacation… but if I paid too much for it, I would like my money back.
Van der Harst is one of some 30,000 Dutch residents who have joined three rounds of claims against the vacation rental giant, after a Dutch court ruled in March that it was breaking Dutch law by charging fees apartment owners and vacationers.
For her, it's about € 200 that she paid in service fees to Airbnb to rent apartments over the past three years, and she registered her claim through the online legal claims start-up. Appeal.
"If Airbnb is working in the Netherlands and we have certain laws, then it must work according to them," she says. "If I go on vacation to another country, I have to live by their laws and if I don't, there is a punishment for that. I cannot say: "I am Dutch: we have different laws!
'Unfair'
His claim is submitted through Appeal, an online system to help tenants recover allegedly illegally charged fees for a housing transaction, and it is one of Appeal's 12,453 claims worth a total of 1.9 million euros against Airbnb… and it continues.
Frank Oostrum, lawyer and co-founder of the start-up, said it was originally launched in 2019 to serve normal tenants who cannot be charged a fee to move into a house since a decision of the Supreme Court in 2015. "After the Airbnb case in March, we received a lot of questions from our customers. We already knew a lot about unfair agency fees and rental fees, so we figured we would accept Airbnb claims as well – and it went totally viral.
The challenges all started in March of this year, thanks to Twee Heren BV, which began to challenge the fees of Airbnb tenants. In the March decision in Amsterdam, it was revealed that Airbnb required apartment owners to pay 3.6% of the booking value, while charging tenants an average of 15% of the total.
Although Airbnb argued that it was governed by Irish law, the Dutch court ruled that local consumer law still applied, the website 'served two masters' and had to reimburse plaintiff Jacques € 470 Hoopoes.
Intermediate
Thomas Wildenbeest, contract lawyer at FlexIEbel and representative of Twee Heren told DutchNews.nl that this is a test case and that a collective complaint for around 10,000 additional claimants is being prepared for a value of d 'about 2 million euros. "If you are acting as an intermediary between two parties and one of them is a consumer, you are not allowed to ask the tenant for money," he said.
"It's a rule of Dutch law and it applies to real estate agents, but it also applies to large technology companies such as Airbnb that operate in the Dutch market. It is simply against the law and relatively easy to resolve by only charging money to people who rent property. '
He said that while the March case does not set a legal precedent, the other cases are so similar in substance, he believes the Dutch judges would logically rule in the same way. He added that consumer law in other countries – like China – might have similar bans, but it should be tested there.
"Other than that it's a great platform and what they are doing is awesome," he added. "But if someone gets too big, at some point it looks like they think local legislation is no longer needed."
Huppes confirmed to DutchNews.nl that Airbnb has reimbursed its costs and that Twee Heren has started working on 165 new court cases.
No cure, no cost
Claims – which are typically handled on a "no pay, no fee" basis and would cost between 25% and 30% in fees if the claim is won – are also initiated by other attorneys.
Onyx Advocaten's tenant lawyer Martijn van Hurne represents three claimants who may choose to join a larger claim to go to court if Airbnb and others fail to reimburse the service fee. He told the NRC that other holiday home companies such as Belvilla, HomeAway and (until recently) Natuurhuisje.nl charge similar fees. "It's a matter of principle," he told DutchNews.nl. "Airbnb has done something that is not allowed and has filled its own pockets."
Other cases are amassed by consumer rights organization Consumentenbond, which told NOS it is handling 9,700 complaints with an average value of € 185 per person.
Airbnb told DutchNews.nl in a statement that it would vigorously challenge the new claims: "The Amsterdam district court decision does not set a precedent and the courts of Utrecht and Rotterdam have dismissed similar claims," did he declare.
"In addition, this decision is contrary to the decision of the highest European judge who recently ruled that Airbnb was not a real estate agent but an information service. We follow the rules and put the rights of our users at the highest level. '
Some Dutch consumers are wondering if another option might be to book their vacation through other means in the future. "If Airbnb doesn't like the law or want to be governed by it," says Van der Harst, "maybe they can't work here in Holland anymore."
Thank you for donating to DutchNews.nl
The DutchNews.nl team would like to thank all the generous readers who have donated in recent weeks. Your financial support has helped us expand our coverage of the coronavirus crisis evenings and weekends and keep you up to date with the latest developments.
DutchNews.nl has been free for 14 years, but without the financial support of our readers we would not be able to provide you with fair and accurate news and features on everything Dutch. Your contributions make this possible.
If you haven't made a donation yet, but want to do so,
you can do this via Ideal, credit card or Paypal.