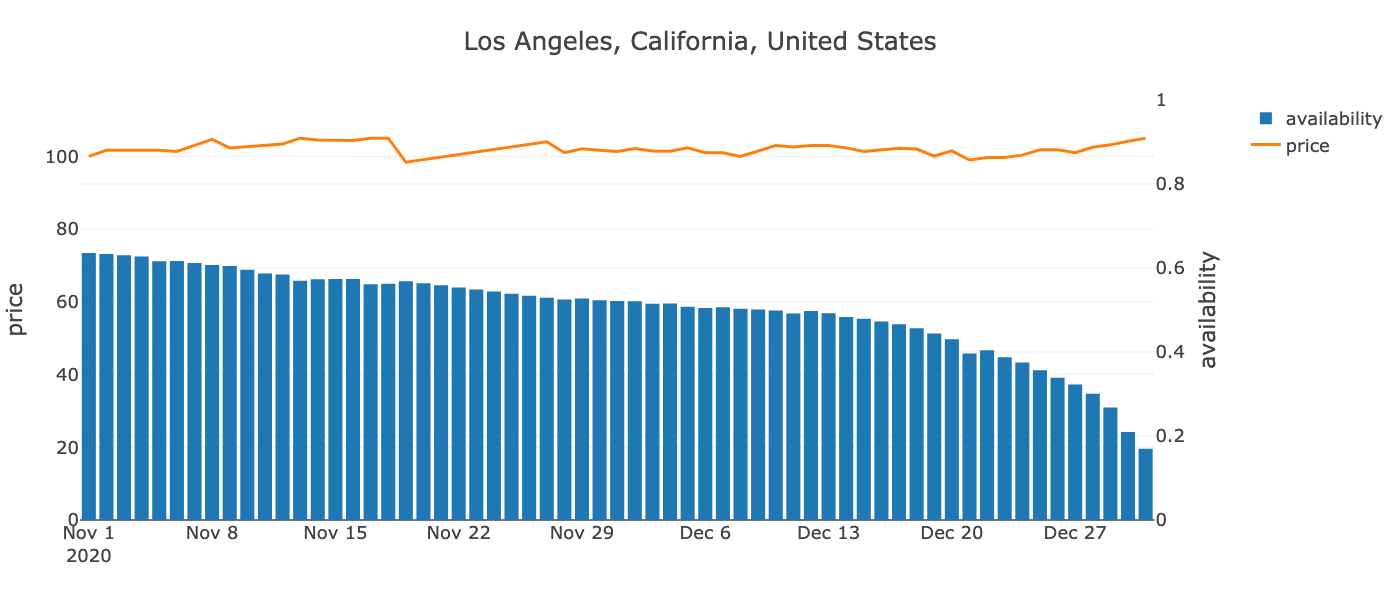 Airbnb occupancy soars as 1 billion hotel rooms remain empty
1 billion unsold hotel rooms in the United States alone
LOS ANGELES (PRWEB)
January 21, 2021
According to Bloomberg, the 2020 holiday season saw 1 billion unsold hotel rooms in the United States alone. This figure is, frankly, mind boggling. While the end of last year was not good for the hospitality industry, the short-term vacation rental market performed quite well during the holiday season.
In an article published on December 11, 2020, Bloomberg writer Patrick Clark said, "This year has been anything but normal, and the extra 350 million unsold nights come at a steep cost. Based on an average daily rate of $ 131, hotel owners lost about $ 46 billion in revenue.
We wanted to kick off the new year with a round-up of the best performing counties and cities in the short term. Airbnb rentals. This is just one example of the kind of deep data insight DPGO is able to. We are experts in local market data and what better way to prove it than by creating a comprehensive report, detailing all the facts and figures of North America's top performing counties and cities.
We have ranked this list based on the average occupancy rate figures over the Christmas period 2020. For your interest, we have also mentioned the average daily rate for these areas.
Now let's take a look at the top 10 cities / counties in North America, by occupancy rate.
According to our data, the counties with the highest occupancy rates are spread across the North American continent. Our average occupancy rates are calculated by combining the occupancy rates for each type of property.
And so, without further ado, the county with the highest occupancy rate is …
Maricopa, Arizona, United States

Maricopa County in Arizona has an incredibly high occupancy rate. As the metropolitan city of Phoenix falls under Maricopa County, there was no real shock to seeing it on the list, but occupancy rates this high are still impressive. Maricopa's average occupancy rate was 94.04% and the average daily rate was $ 91.84.
Miami-Dade, Florida, United States

Next is Miami-Dade, a giant of American counties because it is home to central Miami and Miami Beach, two extremely popular STR sites. The average occupancy rate in Miami-Dade was 93.46%, with an average daily rate of $ 125.72.
Maui, Hawaii, United States

Well, there's no surprise here – Hawaii's vacation island is a logical feature of all of the Top 10 Airbnb destinations. The average occupancy rate was 93.38% with an average daily rate of $ 199.41.
King County, Washington, United States

Home to the giant city of Seattle, King County has an average occupancy rate of 87.61% and an average daily rate of $ 85.61.
Whistler, British Columbia, Canada

Our first Canadian entry is an icon. Whistler's white ski runs are a huge hit in the winter, and that's no surprise! The average occupancy rate was 87.13% with an average daily rate of $ 350.82 – the highest daily rate on our list!
Harris, Texas, United States

The next one is Harris County, United States. As a home to Houston, Pasadena, and Baytown, Harris hosts thousands of Airbnb listings. The average occupancy rate in Harris County, Texas was 79.71%, with an average daily rate of $ 73.39.
Fulton County, Georgia, United States

Atlanta is a very popular city for Airbnb rentals, in fact the 7th most popular city! The average occupancy rate in Fulton County, Georgia was 79.60% and the average daily rate was $ 100.09.
Los Angeles County, California, United States

Los Angeles County comes surprisingly low on our top 10 list. The overall occupancy rate in Los Angeles County was 77.99% and the average daily rate associated with the county was $ 102.05.
Toronto, Ontario, Canada

Toronto is arguably one of the most popular cities in Canada, and with this stunning skyline, you almost expect it. In Toronto, Ontario, the average occupancy rate during the holiday season in 2020 was 61.73% and the average daily rate was $ 95.66.
Montreal, Quebec, Canada

Last but not least is the historic city of Montreal. Made up of once independent cities, Montreal is a very popular tourist destination as it includes influences from a range of cultures and inspirations from various European cities. In Montreal, the average occupancy rate was 57.08% and the average daily rate was $ 76.41.
Have you ever wondered how the STR market is performing in your city? Find out by visiting the DPGO Markets page of our website and view aggregate data from your local market in real time. Markets will show you a range of data relating to your STR location, including average occupancy rate, average daily rate, market supply, minimum overnight stay, and more!
For more in-depth information, register now with DPGO at http://www.dpgo.com and start dynamically pricing your Airbnb to get higher occupancy rates and revenue! We even offer a 30 day free trial, sign up now to get started!