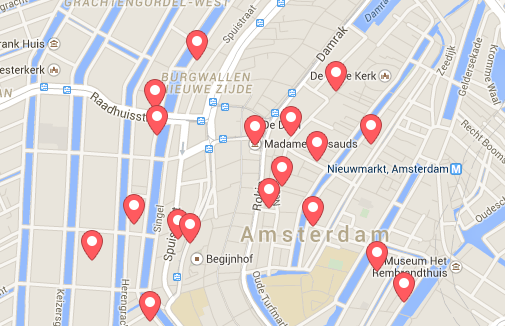 Airbnb report reveals rental levels in Amsterdam and effects of further crackdown
Airbnb first revealed that its owners hosted 2.5 million overnight stays in Amsterdam in 2017.
The owners had 800,000 visitors, who stayed an average of 3.4 days – almost twice as long as the typical stay in a hotel or guesthouse that year, the company says.
The numbers are revealed in a report by consulting firm Ecorys and commissioned by Airbnb, which examines the impact of three Amsterdam municipal government proposals to control the surge in tourism.
To forbid
Yesterday, the city government announced plans to ban Airbnb rentals entirely in three parts of the city, including the Red Light District, due to perceived negative impacts on social cohesion, rising house prices and inequality.
Next year, the maximum number of days that owners of private homes can rent to tourists will be limited to 30 days, down from 60 now.
Meanwhile, Dutch MPs have proposed to treat the violation of renting a home as a tax crime and to tackle tax evasion. The government aims to create a national registration program for private rentals within a year, following concerns about illegal rentals and "overtourism".
The new Ecorys report, however, points out that Airbnb accommodations – not counting other short-term rental brokers such as Booking.com – account for a modest 11.9% of all overnight stays in the Dutch capital. He also claims that his guests are responsible for more than a fifth of the 2.3 billion euros spent in Amsterdam.
According to the report, new rules limiting private rentals to 30 nights per year will result in 310,000 fewer overnight stays, while new hotels in the pipeline will add 3.7 million annual overnight stays by 2022.
'Despite these rules [to control tourism] in the coming years many more tourists will come to Amsterdam… The number of visitors is expected to increase by around 2.1 million, "the report said.
It also argues that Airbnb apartments are more dispersed around the city than hotels, which are concentrated in central areas.
"Measures to curb Airbnb-related tourism … will have a limited effect on the total number of inhabitants in Amsterdam," he adds in his conclusions. "But because Airbnb customers spend more on average, the effect on spending will be relatively larger."
Round table
Bernard D'heygere, spokesperson for Airbnb, told DutchNews.nl that the company wrote to the Amsterdam board to organize a "round table" with other tourism-related organizations, and that the company has said she welcomed a recording program.
A spokesperson for the Amsterdam city council said the figures in the Ecorys report correspond to the amounts transferred by Airbnb in tourist tax.
"We are aware of Airbnb's invitation to the roundtable," she added. "However, I would like to stress that the city of Amsterdam is already in contact with all kinds of actors in the tourism sector and that this subject is a high priority for both the city council, the mayor and the deputy mayors. . "
DutchNews.nl has asked Airbnb for the full data set behind the new report, along with a comment.
This article was edited on October 12 to reflect Airbnb's responses to questions.
Thank you for donating to DutchNews.nl
The DutchNews.nl team would like to thank all the generous readers who have donated in recent weeks. Your financial support has helped us expand our coverage of the coronavirus crisis evenings and weekends and keep you up to date with the latest developments.
DutchNews.nl has been free for 14 years, but without the financial support of our readers we would not be able to provide you with fair and accurate news and features on everything Dutch. Your contributions make this possible.
If you haven't made a donation yet, but want to do so,
you can do this via Ideal, credit card or Paypal.