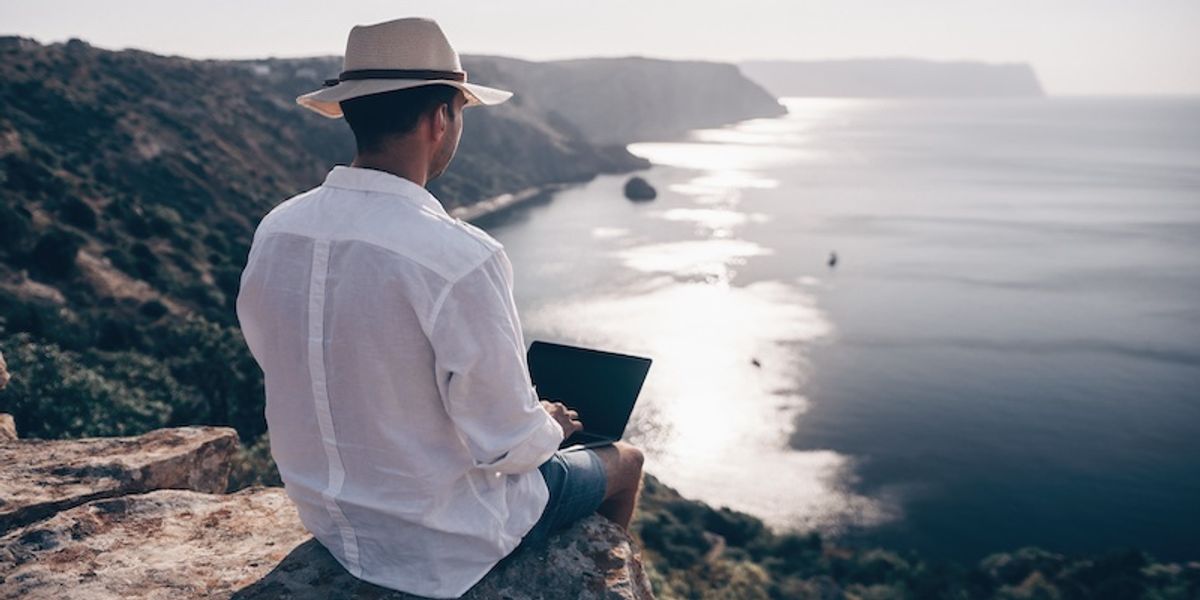 Airbnb sees a big opportunity in the digital nomad market in Asia
As travel companies struggle to fill vacancies, a leading company has bucked the trend by offering people the chance to work abroad for 90 days a year.
This is one of many calculated bets that Airbnb has made in order to create a new niche for long-term worker-travellers.
Steven Liew, Director of Public Policy, APAC for Airbnb, is currently enjoying life as a digital nomad, as he carves out a new segment for the company.
His previous roles have included an eight-year stint at eBay as well as setting up an investment company called Cosmic Cafe with his wife.
Speaking on a panel at WiT Singapore 2022, Liew says, "I think COVID has done a lot of weird things to people. The other panelists talked about introspection. I did a lot of soul-searching during the two years we were stuck in Singapore.
Having made 14 seed investments, he says the investing game "was fun." Still, COVID paid for the time spent with founders and co-investors. Soon he started looking for something more stimulating.
The Airbnb opportunity sounded fascinating.
Subscribe to our newsletter below
"There are very few companies at this point in its growth cycle that are still led by the original co-founder trio, and that are still very values-driven."
While Liew was speaking in Singapore, he had recently spent two and a half months in Japan, testing its potential as a digital nomad destination.
Starting in mid-2022, Airbnb announced that employees could work anywhere in the world for up to 90 days a year, provided they had permission to work there.
"I took this opportunity to reap the benefits on the one hand – and on the other hand, really test this thesis that people should be able to live and work anywhere," he says.
So after covering Tokyo, Osaka, Kyoto, Kanazawa, Nagano, Fukuoka and Hirado Nagasaki, is Japan ready for digital nomads everywhere?
After covering 11 Airbnb listings in seven cities, Liew says he learned a lot about a home's ability to support life and work.
Its market needs include a dedicated workspace, reliable Wi-Fi – and outlets to be seen and within reach.
"For a destination interested in digital nomads, remote workers, entrepreneurs and gig workers who want to spend more time in a destination, there are few things we need to look at," Liew says.
Europe and beyond
Above all, these travelers need a digital nomad visa. In Europe, Malta and Estonia do so, while in Asia-Pacific, Thailand and Malaysia have announced it, while Australia has a working holiday visa.
Meanwhile, Japan and other North Asian markets have yet to introduce one.
Liew observes that Indonesia's tourism minister recently confirmed that with the country's tourist visa, you can now work in Bali for two to three months with the possibility of renewing it once.
Second, tax regulations need to be simplified and clarified.
"If I want to spend nine months in Bali for example, how do you deal with that? So these are the questions that we spend a lot of time trying to figure out.
Having recently attended several meetings of tourism ministers in Bali, he feels a greater desire for flexibility.
"My perspective is that I think a lot of governments are trying to rebuild the economy, rebuild tourism and just looking for new solutions that can help them," he says.
The recovery has been particularly difficult on the supply side.
Liew adds: "They are all suffering from the difficulty of bringing staff back. Two years is a long time. One of the representatives of the industry association told us that one in 10 jobs worldwide is still unfilled. »
Like Lu Dong, CEO and Founder of TakeMe Copoints out during WiT's Changing Things Up, On The Ground panel, one of its goals is "for travelers everywhere to experience like locals".
But really, should destinations revamp their infrastructure and tax policies to tackle this digital nomad market?
Liew points out that with many employers struggling to convince their employees to return, this type of policy could actually be seen as a real retention incentive.
"When Airbnb announced we were going to have permanent work from anywhere, our careers page had a million views overnight," Liew says.
"So I think there's a demand for that."
He adds that the extended stay category segment was the fastest growing category for Airbnb during the second quarter of 2022, growing 25% year over year, compared to the numbers. of 2019 before COVID.
"That's 90% growth. This is a very fast growing segment for Airbnb. We believe this is a segment worth investing in," says Liew.
"We help hosts make sure they have the right kind of amenities on their properties. And we work with destination marketing organizations to make sure they have the right infrastructure to accommodate those guests.
Additionally, as Japan, Taiwan, and South Korea open more slowly post-COVID, the long-stay segment could also be a good market to test reopening, as fewer longer-staying travelers may be considered both safer and more durable.
As Liew explains, a million people who arrive at a destination for a single day will cause more health and environmental problems than 100,000 who each spend 10 days.
"The choice is yours. For markets that are only opening now, our recommendation is that you could consider this particular segment as a controlled experiment – ​​to see how incoming travelers will then interact with the local community.
*A version of this article originally appeared on WebinTravel.