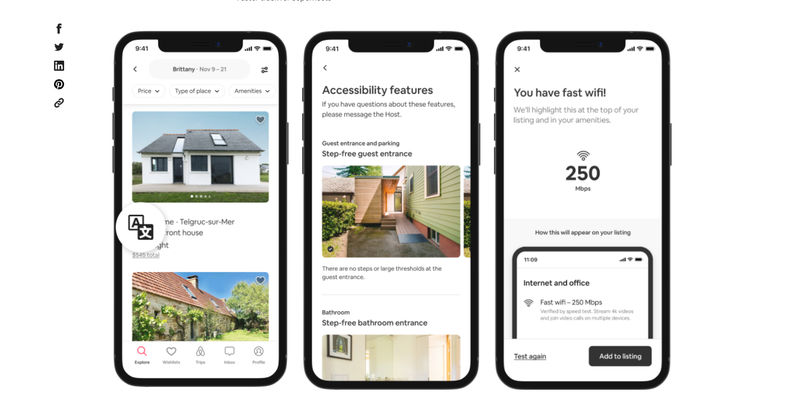 Airbnb updates add protections for hosts and automatic translations
Less than six months since its last sweeping updates, Airbnb launches a new series of more than 50 new products and services for its hosts and guests.
In a video to announce the updates, CEO Brian Chesky says they were developed to address how the pandemic has changed the way people live, including that "for millions of people, they were not tied to their place of work. They can go anywhere and work anywhere.
This flexibility leads to longer stays – Airbnb reports that 20% of nights booked between July and September were for stays of a month or longer and almost half (45%) were for stays of at least a week . And some of the updates are intended to meet the needs of hosts accepting these longer stays.
For example, Airbnb creates a comprehensive protection program called AirCover. The program integrates Airbnb's existing insurance offerings, such as $1 million in damage protection and $1 million in liability coverage, and adds protection for damage to pets and deep cleaning – funded by Airbnb – beyond what would be covered by standard pet and cleaning fees.
Airbnb's head of global operations, Tara Bunch, says the updates were made based on surveys and other forms of feedback from hosts and guests.
Subscribe to our newsletter below
"Hosts said people travel with pets, travel with families and stay for long periods of time. We need things like a pet blanket, we need things like a deep clean — because when people stay in for a really long time, it's not like a quick two-hour cleaning job," says -she.
In addition to addressing the concerns of existing hosts, Bunch says Airbnb hopes the enhanced protection will help them attract new inventory.
"We hope that by truly removing any concerns a potential host may have in announcing this product, it will give them the confidence to move forward and host and join the Airbnb platform."
The platform has also created new claims management tools to make it easier and faster to submit and process insurance claims – with expedited service for Superhosts.
The updates also include services to meet the needs of travelers as the world reopens. A new "translation engine", launched by the end of this year, will automatically translate listings and reviews into 62 languages.
Created using ModernMT's machine translation, Bunch says the translation service is an important factor in helping "hosts and guests interact in a global marketplace and feel connected and confident."
"You can imagine a product like this has incredible stretch, so I'm just excited to see where we're going to take that," Bunch said.
Travelers can also now filter property listings based on more than a dozen accessibility features, such as step-free entry. The company says it has already reviewed and confirmed accessibility features in 25,000 homes around the world.
And with the greatest interest in fast, reliable Wi-Fi when consumers work while traveling, Airbnb hosts can perform a Wi-Fi speed test in the app and then add that verified speed to the list of their property.
Airbnb is also expanding its flexibility features to allow users to search for properties with flexible dates up to 12 months in advance, from the previous six-month period. The platform also adds four new categories for filtering properties: off-grid, ski in/ski out, luxury and quirky homes.
Bunch joined Airbnb in May 2020 after eight years at Apple where she served as vice president of AppleCare, the company's customer service and repair organization.
"If you think of Apple, they focus on great products and great service. It's a similar approach we take at Airbnb… auditing every feature, every product, every touchpoint and making sure we really make it the best in the business and the best period," she says.
"All of these upgrades and all of these innovations have been based on these audits – where do we find gaps, where can we do better, where are the needs of our customers and guests changing and we need to meet those needs."