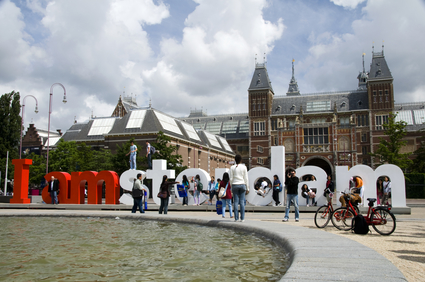 Amsterdam and other EU cities urge Brussels to act on Airbnb data
Eight European cities are writing to the European Commission to demand new rules for vacation rental platforms.
Laurens Ivens, deputy mayor of Amsterdam, announced at the end of a two-day vacation rental conference that the cities involved will demand that platforms such as Airbnb and Booking.com be legally obliged to share data. with regulators, and new "quality rules" mean hosts cannot be anonymous.
A spokeswoman for the city of Amsterdam told DutchNews.nl it spends € 4 million a year to monitor occasional vacation rentals, including retrieving data from the web to see if hosts are breaking the current rules of up to 60 days per year.
"We will ask the commission to review the quality rules for the platforms, so that a platform can not only put anonymous hosts on its site but that it is clear who offers houses," he said. Ivens told reporters.
Share data
"It's crazy that all kinds of products have quality rules, so why not make sure you know who is offering a house? If you want to operate a platform in Europe, you have to make it known who owns it – and then in Amsterdam, we can decide whether it's for 30 days or in Paris, for 120 days. This can be done via a registration number on the site, for example. '
The second demand from cities, including Barcelona, ​​Madrid, Vienna, Paris, Reykjavik, Krakow and Brussels, is that platforms share data with them, on demand.
"Platforms can now avoid sharing data with us, and we think that is crazy," Ivens added. "The data includes who are the owners and who are the tenants: I find this very relevant, but when I ask this of the platforms, they refuse on the grounds that this is protected by European e-commerce rules."
He added that, especially with the European General Data Protection Regulation which comes into force in April, this type of requirement must be addressed at European level.
Speaking to conference delegates in English at the end of the second annual event, he said, "We have the same issues and we focused in these sessions on the app. Tourism is not new to us, but the volume of tourists is. Of course all these tourists bring in a lot of money but they also bring a lot of inconvenience.
Abuse
"The constant noise of the wheels of suitcases on the sidewalk outside, residents losing their sense of community due to all the strangers in their apartment building and large groups of tourists in undersized apartments disturbing the neighbors – this must stop, in every town. '
The alderman of the Socialist Party added, drawing on a theme he already has talked about: "An additional problem is that illegal vacation rentals reduce the number of properties available in the housing market. Above all, it is my responsibility to ensure that residents of Amsterdam can rent or buy properties at reasonable prices and that Amsterdam remains the wonderful city that it is. '
Two other cities, Berlin and London, which were unable to attend, will be invited to sign the letter and Ivens intends to send it to the European Commission by February.
Restrictions
From next year Amsterdam will only allow people to rent their homes for 30 days, and last year it imposed fines of at least € 6,000 for illegal vacation rentals – writing to residents to encourage them to report abuse.
Following local protests at the 'Disneyfication' of the Dutch capital, he also put a Stop to new tourist shops in some central streets as the government discusses ways to disseminate the record 17.6 million domestic tourists nationwide.
Airbnb told DutchNews.nl in a reaction: "Airbnb is already limiting the number of nights hosts can share their homes in Amsterdam and sharing data on the positive impacts of home sharing. The best way to be good partners for cities is for other companies to get involved and follow our example. '
Thank you for donating to DutchNews.nl
The DutchNews.nl team would like to thank all the generous readers who have donated in recent weeks. Your financial support has helped us expand our coverage of the coronavirus crisis evenings and weekends and keep you up to date with the latest developments.
DutchNews.nl has been free for 14 years, but without the financial support of our readers we would not be able to provide you with fair and accurate news and features on everything Dutch. Your contributions make this possible.
If you haven't made a donation yet, but want to do so,
you can do this via Ideal, credit card or Paypal.