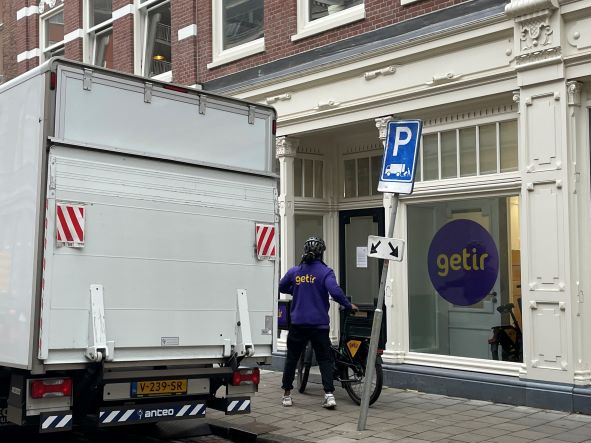 Battle for Residential Streets: Dark Shops vs. Amsterdammers
In the past, Amsterdam struggled with vacation rentals; now a new battle is underway between super fast delivery companies and residential streets.
When Robbert Scholtus bought on an Amsterdam street with plans to cut car traffic, he was planning for a quiet life. Then a "flash delivery" store opened next door.
"This is hell," he said, as another delivery van pulled up outside his house. "This part of the street has become an industrial zone. What annoys me the most are the deliveries and the aggressive drivers. It's dangerous: they stay there, and the bikes and people pass on the sidewalk… My investment has gone up in smoke.
Scholtus is one of many Amsterdam residents to welcome a new No "dark store" policy' – warehouses for super-fast delivery companies such as Getir, Gorillas, Zapp and Flink – residential areas. The branch of Getir in his street was ordered by the municipality to close under zoning laws nearly a month ago, after dozens of inhabitants jointly lobbied city councilors regarding the nuisance of dark shops in De Pijp.
Experts believe Amsterdam's action is a sign of fights to come in other cities, with the international growth of flash delivery services offering everything from a bag of crisps to pet supplies, around the clock , 7 days a week, in minutes – all from conveniently located downtown warehouses. .
New York is schedule an invoice to prohibit services from announcing 15-minute deliveries, the deputy mayor of Paris has applied for a special license, Rotterdam has a one year opening freezewhile in London Islington and Berlin's Kreuzberg, locals also complained.
City planner Marieke van Doorninck announced last week that from the end of 2023 Amsterdam will be able to exclude dark shops from residential areas, shopping streets and mixed-use areas, including shops who are already there.
"Airbnb has been a major part of our approach," she told the Financieele Dagblad. "When Airbnb became popular, we waited too long to deal with the annoyance, and things got completely out of hand… We will never discriminate against Amsterdammers in favor of business again."
Narrow streets
Joost Munning, who took a complaint from 115 residents last November, told Dutch News that dark shops cannot fit into residential areas, even if residents and businesses try to compromise.
'The problem is noise, throughout the day, and road safety," he said. "They start getting ready at 6 a.m., there are trucks beeping outside the door, bins constantly banging, the sound of tearing up boxes all day… They are open 24 hours a day, 7 days a week: they never stop. There is no other option than this decision, especially in the narrow streets of Amsterdam.
But there is already a response. After last month zap lost a case against the Municipality of Amsterdam, which had ordered it to close a store in Amsterdam West, competing ultra-fast delivery organizations have drawn up a code of conduct, and hired lobbyists. Mazdak Soltani, head of public and government affairs at Gorillas Benelux, said Van Doorninck's announcement was arbitrary and unfair, and dismissed the comparison with vacation rentals for tourists.
"It ignores the positive effects of the sector in the form of thousands of jobs, multiple local suppliers who are supported and cannot sell their products to traditional parties and a CO2 neutral model," he said. . "It is a mystery to us why it is not entering into a dialogue with the sector, but is open to traditional supermarkets which will make deliveries on demand.
Getir said more than 200,000 Amsterdammers have ordered from his service. "The majority of our sites have never received a single complaint," a spokesperson said. "Super-fast grocery delivery companies like Getir operate similarly to pizza delivery companies and yet only our industry is being unfairly targeted."
'Unfair'
Mark van Weeren of Bleinheim Advocaten says three trials are scheduled and represents a delivery company. "There will be a legal battle," he said.
"They are not very happy with the policy of the municipality: what is strange is that it focuses on these services while the supermarkets have the same facilities and also deliver goods". They say it's unfair, they're not treated the same and it's up to a court to decide. Many of these stores have never had any complaints – it's not proportionate. I call it panic football, and other municipalities are taking it up.
Others believe that fast delivery is part of the modern city and requires allocated space. "The vitality of city neighborhoods lies precisely in offering the right mix of functions, including fast home deliveries," said Walther Ploos van Amstel, professor of city logistics at Amsterdam University of Applied Sciences. . "Make room for it and make deals on it.
But for the mental health of residents complaining of months of disturbed sleep, strife and despair, the residency ban can't come soon enough.
Thank you for your donation to DutchNews.nl
The DutchNews.nl team would like to thank all the generous readers who have donated over the past few weeks. Your financial support has helped us extend our coverage of the coronavirus crisis into evenings and weekends and ensure you are kept up to date with the latest developments.
DutchNews.nl has been free for 14 years, but without the financial support of our readers, we would not be able to provide you with fair and accurate information on all things Dutch. Your contributions make this possible.
If you haven't donated yet, but would like to,
you can do it via Ideal, credit card or Paypal.