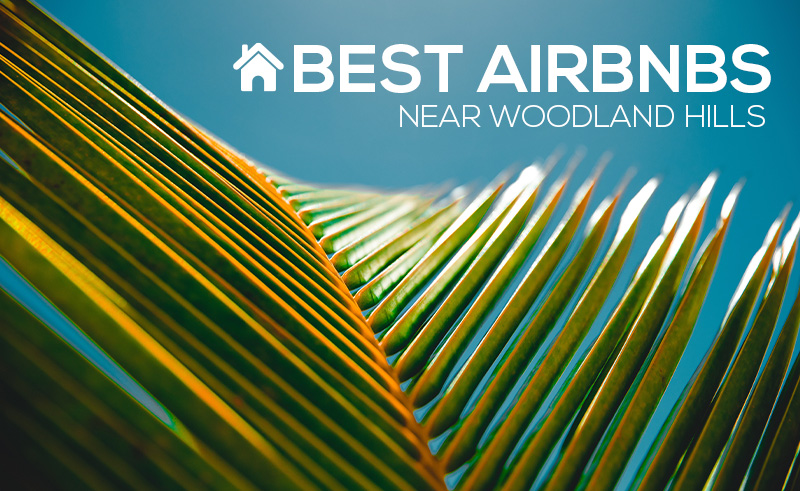 Best Airbnbs in Woodland Hills
Whether you're considering a quasi-"stay-away" to stay within the confines of Los Angeles while satisfying a need to get away from home for a weekend, or helping a visiting friend or family member find something different – ​​and perhaps a bit more affordable – from the typical SoCal hotel scene, a Airbnb represents the perfect solution without compromising on quality and comfort.
From gorgeous rental units that fuse modern and vintage accents to lush, peaceful pool homes that will have you reconsidering the need for a five-star luxury resort, the following suggestions for the best Airbnbs at Woodland Hills offer something for everyone.
This two-person, one-bedroom/one-bath rental unit located in LA where modern and vintage combine to create a luxurious space for two, features your own private entrance, private parking, a comfortable queen bed, mountain views, a access to the public beach, a kitchen, Wirelessdedicated workspace and much more. Airbnb Superhost Karen is well-liked by all guests who have stayed in the rental unit, bringing with her vast experience and commitment to providing memorable stays for every visitor. From the clean kitchen and super comfy bed to the always reliable shower and general upkeep of the place, you will undoubtedly call this unit home during your stay.
Nestled on the side of the Santa Monica Mountains, this private room at JoyHouse8 Mountain Retreat, located in Topanga, offers two guests a lavish one-bedroom/one-and-a-half-bath experience at a very affordable $84 a night. Superhost Kaalomai promises a jaw-dropping location with epic views, convenient access to shopping, and even a sweet house cat to snuggle up with – not to mention the luxurious queen bed, a plethora of windows that let in plenty of natural light. , blackout curtains for excellent privacy, adjoining full bathroom, closet with sheds, desk with chair and TV with Direct TV, HBO and Show time. Want to reconnect with nature while staying in touch with the outside world? JoyHouse8 is a relaxing space close to the lively atmosphere of Los Angeles with spectacular views of several layers of mountains.
If you've ever dreamed of stopping at a wrought iron gate that opens onto a spectacular landscaped private driveway, winding up a hill to a secluded hideaway just beyond, this garden guest suite with pool at Casa Serenity is for you. Wake up refreshed to a morning swim and the chirping of birds in the private, comfortably furnished suite overlooking the newly remodeled pool with adjoining in-ground hot tub and adjacent secluded garden – and if that's not enough, share a romantic dinner for two in the dining room of the majestic garden while being hypnotized by the day bed with mosquito net. Nestled on a hillside teeming with palm trees, flora and fauna, Casa Serenity remains a 3,000 square foot Italian-inspired home on a half-acre property located in the heart of Woodland Hills, and is a 20-minute drive down the canyon from Malibu's famous California beaches (a 30-minute drive Hollywood). The self-catering guesthouse also includes luxury bedding and a queen-size mattress, a flat-screen smart TV with premium channels, a sliding door that separates the bedroom from a kitchenette with a mini-fridge and microwave, a bathroom with spacious rain shower, a separate entrance that winds around the pool and on-site parking.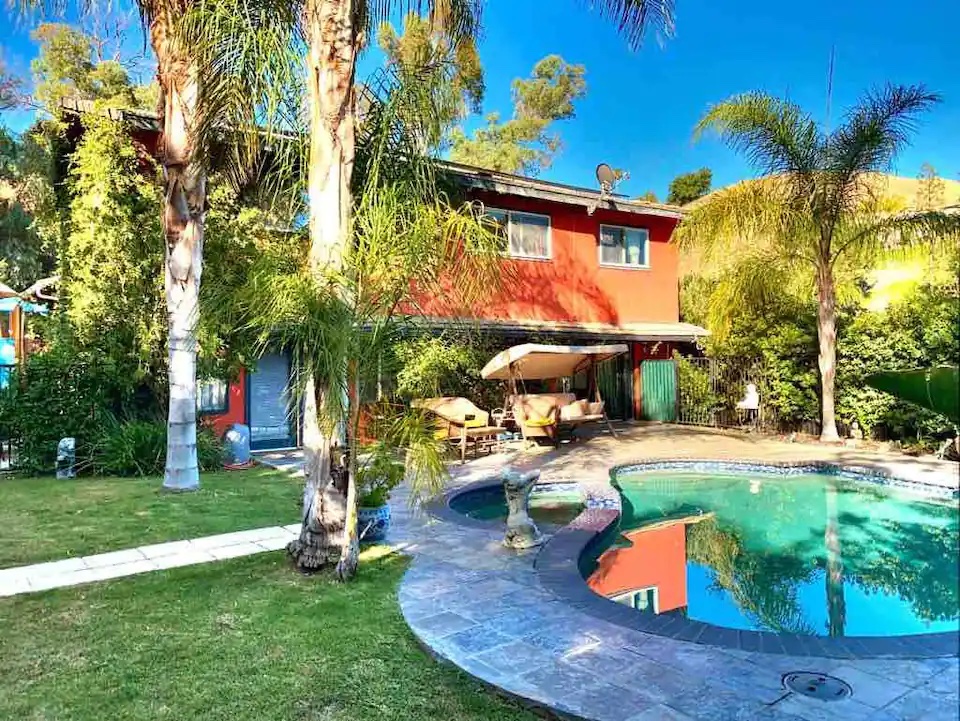 Also available on Casa Serenity is it private room in peaceful Topanga Canyon pool house for only $66 per night, giving you access to the pool, jacuzzi and sauna as well as the kitchen and laundry room. The swimming pool with inground hot tub complements an expansive lounging/living area, all with a plethora of wildlife in the distance including rabbits, squirrels and a variety of birds that call this spot home – all of which provide a endless entertainment for the resident Schnauzer. Additional amenities include a 42-inch flat-screen TV with all cable and internet channels, private ensuite bathroom, full house privileges (with huge designer gourmet kitchen, indoor/outdoor dining areas, BBQ and a family TV room/bar overlooking the pool), beautiful views from all rooms, broadband Wireless and an additional bedroom with queen-size bed should more people wish to join. And speaking of convenience, just minutes down the hill are the Woodland Hills and Calabasas shopping districts offering everything you need – from malls and boutiques to restaurants, movie theaters and other attractions. Whether you live in Los Angeles and are looking for a rejuvenating or romantic getaway, writing that one-of-a-kind novel, or just want to pretend to be a top Hollywood producer entertaining by the pool, these aforementioned Airbnb options offer luxurious environments that melt away stress and recharge the soul.