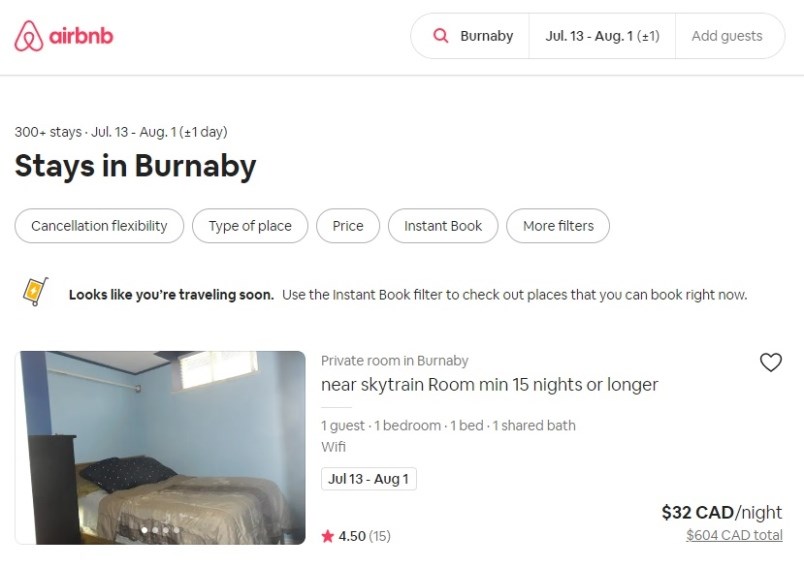 Burnaby landlord evicts tenants from illegal Airbnb hotel
Finding reasonable rental accommodation in Burnaby is indeed a rare thing, according to the dozens of posts and interviews I have had so far this year.
Tenants say it's getting harder and harder.
"The rent freeze and evictions during COVID-19 forced landlords to work harder to milk us for money," one tenant told me. "My landlord invented new parking fees that he tried to keep from me because they couldn't raise the rent. I fought him and now they're trying to push me away.
Then there is the case of several tenants who were evicted earlier this year on the pretext that the owners had moved family members into the house.
It turned out to be a lie.
"While we were moving there was a contractor on site who needed to do some renovations," Gary said. "I spoke with the guy and he said the owner is fixing the rooms for rent on Airbnb and other short term rental sites. With the number of rooms they have it will be like a hotel. "Sure, I can prove it all, but that's clearly what's going on. I'm about to report them to the city. It's despicable."
This is not the first time that this has happened. I found a NOW story from 2018 that was published just before I started in the newspaper that detailed a Burnaby house south of Deer Lake Park near Metrotown that was operating as a de facto hotel.
The seven-bedroom, eight-bathroom home sold for $ 2.65 million in September 2017 before being renovated and converted into a nine-bedroom home-hotel, according to data from BC Assessment. Rooms at the time were listed separately on Airbnb, ranging from $ 39 to $ 65 a night.
"I would have bought a place next to a hotel if I wanted to live next to a hotel," a neighbor told NOW. "It's ridiculous."
The neighbor said the constant flow of visitors meant she was afraid to let her nine-year-old daughter cross the street without her looking.
"I am afraid, for my children," she said. "Yes, you have to be careful with anyone in your neighborhood, but there is something to be said about anyone coming and going, different people all the time.
"It's not that neighborhood that feels where you know who lives (nearby)."
In 2018, the city told NOW that guesthouses are only allowed in certain areas and operators should ask a city planning department to change the property's zoning.
These are just other examples of how people are being unfairly evicted in Burnaby and beyond due to short term rentals.
One of the first comprehensive analyzes of rental housing evictions in Canada found that Metro Vancouver and British Columbia have significantly higher eviction rates than their counterparts in provinces or metropolitan areas across the country.
The report, carried out by UBC researchers Silas Xuereb, Andrea Craig and Craig Jones through the Housing Research Collaborative, revealed the major gap between rental eviction rates between British Columbia and the rest. of Canada after digging through data from the 2018 Canadian Housing Survey (survey of a total of over 65,000 Canadians).
For example, the five-year eviction rate for British Columbia in the report reached 10.6% – almost double that of the second highest province (Prince Edward Island, at 6, 8%) and almost three times higher than the rate of the provinces / regions with the lowest eviction rates (Manitoba and Nunavut, 3.7%).
Metro Vancouver, meanwhile, also far surpassed other major metropolitan areas in Canada for that dubious honor, with a five-year eviction rate of 10.5% – again almost or more than double the d other large Canadian CMAs such as Toronto (5.8%) and Montreal (4.2%)).
With a report by Chuck Chiang, Business in Vancouver
Follow Chris Campbell on Twitter @ shinebox44