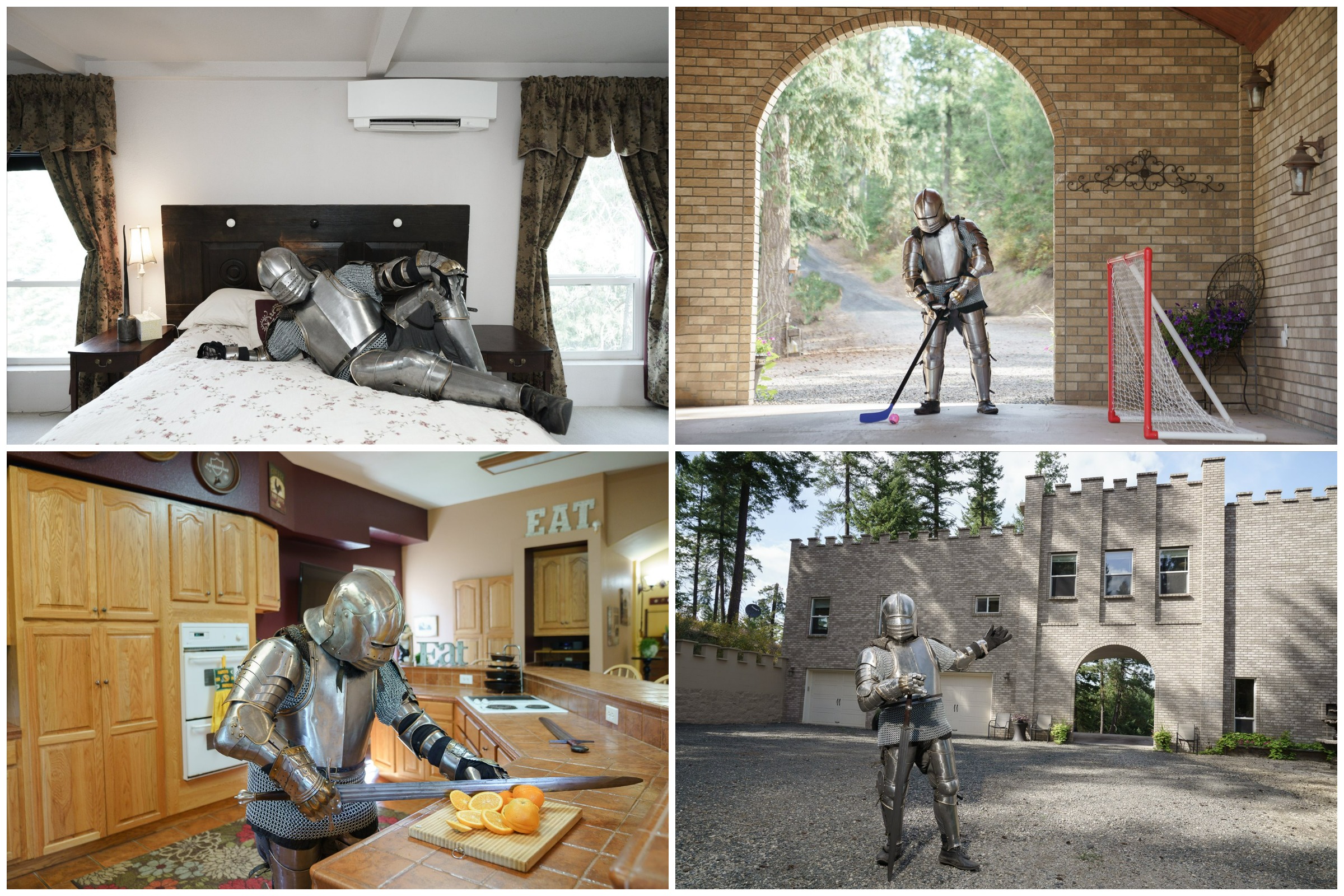 Buyers met by medieval knight giving tours of Washington Castle for sale
A castle-themed house for sale in Washington is heralded by an unlikely character, a knight in shining armor.
The four bedroom, four bathroom home located at 12227 E. Tallman Road, Chattaroy is on the market for $ 600,000 and, although it was built in 2002, exudes medieval charm.
The property, made up of 40,000 bricks, includes a north and south tower, a barrel-shaped ceiling, as well as "battlements" and a "fortress wall". The house also has a basement, called a "fully finished daylight dungeon".
While listing the unique home, realtor Jonas Elber, of Elber and Associates, decided to embrace his eccentricity and set up a knight-led photoshoot and home tour.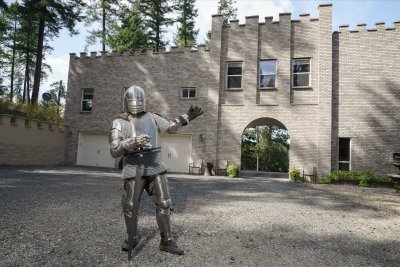 In sweltering weather, the knight, a Seattle gunsmith, carried over 100 pounds of 16- and 13-gauge steel to chop oranges in the kitchen with a sword and practice on an exercise machine.
The tour also showed the knight getting ready in the bathroom, playing a game of hockey, as well as relaxing on the bed in the master suite.
Elber said: "We thought the future buyers of this house would be light. And I'm not convinced the buyer is local. We had to have a big reach. So we came up with the idea of ​​creating a video with a knight highlighting the house. "
The current owners, Tim and Shelly Bemis, purchased the 4,050 square foot home in 2010 and have decided to sell as retirement approaches.
"I think it's a really good idea. It's really cool. I never would have thought of it," Tim said, referring to the unusual sales tactic.
Praising their house, he added, "It's beautiful, it's nice and quiet, and there are a lot of animals. There is a pond and the castle is very efficient."
For more details, the listing reads: "With battlements, a fortress wall and a hidden room, this house is divided into two separate living towers. You will find yourself transported and relive the dragon-slaying fairy tales of your favorite children. . delivered."
As you greet your guests under the barrel-shaped ceiling of the courtyard, you take in a landscape full of architectural detail, including a dramatic descent down the staircase covered with masonry arches. Within the walls of the castle is the Royalty The ground floor offers plenty of space for feasting and entertaining, benefiting from an impressive entrance hall, large open kitchen, dining area and access to the basement.
"An imperial staircase defines the north and south towers of the estate, totaling 4 finished bedrooms and 4 bathrooms. The north tower contains the master bedroom, a full bathroom and a dressing room, as well as access to the ground floor. floor and basement.
The south tower houses the remaining 3 bedrooms, a craft room with a bar, living room, full bathroom and utility room. The south tower is accessed by its own private entrance via the garage, which gives space for sure Airbnb potential Several decks surround this unique home, providing ample space for everything from hosting large events to simply relaxing and enjoying your own 10-acre kingdom. "