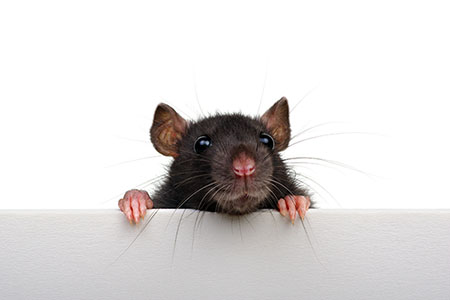 Chicago remains America's rat capital
After decades of being nicknamed America ?? s Second City, ?? Chicago eventually achieved the official first place title of Rat Capitol of America.
1-Dec-21 ?? Chicago's 311 hotline received more than 60,000 rat complaints between Jan. 1 and Nov. 10 of this year, according to research published by RentHop, a national apartment search website and marketing data source.
That's more than double the 26,000 rat complaint calls received by New York City, which has a population of 8.42 million. Chicago's population was 2.71 million in 2019.
An artist from Windy City, who visits Manhattan every year, reported that indifferent New Yorkers seemed to tolerate their rodent population better than Chicagoans with weak knees.
?? While walking through an Asian restaurant near our Airbnb apartment in Brooklyn, I saw rats larger than cats running down the street, and no one said a word, ?? the artist confessed. There are no back streets in New York. They just put the garbage on the sidewalk. Every garbage bag is on the move at night. It really scared me. ??
In the words of the immortal Dan Akroyd: New Yorkers are oblivious.
The city of the Rat King?
The Windy City, which may soon be dubbed ?? King Rat City, ?? has been the National Rodent King since 2016. We may soon have to rename the Chicago Bears to Chicago Rats. Ewww!
| | |
| --- | --- |
| | An annual survey by Orkin, the national pest control society, ranks the ?? 50 most seedy cities ?? in the USA. Its numbers, based on the number of rat treatments it provides, ranked Chicago as the most rodent-infested city for seven consecutive years. |
Owners, apartment managers, restaurateurs, retail store owners, hotel and office staff, owners of small and large businesses, even hospital staff ?? and, of course, Chicago ?? have been battling furry, sharp-toothed devils since the 1800s, when the first waves of creatures arrived from Europe to Chicago's docks on freighters.
What is the preferred neighborhood for the rodent population? According to a CBS Chicago survey in 2021, West Town led the pack with 1,202 rat complaints through June 2021, in addition to 3,064 complaints in 2020 and 2,099 in 2019. That makes 6,365 rat sightings in only three years.
In early November 2021, complaints of rats from West Town peaked at 3,312 sightings, RentHop reported. The West Town community includes the neighborhoods of East Village, Noble Square, River West, Ukrainian Village, Wicker Park and parts of Bucktown.
Lakeview with 2,182 complaints and Logan Square with 2,199 complaints through November 10 are other areas of the North Side with a large rodent invasion. Lincoln Park and Old Town are not far behind.
Reproduce faster than rabbits
Apparently, Chicago rats reproduce faster than rabbits. A female rat can give birth to up to six litters per year, with each litter containing up to nine young.
| | |
| --- | --- |
| It only takes two or three months for a female rat to grow old enough to reproduce, so in one year a single rat could have hundreds of offspring. | |
In an earlier attempt to reduce rats, Chicago City crews put dry ice on ?? frozen carbon dioxide ?? in rat burrows and sealed the holes with soil and newspaper. When the dry ice melted into a gas, it suffocated the trapped rats, leaving them to decompose in the burrow. Unfortunately, dry ice has not been approved by the US Environmental Protection Agency.
In 2017, by order of the former mayor Rahm Emmanuel, the town hall turned to a poison designed to make rats infertile. No report has been drawn up on the success of this plan. Maybe we should get Planned Parenthood involved in the program.
Cats to the rescue
This year, up to 2,000 sterilized feral cats have been released to tackle the rodent problem. Under the Cats at work A program launched in 2012 by Tree House Humane Society, stray cats are vaccinated against rabies, given food, water and shelter, and organized into feline colonies managed by a licensed guardian.
| | |
| --- | --- |
| | Better for cats to roam free and kill rats than to face euthanasia. Another bonus: cat pheromones scare away rats. |
However, the townspeople really cannot appreciate the immensity of the rat problem like this writer did when meeting face to face in a dark walkway in the Old Town a few years ago, while still rolling garbage cans to the sidewalk from the catwalk. of our landlocked three-apartment.
At least half a dozen obese, dark gray beasts with fangs gleaming in the lampposts came en masse from the holes they had dug in the top of one of the trash cans. They leaped to freedom and rushed past my face and my feet in the darkness.
The fear of rats came over me. I pushed the trash can forward and jumped back at least three feet. The hair on my neck stood on end.
| | |
| --- | --- |
| I felt like I was in this torchlit mountain mine shaft with Sylvester stallone, covered in squealing rats in the 1982 film Rambo: First Blood. | |
Rose Pest Solutions, a professional pest control company, was hired to set up four baited "rat garages". on the property with tasty pouches of poison.
This year we have installed three rat garages in another building on North Side where there has never been a problem. Residents said they could hear the rats scratching inside the walls of the building.
Experts say the most important common sense rat control rules are to take away what they need ?? protein foods and a refuge area. Here are some suggestions:
?? If you cut off food sources, rats will likely eat rodenticide in rat garages.
?? If rodents have dug holes in your trash cans, call the city of Chicago and ask for replacement trash cans.
?? Make sure to clean your barbecue, especially the drip tray underneath. One owner reported that rats buried themselves in the metal bottom of his Weber grill cabinet to dine on these tasty steak juices.
| | |
| --- | --- |
| | ?? Buy a 12-pack Victor old-fashioned rat trap (left) from Amazon.com. Load the traps with a spoonful of peanut butter. Set up the traps and place them along your patio and garden fence. Apparently the next morning you'll be shoveling the carcasses of dead rats. |
?? Make sure that you and your neighbors collect dog poop daily from yards, boardwalks, and back alleys. Experts say poop is an alternative food source for rats. Some rats prefer to eat dog poo rather than rib eye. joked an exterminator.