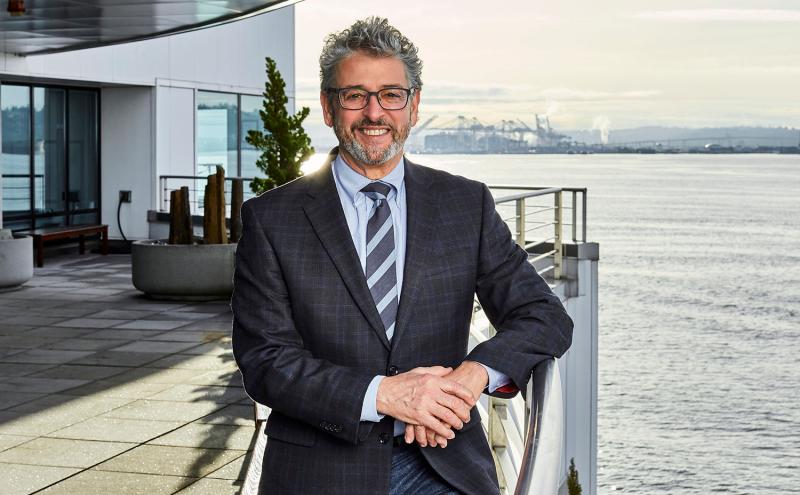 Commissioner Fred Felleman appointed to U.S. Travel and Tourism Advisory Board
On January 12, US Secretary of Commerce Gina Raimondo announcement that Seattle Port Commissioner Fred Felleman was appointed to the American Travel and Tourism Advisory Council (TTAB). The council includes 32 leaders from companies and organizations in the national travel and tourism industry.
TTAB members advise the Secretary of Commerce on how government policies and programs affect the travel and tourism industry and offer advice on current and emerging issues to support the sustainable growth of the travel and tourism industry. tourism as the economic engine of our country.
"I am so grateful to Secretary Raimondo for recognizing the vital role the Port of Seattle continues to play in helping Washington State grow as a tourist destination," said Commissioner Fred Felleman. "I look forward to bringing my experience to expand partnerships with other Board members to ensure that tourism provides equitable economic opportunities that advance responsible recreation, sustainability and respect for diverse cultures.
Commissioner Felleman has been one of the most dedicated and passionate advocates of the port's role as a regional and national leader in tourism, particularly in the development of ecotourism opportunities in and around the Washington State. He is the founder of the Harbor Commission's Tourism Committee and was a leader in restoring statewide destination marketing in Washington after the Washington State Office of Tourism closed in 2011.
Commissioner Felleman's experience as a marine biologist and environmental policy consultant has helped accelerate sustainability in all aspects of port travel and tourism. His ideas on how to "responsibly recreate" have been key in shaping the investments and messaging of ports and states in promoting tourism.
The Seattle-Tacoma International Airport, cruise terminals and recreational marinas at the Port of Seattle combine to create one of the largest generators and enablers of travel and tourism in the Pacific Northwest. In keeping with the Port's Century Agenda's goal of "making this region a premier tourist destination", the Port also offers a number of programs to support the industry. The Tourism Marketing Support Program provided $200,000 in 2022 to increase tourism activity, with half of the funds dedicated to promoting responsible outdoor travel and various cultural activities, experiences and attractions.
Members for the 2023-2024 TTAB term listed below include representatives from state and regional economic development teams, businesses, and organizations:
Reggie Aggarwal, Founder and CEO, Cvent
Balram Bheodari, General Manager of Aviation, Hartsfield-Jackson Atlanta International Airport
Adam Burke, President and CEO, Los Angeles Tourism and Convention Council
Brian Chesky, Co-Founder and CEO, Airbnb
Julie Coker, President and CEO, San Diego Tourism Authority
Brad Dean, CEO, Discover Puerto Rico
Christine Duffy, President, Carnival Cruise Line
Fred Felleman, Commissioner, Port of Seattle
Liz Fitzsimmons, Executive Director, Maryland Department of Commerce Office of Tourism and Film
Matt Goldberg, President and CEO, Tripadvisor, Inc.
Mufi Hanneman, President and CEO, Hawaii Lodging & Tourism Association
Russ Hedge, President and CEO, Hostelling International USA
Bill Hornbuckle, President and CEO, MGM Resorts International
Peter Ingram, President and CEO, Hawaiian Airlines
Stephanie Jones, Founder and CEO, Cultural Heritage Economic Alliance
Andrew Leary, Director of Sustainable Tourism and Partnerships, Leave No Trace
Eric Lipp, Founder and Executive Director, Open Doors Organization
Casandra Matej, President and CEO, Visit Orlando
Peter Millones, Executive Vice President and General Counsel, Booking Holdings, Inc.
Will Morey, President and CEO, The Morey Organization
Tricia Primrose, Executive Vice President and Director of Global Communications and Public Affairs, Marriott International
Lana Ramos, Vice President, Marketing and Community Relations, Local Restaurants
Carroll Rheem, Founder and CEO, iolite group
Dan Richards, Founder and CEO, The Global Rescue Companies
Adam Sacks, President, Tourism Economics
John Sage, President, Accessible Travel Solutions
Stephen Scherr, CEO, Hertz Corporation
Greg Schulze, Senior Vice President, Strategic Travel Partners, Expedia
Monica Smith, President and CEO, Southeast Tourism Society
Jerry Tan, President and CEO, Tan Holdings
Donald "D" Taylor, President, UNITE HERE
Peter van Berkel, President, Travalco USA, Inc.
The National Office of Travel and Tourismhoused within the Department of Commerce's International Trade Administration, serves as the executive secretariat for the TTAB.
Questions and comments regarding the TTAB can be directed to [email protected]
Contact
Peter McGraw | Port of Seattle Media Manager
(206) 787-3446 | [email protected]