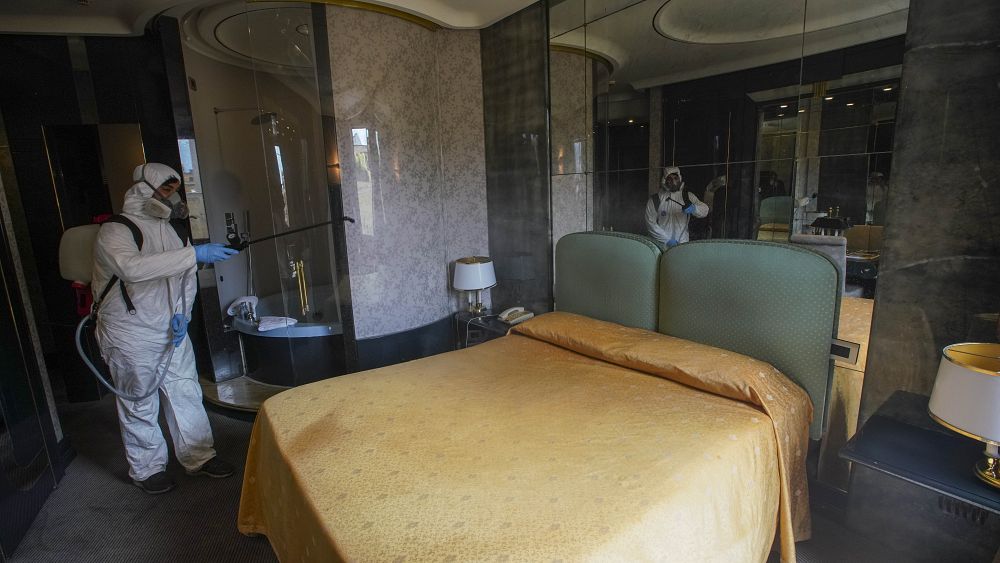 Coronavirus: Hotels and Airbnb Predict 'Fundamental Change' After COVID-19 Closures
As lockdown restrictions are relaxed in several European countries, many in the travel industry are hoping that with higher cleaning standards and social distancing, business can continue in a new form.
Nicolas Vigier, whose agency manages 60 Airbnb apartments, says he is gradually seeing requests for summer rentals in the south of France.
"Before the crisis, 90 to 95% of our customers were foreigners. We had very few French people booking our apartments," Vigier explains.
But now, his request comes entirely from France.
Domestic Airbnb bookings in the Netherlands and Denmark are 80% and 90% respectively of what they were in April 2019, the company said.
Vigier said that in France they cannot confirm reservations because people are not yet allowed to travel more than 100 kilometers from their homes.
But demand is a beacon of hope for an industry that has been one of the hardest hit by the pandemic.
"Severe and sudden impact"
"Airbnb's business has been hit hard, with revenues this year expected to be less than half of what we earned in 2019," said Brian Chesky, CEO of Airbnb, as he announced staff reductions in the company last week.
For many, the change of company has been brutal. It wasn't until the French government announced the lockdown measures in mid-March that Vigier saw a significant drop in demand for Airbnb apartments, he said.
Hotel data benchmarking firm STR estimates that hotels around the world that are still open are under 30% occupancy. In many European countries, the few hotels still open are only 10 percent occupied.
Marriott Hotel CEO Arne Sorenson said in a thought-provoking video post in March that the coronavirus was "nothing we've ever seen before."
"For a company that is 92 years old, which witnessed the Great Depression, World War II and many other economic and global crises, that means something," he added.
"COVID-19 is having a more severe and sudden impact on our business than September 11 and the financial crisis of 2009 combined. "
Marriott saw a 90% drop in business in China after the outbreak began, the CEO said in March.
Restoring customer confidence in a global crisis
Airbnb announced a new cleaning protocol for hosts that will launch in May that includes a learning and certification program.
The protocol will also help space reservations according to U.S. Centers for Disease Control and Prevention guidelines to have 24 hours between people entering a room.
"Hosts will have access to expert-backed cleaning education materials and will be supported to show they take cleanliness and prevention seriously," Airbnb said in a statement.
These new guidelines will be the most "drastic" change in their daily work, Vigier said. This means that they will need to have three days between reservations.
The hotels have similarly strict cleaning policies in place.
A Marriott spokesperson said the hotel was adding to its cleaning protocols, including "the requirement that public areas and bedroom surfaces be carefully treated with hospital-grade disinfectants."
The company is also testing "electrostatic sprayers" to disinfect entire areas of guests.
"The concern appears to be to restore consumer confidence," said Mark Ashton of the School of Hospitality and Tourism Management at the University of Surrey.
It will depend on "enhanced cleaning standards" and "reduced contact points" like tablets or remote controls.
Whether someone chooses a hotel or Airbnb, "depends on trusting the consumer as to whether they perceive that a hotel chain or independent hotel may be more reliable in providing a higher standard of cleanliness and comfort. remediation, "Ashton said.
Read more: Life after lockdown: Will COVID-19 change the way we travel forever?
A potential takeover?
A spokesperson for Airbnb France said there had been an increase in the number of people on the website investigating spring and summer vacation near their homes.
"Traveling in this new world will be different and we need to evolve Airbnb accordingly. People will want options that are closer to home, safer and more affordable, "Chesky, CEO of Airbnb, wrote in a note to employees.
Meanwhile, Marriott International said it was slowly seeing an increase in occupancy rates in China, including during the April holidays, when some hotels hit 60% occupancy.
But it will be a long time before things get back to normal.
"It will take a while for things to bounce back," Ashton said. But there is "potential for hotels to consider increased automation and a digital switchover" that could "accelerate the adoption of these types of technologies."
This is one area where Airbnb already has an advantage due to the ability to check in with an app and be in contact with a host via messaging rather than in person.
Vigier said they used to have someone to greet every guest who stayed in an apartment, but it will be an easy change to allow customers to collect keys from a box or at their agency.
In a crowded hotel this might be more difficult.
"Do we have robots that do certain things, maybe take bags, do room service, disinfect areas? Ashton asked.
He expects the digital changes hotels were expecting to implement will happen faster anyway.
"There are going to be some pretty fundamental changes," Ashton said.