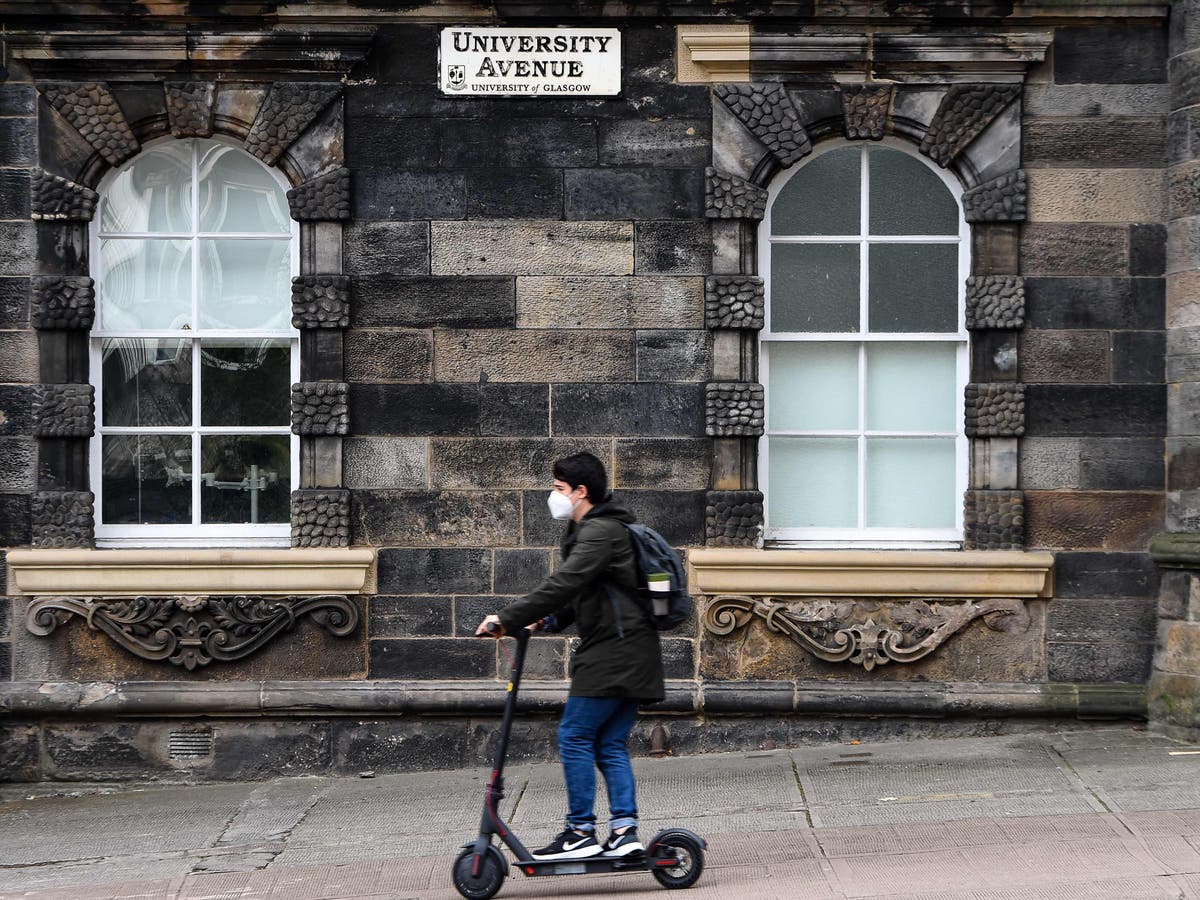 Coronavirus Scotland: students banned from going home and banned from going to pubs
Students in Scotland have been told that they are currently unable to return home to see their loved ones as they are from different households, and must also avoid the pub this weekend.
The country's national clinical director has clarified that new rules banning indoor mixing of households affect students amid clusters of coronaviruses at Scottish universities.
And students have been told not to go to pubs and those who repeatedly flout coronavirus guidelines could be kicked out of college, under new rules.
Around 120 students have tested positive at the University of Glasgow, where more than 600 have self-isolated in residences.
"We asked last night whether students in residences and apartments can return to their parents," Jason Leitch, Scottish Government's national clinical director, tweeted Thursday.
"To clarify, they are a separate household."
He added: "There are exceptions, for example family responsibilities, but the law is clear: they cannot meet indoors with another household – even mom and dad. Sorry."
His comments come after Matt Hancock, Britain's Health Secretary, said he was not ruling out asking students to stay on campus during the Christmas break as a measure to fight the spread of the coronavirus, but that it was something the government wanted to avoid.
Coronavirus clusters have been identified at several Scottish universities.
A total of 120 cases of coronavirus have been identified during an outbreak at Edinburgh Napier University.
NHS Lothian said the positive results were confirmed by the facility on Thursday morning, while there were a small number at the University of Edinburgh and Queen Margaret University.
In Dundee, 500 students at the University of Abertay were asked to self-isolate this week in student accommodation where three people have tested positive.
Representatives from higher education in Scotland have met to discuss a range of measures that would be introduced amid concerns over a number of outbreaks since the start of the term.
Students were asked to download the Protect Scotland tracking app and were told not to frequent bars on weekends.
Universities have also agreed to introduce a "yellow card, red card" system for disciplinary breaches by students that put students and others at risk, which could result in the termination of their studies.
Nicola Sturgeon, the Scottish First Minister, tweeted a message to the students on Thursday, saying she was sorry the coronavirus was giving them a "special time" "so difficult".
"It won't be forever and the more we get the virus under control now, the sooner you will find some normalcy," she said. "So please do as you are asked. "
She also reminded students that the Scottish Universities Council to stay away from pubs and venues was "just for this weekend".
Scotland this week announced new rules to stem the spread of the coronavirus, including a ban on mixing households indoors and a 10 p.m. curfew for pubs and restaurants.
Additional reporting by the Press Association