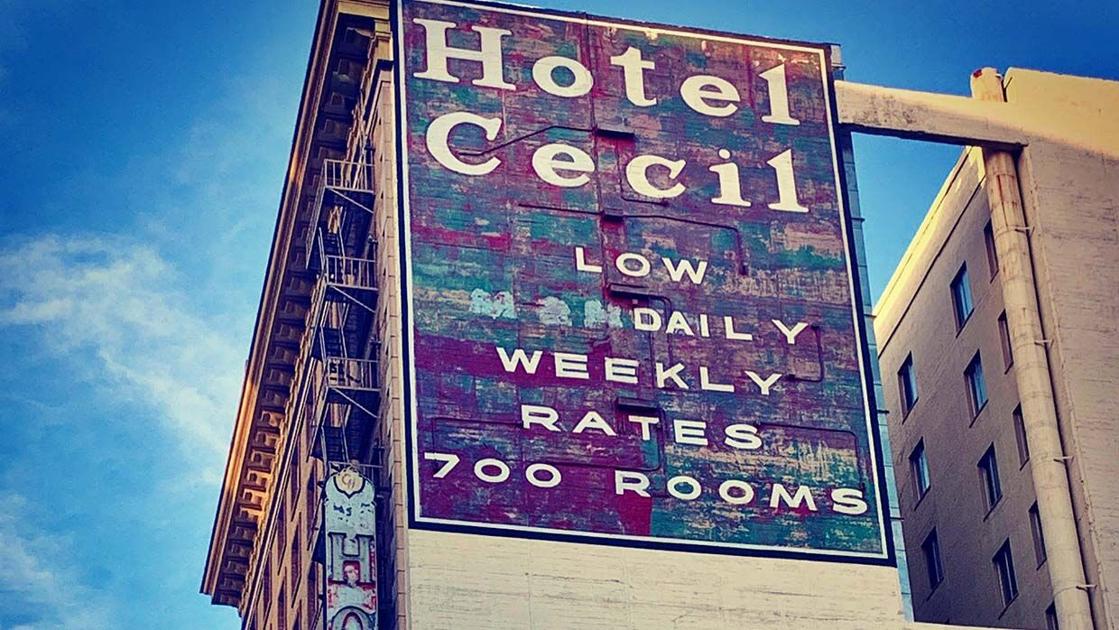 DTLA guided tours with crime scenes and ghosts | Characteristics
DTLA hotels and buildings have rich histories, some linked to serial killers, mysterious deaths, ghosts, and crime scenes.
During the Real Los Angeles Tours DTLA Murder Mystery Ghost Tour, participants spend three hours peering through notorious places within a 2 mile radius.
The Biltmore Hotel, for example, was the last place the Black Dahlia was seen alive. Richard "The Night Stalker" Ramirez stayed at the Cecil Hotel, which was recently featured in a Netflix documentary about Elisa Lam's death.
The Alexandria Hotel is said to be haunted by Rudolph Valentino, and the Barclay Hotel is home to two serial killers.
The Saturday night tour also stops at the site of the 1871 Chinatown massacre and the Hall of Justice, where Charles Manson was tried.
While the Ghost Tour is the most popular, Real Los Angeles also offers trips through Hollywood, including Santa Monica and Venice; Hollywood underground bar; THE; Hikes to Mount Hollywood and gastronomic, historical and design escapades. Private tours are available.
The Real Los Angeles Tours was founded in 2013 by Damien Blackshaw, director, actor and writer specializing in history and politics at college.
Blackshaw has taken walking tours in Europe and was inspired to similarly present downtown Los Angeles.
"I thought it was a really cool experience," Blackshaw said.
"I hadn't really toured a lot until then. I mostly did bus tours. It seemed like it was a good deal, but I realized that I couldn't remember anything that I had seen. When I did this walking tour I thought it would be great to do it in Los Angeles.
"When I looked around at that time, eight years ago, it was before the Airbnb experiences. There were a lot fewer businesses in Los Angeles, and there was really no one doing what we were doing – walking tours of different areas and different types of experiences. I was thinking – with my background, my history and running a business, the writing and the performance – I tick a lot of boxes that I had never really thought about before. This is how it really started.
In LA, tours are led by eight guides, who present similar information but add their own twist. They have varied backgrounds in acting, songwriting and writing. For the first six months, Blackshaw was the only guide.
"There's a lot of information they're supposed to talk about, but that's not a scenario," said Blackshaw, who owns a similar business in San Francisco.
"They don't have to learn it word for word. For me, authenticity is crucial, and for that, you can't have a guide who just recites a script. It's not as interesting for them either. Over the years that I've done this one of the cool things is all the training I've done with the guides. I must have seen at least 15 people doing the ghost tour. Everyone is different.
These days he tends to handle administrative and operational tasks behind the scenes, especially as the business grows. Blackshaw enjoys taking tours and exploring new places in Los Angeles and beyond.
He seeks to expand; However, it is difficult to find new guides during the pandemic. The right candidate has an optimistic personality.
"What you really need for this type of touring are people who like this stuff," he said. "They have to be outgoing and make history."
During the pandemic, locals frequented Blackshaw Tours. In the past, participants have come from as far away as New Zealand.
Blackshaw said that with ghost tours, it helps participants gain some knowledge of the sites they visit and the crimes associated with them.
"You talk about bloody details of how people got chopped up. If they've never heard of the crime, never heard of the victim, and never heard of the killer, it's really kind of funny, "he said.
"The locals, they know the Night Stalker. They know the Black Dahlia – most of them. At first we thought, "Why are they coming on tour? They know all this. It's cool for people who are interested in this stuff because it's organized. They go to all of these interesting places and get relevant information. "
Blackshaw said he thinks it's important to stick to the facts and not try to sensationalize the stories.
"A great thing with us is making sure it's real. You don't have to make things up, "Blackshaw said. "There is no way I can compete with the real things that have happened here. It would be really unnecessary. For this very reason, we stand by the facts. It's more interesting.
Sometimes tour participants add their personal anecdotes or corroborate facts.
"I was doing the tour myself about a year ago," Blackshaw said.
"I was telling the group that if you stay at the Cecil, every door in every room has four locks on the door. I said use everyone because you don't know what's going to happen over there at Cecil. Funny, we had a few guys on the tour who had stayed at the Cecil before, and they said, 'Yeah that's right. There are four locks on each door.
"I don't really remember where I found this out exactly, but I've said something a few times that people with first-hand knowledge are like, 'Oh yeah. "
Some buildings do not accept guests, but the tour stops at hotel bars for cocktails. Other times, impromptu experiences will occur, such as a vision of a mysterious figure at the window of House Pico, the home of former California Governor Pio Pico.
"It seems pretty unlikely that it was Pio Pico, but it was weird," he said.
"I've never seen anyone there before, not at 9pm on a Saturday. You just saw someone walking past one window and another. I guess it was someone in there for some reason, but it was just at the right time.
Blackshaw hopes to expand his company's offering by organizing themed events and tours.
This year on the occasion of Halloween, the company will be hosting a special ghost tour with a costume contest, a Halloween-themed giveaway, and chances to learn more and see Dia-related decorations. Los Muertos.
DTLA Murder Mystery Ghost Tour
WHEN: 6 p.m. to 9 p.m. on Saturday
OR: Starts at Pershing Square, opposite the Pershing Square subway station, 532 S. Olive Street, and ends at Los Angeles City Hall, 200 N. Spring Street
COST: $ 45; cocktails are not included
INFO: 213-316-8687, thereallosangelestours.com
DTLA Murder Mystery Ghost Halloween Special Tour
WHEN: 5 p.m. to 8 p.m. Sunday, October 31
OR: Starts at Pershing Square, across from the Pershing Square subway station, 532 S. Olive Street, and ends at Los Angeles City Hall, 200 N. Spring Street
COST: $ 50; cocktails are not included
INFO: 213-316-8687, thereallosangelestours.com