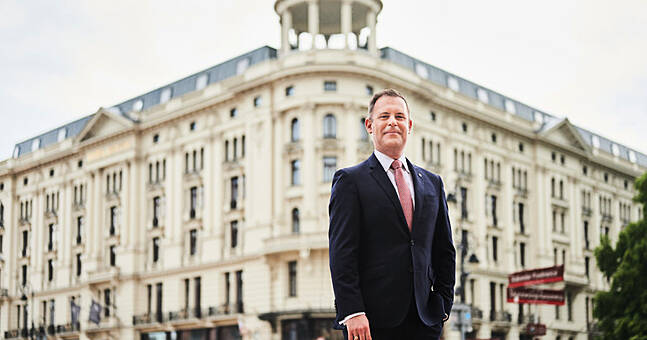 Former employee of the Shelbourne Hotel in County Wicklow Dublin is appointed General Manager of the Bristol Hotel in Warsaw
A former employee of the Shelbourne Hotel in Dublin in County Wicklow has been appointed General Manager of the Bristol Hotel in Warsaw.
Bristol hotel statement
Hotel Bristol said: "The legendary Hotel Bristol, a Luxury Collection Hotel, Warsaw has welcomed Aidan Dempsey as its new General Manager.
"With over 20 years in the hospitality industry and considerable exposure to luxury and boutique hotel brands, Aidan brings an impressive summary of experience to the Bristol Hotel, Warsaw. He comes to Poland from Dubai, where he also held the post of general manager.
"A native of Wicklow, Ireland, after graduating with a Bachelor of International Hotel Management from Shannon College of Hotel Management, Aidan worked across all operational departments with a focus on quality assurance, guest satisfaction and sales programs Throughout his tenure, he successfully led hotel strategies and was responsible for the remodeling and rebranding of several restaurants and bars, as well as overseeing general hotel renovations. "
Dempsey Declaration
Dempsey said: "My involvement in the wider hospitality and tourism industry, as well as my collaboration with many international brands has given me the opportunity to travel the world and gain better knowledge and understanding of cultural differences and business approaches. "
Additional Declaration of the Bristol Hotel
The Bristol Hotel added: "During his career he has had the opportunity to manage and work with many prestigious properties and brands across Europe, the United States and the Middle East. He has held management positions at Shelbourne Dublin, Ireland, and the Ritz-Carlton, Dubai. , Just to name a few. "
Additional Dempsey Statement
Dempsey added, "In each new role, I focus on developing the team; i love working with like-minded people who strive for perfection in demanding and fast-paced environments. The hospitality and tourism industry has changed dramatically in recent years. , creating huge challenges for the industry, but accepting the challenge and in some cases creating or developing an entrepreneurial spirit within the team, always guarantees great opportunities to deliver satisfactory results for the company. business, owners and the community.
"I wish to invite the local community to this lovely historic landmark in the beautiful city of Warsaw, where there will always be a warm Polish (and Irish) welcome that will provide a truly memorable experience for everyone.
"As we look forward to better years to come, I am delighted to join the Bristol Hotel, Warsaw at such a special time as we continue to work on many of the property's events and milestones, such as the celebrations of the 120th anniversary of the hotel, the renovation of the impressive hotel lobby and the unveiling of the most anticipated project – the opening of our new gin bar. I am more than delighted to now be part of this impressive legacy We are the custodians of this iconic property and it is our responsibility to ensure that its history is protected and celebrated for many years to come while creating authentic and memorable moments ensuring a personal and luxurious experience for all who go through the doors. "
© 2021 Hospitality Ireland – your source for the latest industry news. Article by Dave Simpson. Click on subscribe to subscribe to the Hospitality Ireland printed edition.