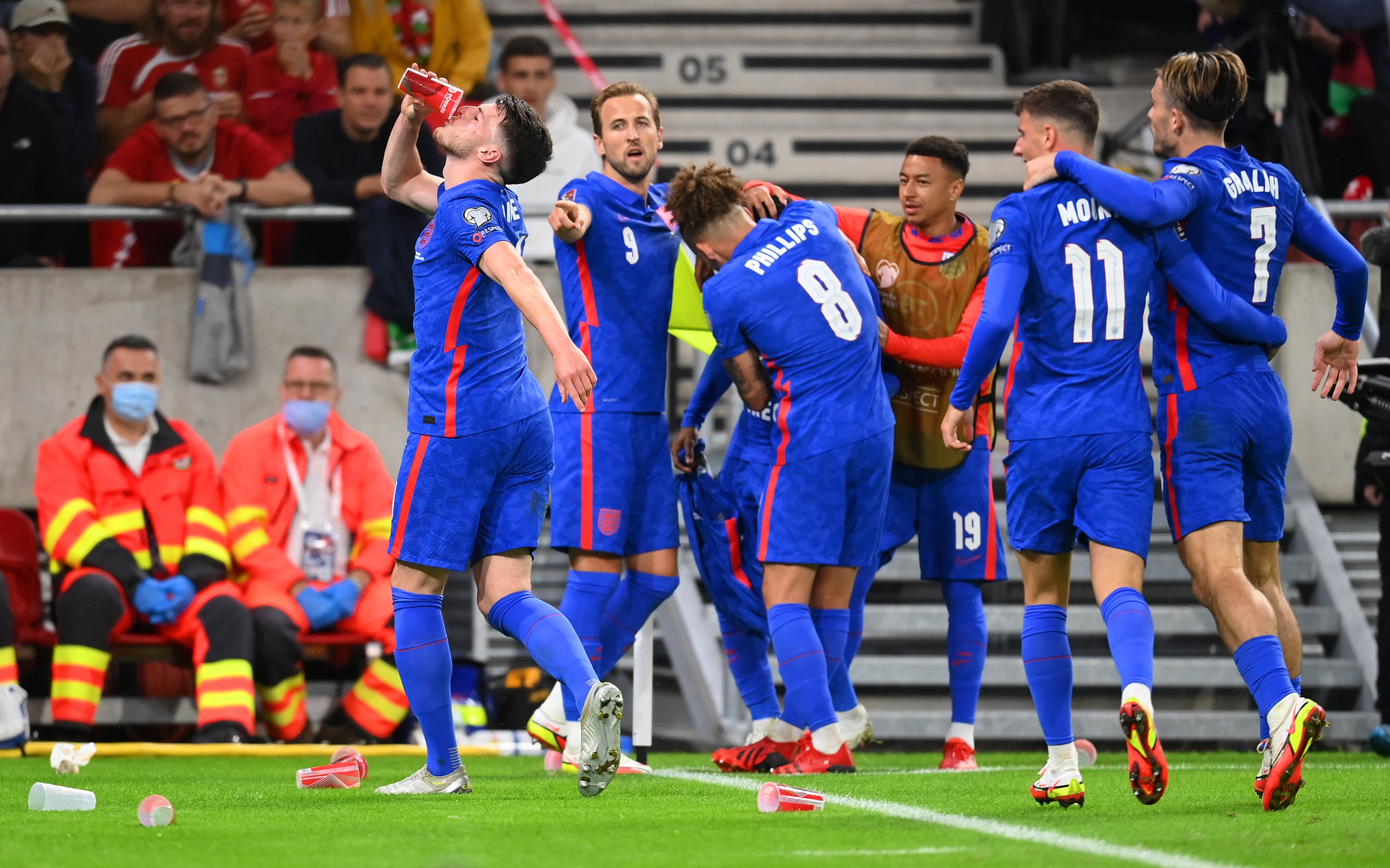 Jack Grealish and Declan Rice poke fun at Hungarian fans in the best possible way after racist abuse of English players
England footballers Declan Rice and Jack Grealish have hit back at Hungarian football fans in truly iconic style after some of their fellow Lions faced racial violence.
The men's national team had traveled to Budapest to face Hungary in a 2022 World Cup qualifier.
But in the 4-0 win over the Hungarian side, the scenes got ugly in the Puskas Arena, especially when Raheem Sterling scored England's first goal.
Home fans booed, threw objects at the team and allegedly racially abused black England players.
As Sterling celebrated his goal, a number of cups were thrown in his direction, prompting England midfielder Declan Rice to pick up one and drink in defiance.
Later in the match, Jack Grealish again mocked the crowd in the same way.
Register now to our free weekly newsletter Indy100 The Viral Democracy
The reaction on Twitter was a joy as people praised the players for taking a stand against racism and for their "s *** housery".
The 90-minute football-focused Twitter account wrote: "Racism will never win. Drink it in.
Another football account wrote: "Declan Rice. Top s *** housery.
Another joked that Grealish drank the "tears of Hungarian racists".
After the game, Grealish posted on Twitter calling the atmosphere "unacceptable".
Rice also posted the caption "Hello" and a picture of him from yesterday's game on his Twitter account, pointing to the crowd who had launched a flare on the field.
Prime Minister Boris Johnson condemned reports of racist chants, which targeted Sterling and Jude Bellingham.
In a Twitter post he wrote: "It is totally unacceptable that English players were subjected to racist abuse in Hungary last night.
"I urge FIFA to take strong action against those responsible to ensure that this kind of shameful behavior is permanently eradicated from the game."
Some have criticized Johnson's response. especially after failing to condemn England fans who booed players by kneeling against racial injustice in June.
England manager Gareth Southgate added: "They (the players) recognize that the world is changing. Although some people are stuck in their thinking and prejudices, they will end up being the dinosaurs as the world modernizes.
"Hungary is nowhere near as diverse in its population as our country, it still takes us a long time to get to where we need to go and inevitably, if other countries do not have the same level of diversity, this is probably not in their thinking in the same way as in our country.
"We will continue to do what we are doing, continue to try to set a good example for young people in our country who will be more influenced by us than people from elsewhere."