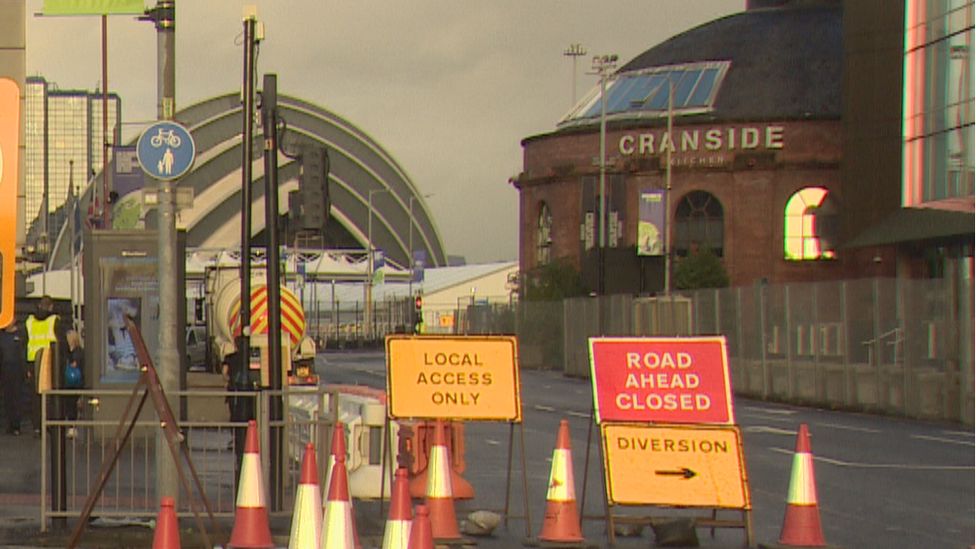 Let Them Eat Cake – COP26 in Glasgow – Bella Caledonia
In 2017, at the start of the new SNP-led administration in Glasgow, I attended what has been called a summit in the lavish marble rooms of the City Chambers. Hosted by Glasgow Life and Glasgow City Council, we were told it was an opportunity to hear from arts organizations across the city in order to establish Glasgow as a leading European cultural place, along with Barcelona and Berlin.
Much of this "consultation" was, in typical style, a presentation. We were told how cool Glasgow is getting, presented facts and figures on sporting events and conferences, the Commonwealth Games and MOBO awards ceremonies.
The consultation part of the day consisted of discussing between us at each table on what could be done to improve the city. Each table had a Glasgow Life host who later told the venue what we had decided. As we went along we were encouraged to stick post-its of our thoughts on a large board that would undoubtedly be thrown away later. This is where it gets problematic. At our table, we discussed three very real issues.
Our first point was the trash cans. The people at our table have collectively traveled very well when it comes to European cities. One thing we all immediately agreed on was that the sight of overflowing street trash cans, still overflowing two days later, their contents strewn through the streets and torn apart by seagulls, crows and rats. , was not something we witnessed in Paris or Seville. We called for a very basic request to empty all the trash cans on the street at least every day.
The second point was accessibility for walking around the city. Again, this was something we all knew about. If we walk from the city center to any other part of the city, we not only saw overflowing trash cans, but we were bothered by the lack of places to stop and sit, very few public seating and absolutely no public toilets. Again, if we were hoping to compete with major European cities, these were basic and straightforward requirements.
Walking would be less important if our third point was addressed – public transport. We've all had stories of trying to explain to visitors how to get from one part of the city to another. "Yes, take bus number 38, but not all number 38 buses because route 38 was different depending on which bus company it was" – explaining the bus system was not easy. Worse yet, he explained that the train, metro, and buses were all separate systems, all at different prices, and didn't work together on fares, ticketing, or even connections.
When our requests were distilled by our host and read aloud in the room, we were disappointed but not surprised (we had been here several times before). The issues we raised which were the responsibility of councils, pedestrian seats, public toilets, overflowing garbage cans, etc. the board. We were told unequivocally that the new Council, working with the Scottish Government, will bring smart cards that would facilitate an integrated transport system, we were told this was a priority.
Four years later, we have finally come to the point where a smart card usable for trains (both underground and overhead) and buses must be introduced. Unfortunately for the townspeople, it will only be given to the delegates and their staff present. COP26 and will only last for the time of this event. Apparently, it is quite easy to introduce this system (and subsequently remove this system) for important people in a matter of weeks, but for the general public it is too complicated to set up with only four years to go. to resolve.
A constant complaint about Glasgow's public transport system is the reduced metro service on Sundays when it opens at 10 a.m. and closes at 6 p.m. But, again, this problem is easily fixed when the political will is there to do it. Throughout the United Nations Conference, the metro will provide full service on Sundays. Those extended hours will end immediately at the end of the conference, reverting to reduced service to the plebs when Biden, Obama and the various royals return home.
On top of that, we learned this week that First Bus in Glasgow has phased out Daytripper tickets, which means getting around the city is getting more expensive for ordinary residents. Meanwhile, Scotrail's wonderful news of 'more passenger seats' in their network actually translates into more cars on Glasgow-Edinburgh trains as 300 services are cut from schedules across the country.
The conclusion of our summit that day was the announcement of a 'River Park' connecting Glasgow's green spaces along the Clyde into one urban 'park'. The artist's impressions were beautiful, unfortunately it was that far away, there has been no movement on it since, the idea seems to have disappeared in favor of the last artist impression of a new place made to cover the M8 into the city center; and an imaginary 'Metro' transport network from Glasgow to other points in central Scotland. If you are looking for a good investment for the available money you might have, you could be doing worse than betting on what is another "vision" that never becomes a reality.
Accommodation in Glasgow became unaffordable during COP26. Two huge cruise ships were brought in from Eastern Europe to provide 4,000 beds for security personnel and others. It's a sure sign, and an admission, that we didn't have enough beds to cover the event in the first place. AirBnB hotels, bed and breakfasts, hostels and opportunists should make their fortunes, but it comes at a hidden cost. Glasgow's hidden homeless people, the people you don't see sleeping under the doors are thousands of people who use the goodwill of friends, couch-surf and, most importantly, hostels and hotels economical to find a bed to sleep in or shelter from the weather conditions. Typically, budget hostels can cost as little as £ 8 per night at a hostel, with the cheapest hotels affordable at £ 26-40 per night. I checked out a hotel in Glasgow which cost £ 28 last week it was £ 1,462 for a single night during COP26. Often times when big events take place in Glasgow, those who use this type of accommodation will leave the city and go to hostels elsewhere for a few nights. But, this time it is not possible as rooms have been occupied across the central belt from Greenock to Grangemouth, from Kilmarnock to Cumbernauld. And it's not just the homeless. Last year I met young men who are regulars at one of Glasgow's best known hostels. One of them actually had an apartment but was in arrears and could not afford to turn on his electricity again. He used the hostel once a week to sleep in a warm room, use the laundry, and take a shower. Again this will be charged as the hostel is fully booked – at £ 125 per night instead of the usual £ 8-10.
The Daily Record reported this week that hotels across Scotland are refusing bookings for homeless services, thus affecting people far beyond Glasgow.
In 2017, as we complained about the garbage cans on the streets, the new SNP-led council had just been put in place. This was a legacy problem, resulting from a lack of investment and ongoing budget cuts by Glasgow City Council over the years. Now we are told that the current overflowing trash cans are the result of recovery from the lockdown during the pandemic. Protesters are told they are 'yoons', guilty of 'SNP-Bad' despite raising these issues under the previous Labor-led council and years before COVID19 even existed. But it must be said that cleaning services have deteriorated in recent years. Service and staff cuts continue, the Council introduced a £ 35 charge for bulk uprisings this year (previously a free service) resulting in an increase in flying tips, especially in areas with high turnover. tenants. And household garbage collection has been reduced from every two weeks to every three weeks, resulting in more backyard overflows and closures.
The reality is Glasgow is a mess, it is in crisis, even without tens of thousands of visitors flocking to the city for two weeks. The city has never been able to organize an event of this magnitude without enormous inconvenience for the people who live and work there. Roads are closed, schools are closed even (ironically for a climate change event) cycle and walking paths have been closed.
Campaigners are still fighting the closure of museums, sports facilities and libraries, still reopened after the pandemic and the lockdown when, on very short notice, it was announced that Glasgow's top attractions were to close for the duration of the COP26. The Kelvin Gallery, Kelvin Halls, Gallery of Modern Art (GOMA) and Riverside Museum are closing to the public but will be open to host champagne receptions for elite visitors to Glasgow. The Queen will be hosting a banquet at Kelvin and various exclusive events will take place at these prestigious venues while the rest of us are on lockdown.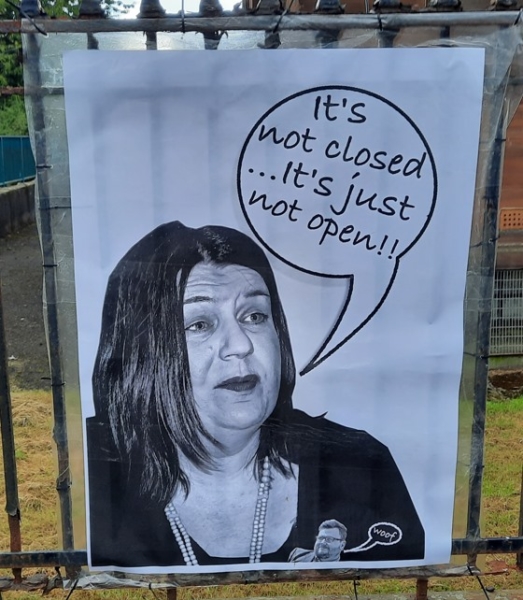 If I managed a room with a capacity of 100 people and I decided to organize an event for 1000 people, asking neighbors to provide me with their lounges and gardens, asking for the closure of local roads, schools and businesses to allow me to make this event happen, I would be laughed at. I am told, rightly so, that I should organize events that I am able to organize, within the limits of my limits and my abilities. One wonders why no one in UK, Scottish or local Govt. were able to do the same for Glasgow. Glasgow, quite simply, is not able to host an event far beyond its capabilities, without enormous inconvenience to its residents and workers. No one interviewed the public, consulted with communities, or pointed out the sacrifices we would have to make to indulge in the Johnson, Sturgeon, and Aitken fantasy. No one ever asks us. We, apparently, can eat cake!

Help support independent Scottish journalism by subscribing or donating today.