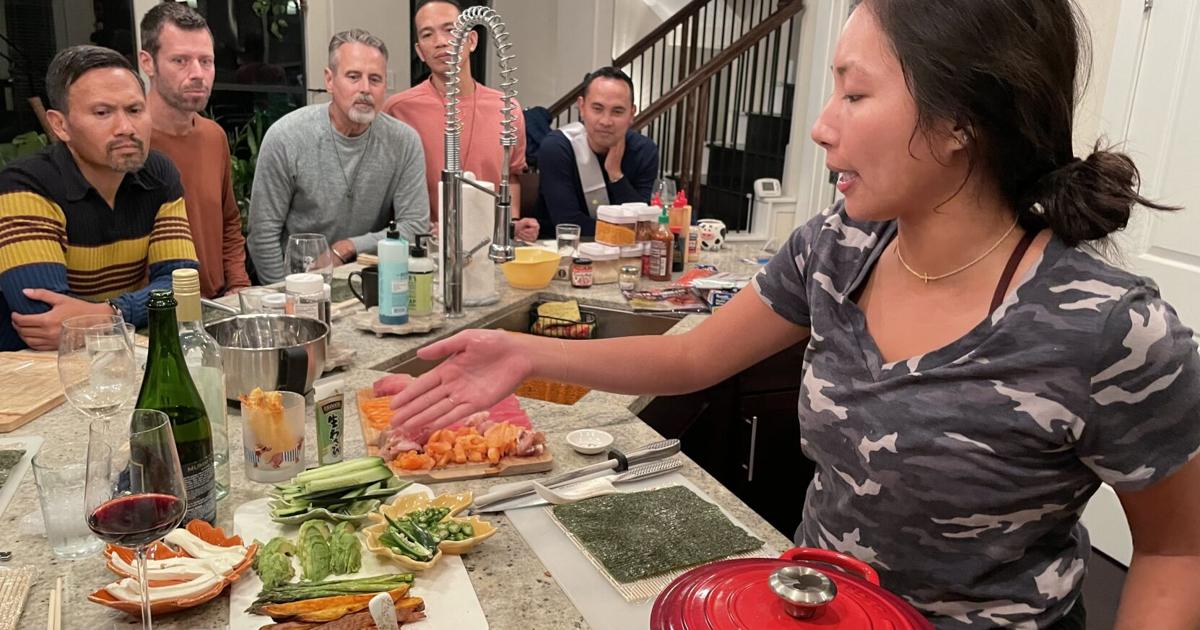 Local food entrepreneurs show their love for crafts | Food drink
Lavinia Doan, originally from Maryland, has always loved sushi. But it took a stint in the southwest during the early stages of the COVID-19 pandemic last year for the Sawyer Yards resident to discover she had a knack for making the popular Japanese dish wrap.
"I was working in oil and gas when I first moved to Houston (in 2018)," Doan said. "I was on a rotating assignment that took me to the middle of nowhere in New Mexico. The restaurant scene there is not great. There are no sushi restaurants there. I was there for about a year and I missed the sushi so much that I gathered the ingredients and organized sushi making parties at the apartment complex we lived in.
Doan is not the only food entrepreneur in the region. Another Heights resident, Alec Williams, owns an upstart home salsa business called Aljo's Salsa.
Williams has relied on social media and local farmers' markets to sell his salsa, and he aspires to open a food truck.
"People around here love homemade products, especially when everything is bought locally," said Williams.
Doan, the daughter of Vietnamese immigrants, considers herself a big foodie and somewhat of an expert traveler, having visited 32 countries. She usually stays on Airbnbs when she travels. Another feature offered by the Airbnb app is the ability to participate in "experiences" to help tourists looking for things to do while exploring a new place.
After changing jobs and becoming a business operations and strategy analyst for Yelp, Doan said she wanted to find other opportunities in the tech industry related to her love of food.
"I took cooking classes in Thailand, I went surfing with locals in Costa Rica," she said. "I saw that Airbnb experiences in Houston didn't have a ton of options. So I was like, 'Why don't I use this platform to do something that I love to do?' "
She said she sources high-quality seafood from the same distributors that sell sushi to high-end restaurants like Uchi and Kata Robata.
Calista Silletti of Toms River, New Jersey, said she visited Houston and one of Doan's first classes with two of her friends.
"Lavinia was so friendly and open with us," Silletti said. "She also went out of her way to buy the foods that we loved. We were able to remake our favorite rolls and also try out some of her favorites. She was practical and helped us all. We felt more like his friends than his students.
Kaprisa Davis said she took the class while visiting Boston with her boyfriend for her birthday.
"We loved the experience so much that we are planning to get together with a few friends for a sushi night," said Davis. "This is something we know we can pass on to our friends who can then pass it on to their friends and family. "
Doan said she encourages her guests to try new combinations.
"When people go to a sushi restaurant, they're intimidated into ordering things they don't want," Doan said. "Nobody likes spending $ 12 to $ 15 on a roll they don't like. The great thing about this course is that you can step out of your comfort zone and try new things. Salmon and avocado go hand in hand. Well, how about salmon and sweet potato? "
Doan's sushi-making classes start at $ 59 per person, and the next class available is Tuesday, December 7. Classes can be booked on the following link:
https://www.airbnb.com/experiences/2189472.
Heights resident wins gold with homemade salsa
Williams always loved eating his mother's salsa when he grew up in Jasper, East Texas.
But it wasn't until he left college in 2018 to Sam Houston State University (SHSU) in Huntsville and moved to the Heights after graduation last August that he started to listen to his friends who told him he should start doing something more. in addition to making pots of salsa and hosting barbecues with smoked ribs and pulled pork on weekends.
After being fired from his job as a contractor building conveyor belts at Amazon and UPS facilities, he said he saw an opportunity in the food-rich environment of Greater Heights.
Thus, Aljo's Salsa was born.
"I would really love to find a good farmers market to go and buy all of my veg," Williams said. "Right now, I just went to a local meat market on Shepherd Drive (La Michoacana)."
Williams said he used some of his mother's recipes and some of his own, but he's been a self-taught cook since his days at SHSU.
"I just started tweaking things and seeing what other flavors go well together," Williams said. "I made mango habanero sauce. It's a fun thing to try out the recipes and try to see which one you can turn into a sweeter sauce, maybe a sweet and spicy salsa. And some people like their salsa hot as hell.
Williams said he sold 70 pots of salsa in his first week of business, which coincided with Halloween and the Houston Astros World Series.
He said he mainly relied on Nextdoor and Facebook to attract customers. Williams said he also received an informal invitation from restaurateur Federico Cavatore on Facebook to sell Aljo's at Eleanora Market on Saturdays in the parking lot of Italian restaurant Cavatore at 2120 Ella Blvd.
After expanding Aljo's to local farmers' markets, Williams said he could go beyond salsa and open a food truck.
Aljo's offers 16-ounce mason jars full of different flavors, including sweet and tangy salsas and a jalapeño ranch dip for $ 8 each.
For more information, call 936-239-6211.