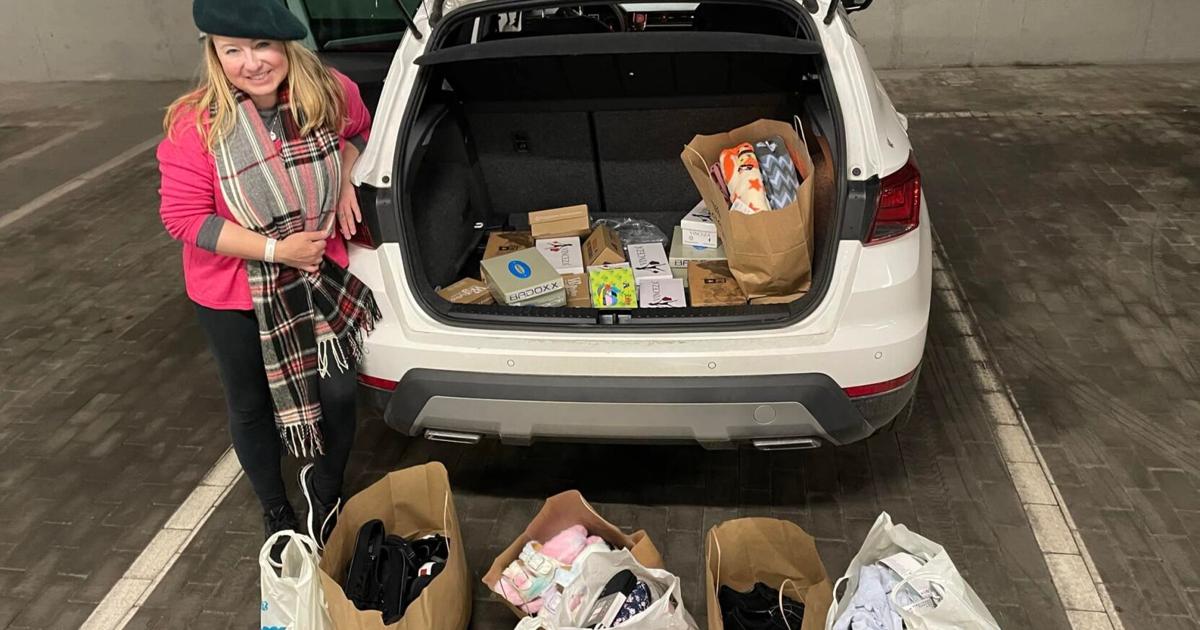 MAKING A DIFFERENCE: A Waterloo native recounts his aid trip to Poland | New
WATERLOO – Like so many others, Tara Close felt horrified and helpless watching the news reports of the Russian invasion of Ukraine – as well as the images of death, destruction and refugees fleeing train stations and roads.
However, unlike many others, the 1991 Waterloo High School graduate took those overwhelming feelings and channeled them into action.
After connecting online with British nationals, she traveled to Poland at the end of April to spend 10 days helping refugees.
Close, a graduate of Canisius College and daughter of Waterloo residents Harry and Maryann Close, now lives in Reston, Va., and works as an executive assistant for a company that provides telehealth executive support. Immediately after Russia's invasion of Ukraine on February 24, she attended rallies outside the White House in support of Ukraine and, through a connection with a Ukrainian friend, worked several Saturday afternoons to package aid donations to be shipped to Poland.
But the continuing news of what the Ukrainian people were going through left Close wanting to do more.
"It's not a WWII movie I watch. It's what's happening now," she said, noting in particular the eastern port city's siege. Ukraine, Mariupol, and the thousands of civilian casualties there.
Close recalled the Holocaust message of "never again," also invoked by Ukrainian President Vladimir Zelenskyy.
"Well, here we go again," she said.
Online connections
Close found herself following several Ukrainian solidarity groups online. It was through one of them that she was put in touch with three British nationals who were on the ground in Poland helping at a refugee center in the border town of Przemysl. Polish-Ukrainian. The trio were also transporting supplies to the city of Lviv in western Ukraine.
After several video calls, Close said she just decided to join them. So, on April 21, she flew to Krakow, Poland; rented a car; drives 3.5 hours on Polish roads following Polish signs; and arrived at an airbnb in Przemysl to stay with people she had never met.
That night, a group of volunteers organized a barbecue dinner attended by helpers from countries such as France, Germany, England and even Belarus. This evening set the tone for his 10-day stay.
"We quickly became friends because we were all united by the same mission," she said.
Close's days were a whirlwind and she found herself helping out wherever she could. The weather was wet, rainy and cool, and Ukrainians arriving at the refugee aid center often arrived with only two bags – "just carrying things in their hands".
She recalled how a mother was looking for a pair of shoes for her daughter, but couldn't find her size. Close focused on providing shoes after also noticing that many people were wearing only flip flops and a woman in her 60s walked in a pair of shoes stuffed with cotton and cardboard.
"They needed everything," Close said, "but shoes are a basic necessity. My dad kind of put it in my head that good shoes were needed.
She and her British partner went to a local mall and bought around 60-80 pairs of shoes of varying sizes to take to the help centre.
Close also found herself listening to the needs of younger war refugees.
She bought noise canceling headphones for an autistic teenager led by her father's arm. She also traveled with a suitcase full of her mother's Beanie Baby collection and let the children at the refugee center choose which ones they wanted. The smiles on the young people's faces brought the same to their parents, proving to them that "goodwill gestures go a long way".
One day, she and her bandmates traveled to Ukraine to deliver supplies to a group of students from Lviv. They traveled through abandoned checkpoints; by then the Russians had retreated to the eastern part of the country. She saw dozens of yellow and blue Ukrainian flags flying, but also black and red flags that are displayed in times of war. Gas stations with signs saying fuel at 0.00 meant they were out.
people are people
Close said life in Lviv seemed normal in many ways, but she felt an unspoken tension as it was clear the peace could be shattered at any time. In fact, two days after he arrived in the city, a long-range missile attack occurred.
"It's safe, you think it's safe, but it's not," she said. "Missile interceptors intercept many, but not all."
Close had nothing but deep appreciation and praise for the generous Polish people, who find homes for refugees and welcome them warmly.
"People are people and they should be treated with dignity and respect," Close said. "Poland are really doing a great job with that."
Yet despite the generosity and aid, the ravages of war were evident. Close said some children were "blindly unconscious", but others became non-verbal. A woman in her 60s or 60s had to leave her 100-year-old mother in a hospital in Ukraine.
"She was grieving all alone, on a cot, in a refugee center," she said.
On her flight home, Close said the magnitude of what she witnessed began to set in and she found herself crying when her dinner was served.
"My heart was just processing everything once I was taken out of it," she said.
She said she would like to go back and pick up where she left off, to help in any way she can.
"But I hope it's not necessary," she said.