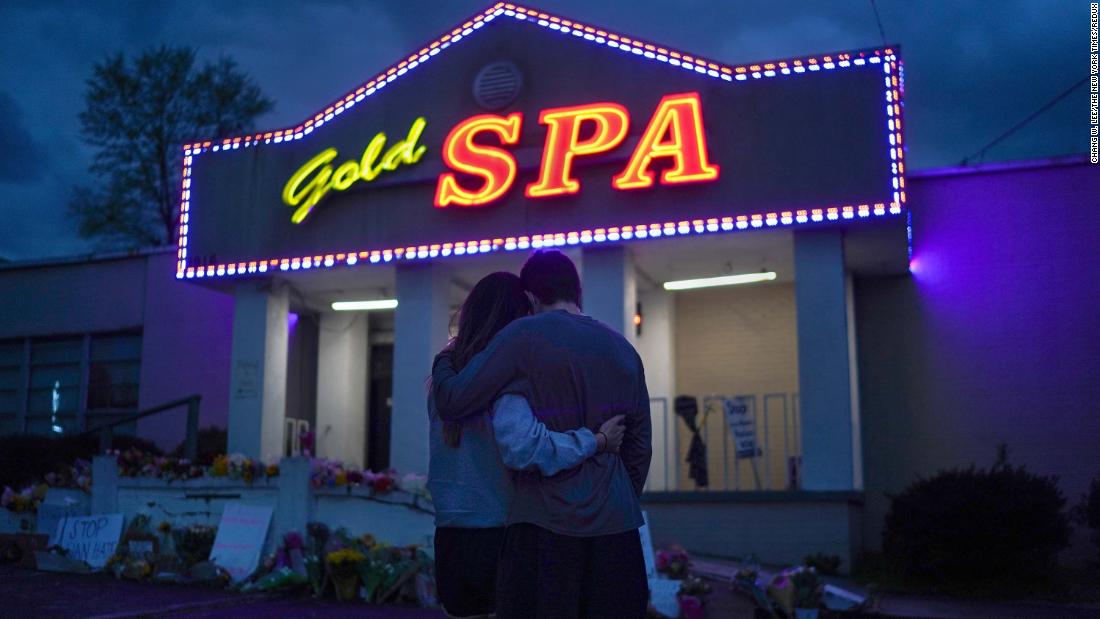 Mass shootings in the United States: at least 45 in the month starting with the Atlanta spa shooting
The United States saw at least 147 mass shootings in 2021, according to data from GVA, a Washington-based nonprofit.
CNN considers an incident to be a mass shooting if four or more people are shot, injured or killed, excluding the shooter; the GVA too.
Here are the 45 incidents reported since March 16.
April 15: Indianapolis
Eight people were killed and several others injured in a mass shooting at a FedEx facility in Indianapolis Thursday night, Metropolitan Indianapolis Police Department spokeswoman Genae Cook said.
April 15: Pensacola, Florida
April 15: Washington, DC
April 13: Baltimore
April 12: Chicago
April 11: Wichita, Kansas
April 11: Seattle
April 10: Memphis, Tennessee
April 10: Koshkonong, Missouri
April 10: Waterbury, Connecticut
April 10: Allendale, Michigan
April 9: Fort Worth, Texas
One person was killed and at least five others injured when people in two vehicles shot at each other on a highway in Fort Worth, Texas on Friday night, officials said.
April 8: Bryan, Texas
A gunman killed one and injured at least five others – four of them seriously – at a cabinet maker, police said.
April 7: Rock Hill, South Carolina
A former NFL player killed six people – including a prominent doctor, his wife and their two young grandchildren – before committing suicide, authorities said.
April 7: Milwaukee
April 6: Detroit
April 5: Baltimore
April 4: Monroe, Louisiana
April 4: Birmingham, Alabama
An argument between two groups of men turned into more than 30 shots fired in a park over Easter – killing a woman and injuring five others, including four children, police said.
April 4: Beaumont, Texas
April 3: Wilmington, North Carolina
April 3: Tuscaloosa, Alabama
Two men were arrested and charged with attempted murder after five people were injured in a shooting outside an Alabama bar, police said.
April 3: Dallas
April 3: Quincy, Florida
March 31: Orange, California
Authorities say four people, including a child, were killed and another injured in a shooting at an office complex in Orange, California.
March 31: Washington, DC
March 28: Cleveland
March 28: Chicago
March 28: Essex, Maryland
March 27: Chicago
March 27: Yazoo City, Mississippi
March 27: River Grove, Illinois
March 26: Virginia Beach, Virginia
March 26: Chicago
March 26: Norfolk, Virginia
March 26: Memphis, Tennessee
Michael Tucker, the man identified as the suspect, was found dead Thursday at a Nashville motel. Police spokesman Don Aaron said Tucker is believed to have died from a self-inflicted gunshot wound.
March 26: Philadelphia
March 23: Aliceville, Alabama
March 23: Boulder, Colorado
Ten people, including a Boulder police officer, were killed in a shootout at a King Soopers supermarket, police said.
March 20: Philadelphia
One person was killed and five others were injured in a shooting at an illegal party, CNN affiliate KYW reported. "There were at least 150 people who fled and believed they had to flee for their lives," Philadelphia Police Commissioner Danielle Outlaw said.
March 20: Dallas
March 20: Houston
March 18: Gresham, Oregon
March 17: Stockton, California
March 16: Atlanta
Eight people, including six Asian women, were killed when a white gunman stormed three spas, police said.
CNN's Christina Walker, Melissa Alonso and Josh Berlinger contributed to this report.