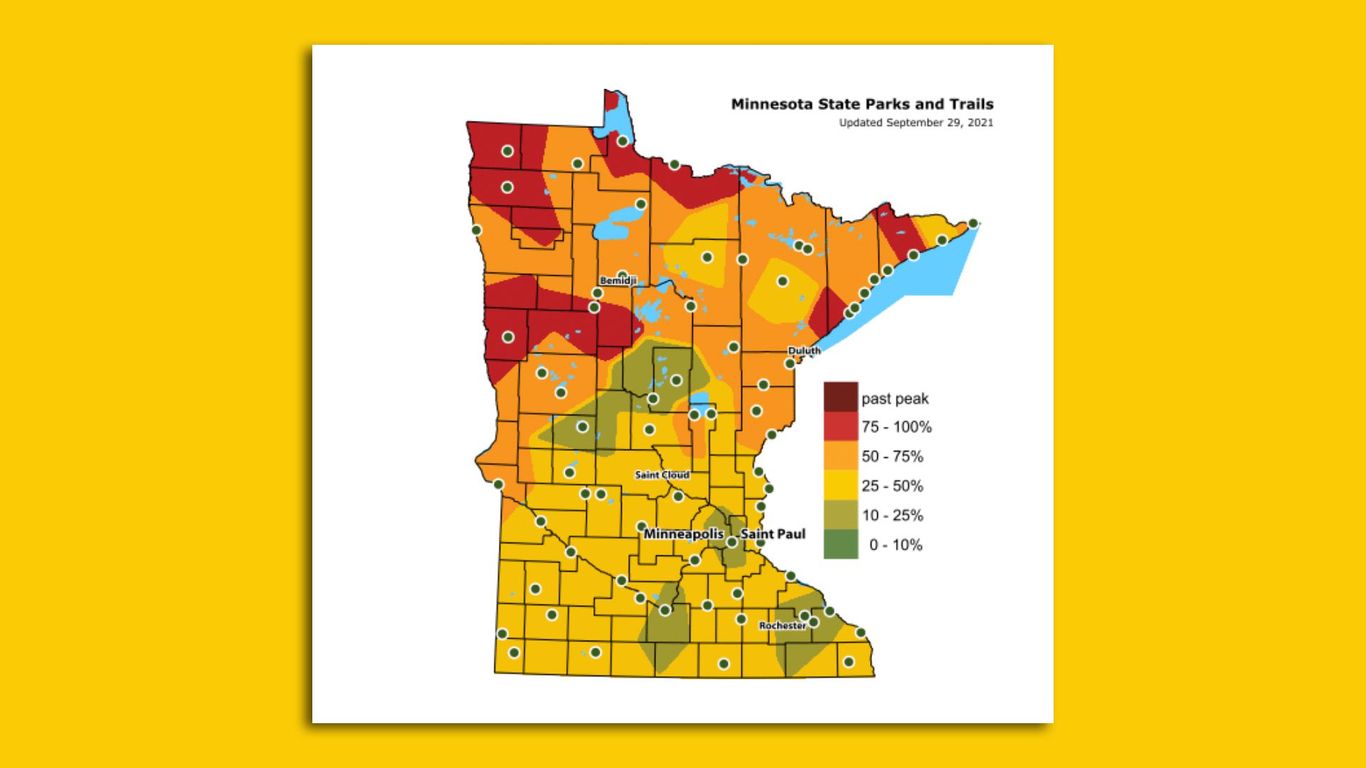 Minnesota is ready for peak fall colors
Now is the time to head north if leaf watching is your jam.
What is happening: Much of northern Minnesota has peak or near peak fall color, and the next 10 days are expected to be the best of the year.
The Twin Cities and southern Minnesota aren't far behind, with peaks expected in mid-October.
Why is this important: The breathtaking beauty of the fall foliage is one of nature's great gifts to us.
More: Metro residents who head north to take in the views help keep the tourism economy booming.
Conduct timing: The summer forecast of a color season in early fall due to drought did not materialize largely thanks to a warm September, when temperatures rose to average 3.7 degrees, according to reports. MPR meteorologist Paul Huttner.
Huttner says the peak fall color is actually a week or two behind last year's pace.
Between the lines: Some experts warned earlier in the season that the drought could also lead to a more subdued overall palette.
"The trees were pretty stressed, especially in the early summer … What the trees need to get those vibrant fall colors, those vibrant reds, are sunny days and cooler nights," said the Itasca State Park Naturalist. Connie Cox told the Forum News Service earlier this month.
Be smart: If you want to head north for more than a day, you better book early.
An Airbnb search on Wednesday around the Grand Marais did not find any rentals open for this weekend, and there were less than a dozen left for the weekend of October 9.
Some popular state campsites, including Split Rock, are also reserved.
The bottom line: With plenty of sunshine and temperatures forecast in the 60s and 70s, this weekend provides perfect conditions for fall adventures.
So shut down that laptop, pause your last Netflix frenzy, and get outside!