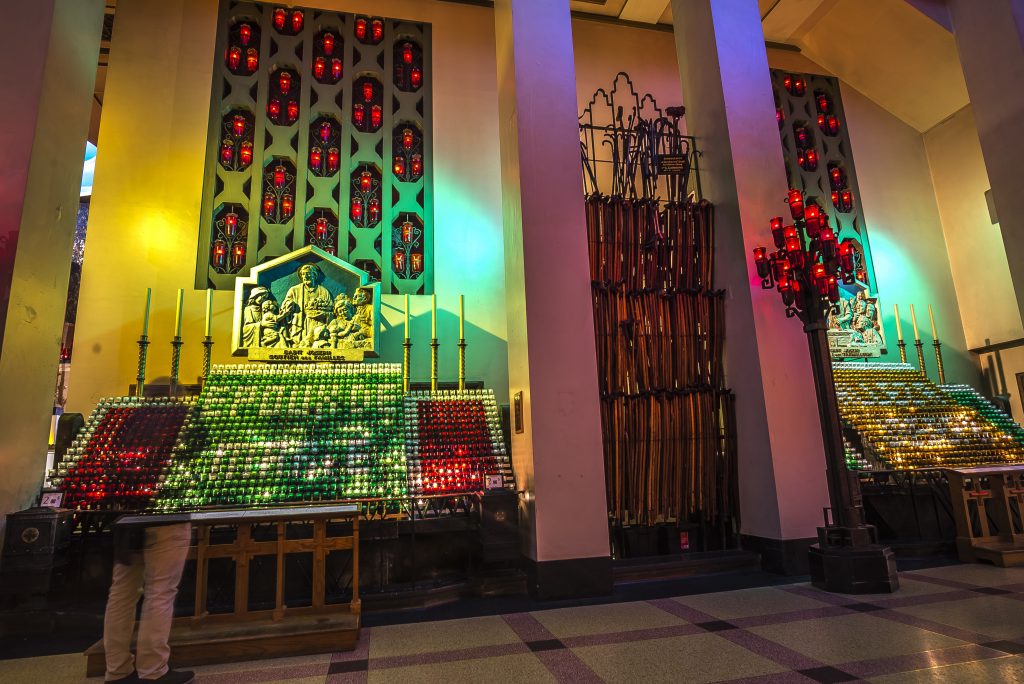 My last pilgrimage with my mother
I think it was the image of the crutches stacked against the wall that made him want to make the pilgrimage. It was May 2018, and my mother asked me out of the blue to drive her to Saint Joseph's Oratory in Montreal, Canada. She was a year and three months after being terminally diagnosed with ALS and was beginning to lose the use of her legs. Doctors estimated that he had about two or three years left to live.
My brother, my father and I were busy with practical tasks to stay ahead of his successive needs, such as customizing an electric wheelchair, researching how to thicken liquids and tidying up the care directive. advanced health.
My mother didn't want to talk too much about these things. She hesitated between fear, anger and a firm resolve not to focus on tomorrow's problems when today's were enough.
She also intended to obtain a miracle.
My mother was convinced, until the end, that God could heal her. "When I get my legs back," she would start a sentence, detailing the hopes she had for her future.
My father had already accompanied her to Lourdes and Fatima. She came back in the same condition as when she left. Later, she and I flew to Arlington, Virginia, to attend a women's conference so she could meet Sister Briege McKenna, an Irish nun with the gift of healing. She left this event without remedy.
And then she asked me to make the 10 hour trip to Canada from New Jersey. I was beginning to worry that his faith would turn to despair, but I didn't have the heart to put the brakes on that idea. Plus, time is running out for future mother-daughter trips.
My mother had read articles about Saint-André Bessette, the Quebec doorman at Collège Notre-Dame in Montreal. A religious brother of the Congrégation de Sainte-Croix, Saint-Bessette was assigned the role of porter due to his poor health and lack of education. Yet it was not a hidden life. Many visitors who prayed with him received physical healings and word spread quickly. People came in droves to meet him.
Brother Bessette attributed the healings to the intercession of Saint Joseph and not to himself. In the interest of increasing devotion to Jesus' adoptive father, he saved money to build a small shrine dedicated to him.
When the oratory opened in 1904, he was its full-time caretaker. He received thousands of pilgrims there, many of whom received physical healings. A larger basilica was completed after the death of Brother Bessette. It is the largest shrine dedicated to Saint Joseph in the world and attracts over 2 million pilgrims a year. The small shrine and basilica are laden with crutches that pilgrims left behind after praying at the site.
A general rule with religious pilgrimages is that anything that can go wrong does go wrong. It felt like even though we were driving north, things were heading south only an hour into the ride at the Vince Lombardi rest stop on the New Jersey Turnpike.
I walked my mother into the bathroom using her walker, only to find the disabled bathroom occupied by an able-bodied woman. Once we entered the booth, I received my first introduction to the world of ADA compliance. It turns out that when it comes to disability, the one-size-fits-all approach does not fit all needs.
Our Airbnb also advertised accessibility, but the beds were too low for my mom to get in and out of, and the walls reeked of smoke. The weekend we chose coincided with a Grand Prix race, so the city streets were jammed with sports cars and packed with tourists, making the already dangerous navigation more difficult.
That's not to mention the most disappointing part of the trip: when we arrived at St. Andrew's Tomb, we found it closed to visitors for renovations. When I saw the blockade, I started crying.
My hands hurt from pushing my mother through the city streets and up the steep hill to the basilica. But above all, my heart sank for her. We had come all this way – the physical and emotional distance – to meet the doorman who couldn't open that door for us.
I didn't have the heart to look at his face, so I rolled him a few steps towards the eight altars dedicated to Saint Joseph. There, the saint appears in relief, illuminated by an intense red hue emanating from the votive candles. There are eight altars, each dedicated to a group of cause for which the intercession of the saint is sought, including Joseph, Guardian of the Pure of Heart; Joseph, Protector of the Church; Joseph, pillar of families; Joseph, Terror of Demons; and Joseph, model of workers.
Then we stopped near the other three and were defeated: Joseph, Espérance des Malades; Joseph, our consolation in suffering; and Joseph, patron saint of the dying. It seemed that Saint Andrew was doing what he had always done: directing pilgrims away from him and towards Saint Joseph.
We were standing there at the last altar praying together:
Open our eyes so that we can see the path of Life that lies beyond death. / May nothing, neither denial, nor anger, nor depression, separate us from the Love of God. / Strengthen our faith in God who always finds the means to preserve us in his friendship. / Be by our side to hold our hand as we take our first steps towards the Eternal Kingdom.
Three years later, my father, my brother and I were praying at my mother's bedside as she received the anointing of the sick. She died a few hours later. I have long asked God why my mother was not among the pilgrims who left the waters of Lourdes able to walk, or who left their wheelchairs at the oratory.
But I can now imagine that in passing from this life to the next, she crossed the gates of paradise on those legs that she wanted to find again, welcomed by Saint Andrewe at the door. And the ever-glorious patroness of a happy death would follow close behind, welcoming him home to rest at the end of his earthly pilgrimage.