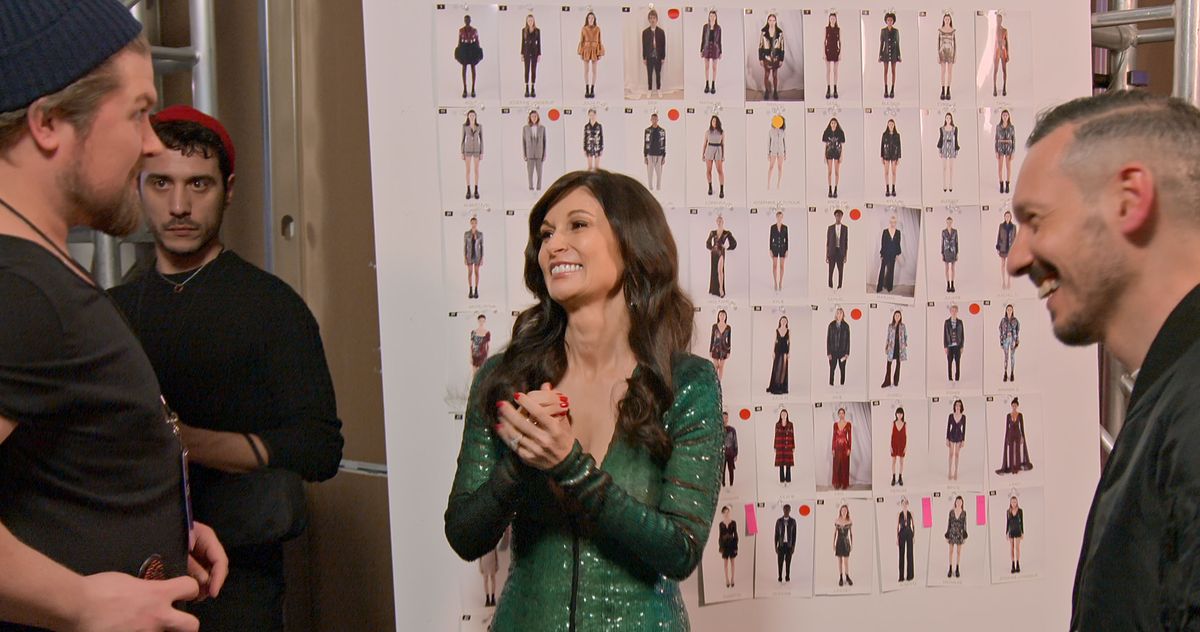 My unorthodox life and the capitalist fairy tale
Do glamor and haute couture bring freedom? Is wealth the antidote to a protected religious existence? For Julia Haart, matriarch of My unorthodox life, the answer seems to be a simple and resounding YES. But if you remove some of its layers, the show actually suggests more complicated answers to these questions.
Ultra-Orthodox Judaism had a pop culture moment, and I was first drawn to MUL for its apparent connection to shows such as Unorthodox and (the particularly brilliant) Shtisel – which touchingly depict people negotiating (or abandoning) their lives within strict religious communities.
Corn MUL has nothing to do with these series. Firstly, because these shows are dramas and they're reality TV, a supposedly unscripted genre, starring real people. And then, paradoxically, because MUL feels so less real than these other series. Or at least it feels less human, forgoing a deep exploration of emotion or spirituality in favor of a bursting consumerism that resembles a Jewish version of the Kardashians franchise. Granted, there is a new pull in there – I don't remember ever seeing openly Jewish people become as ultra-glam, even decadent sexy on TV, as the Haarts. (Ms. Maisel may dress well, but she's too healthy and secular UWS to feature in such comparisons.)
I consumed My unorthodox life in one sip, mesmerized by the Haart family – refugees from the ultra-Orthodox Jewish community of Monsey, New York, who emigrate to Manhattan for a life of utter fabulousness. The luxury and visual pleasure are out of the ordinary. In MUL, beautiful people frolic in delightful settings: a Tribeca penthouse, Parisian fashion shows, private helicopters and even an actual medieval French castle – which the gang uses as AirBNB.
This castle seemed particularly appropriate, given the fairytale vibe of the show. Yes, MUL draws heavily on that old pop culture standby: The Cinderella Story – in which a humble woman magically acquires wealth, happiness, a better wardrobe, and of course a prince. (Thought My beautiful lady, A pretty woman, The diary of a princess, etc.) And as with all these stories, MUL strongly encourages us to believe that such a transformation is unequivocally desirable. The series presents the "before" life of the Haart family in Monsey as oppressive, and their "after" life in New York City as adult Disneyland.
Fifty Julia is the duckling turned swan of MUL (to mix up fairy tales) who at 43, fled her modestly dressed life, sheitel-bearing, Orthodox wife and mother, to transform into a multimillionaire designer and fashion mogul, HIV positive, wearing a skinny seam, sipping champagne. She's a sexy, fit brunette who wears skinny jeans and catsuits. She gives sex tips, gives gift vibrators, and can do body rolls in a flash. The transformation seems unlikely. How did a person with virtually no training, connections, education, or experience beyond their kitchen become – in less than seven years – first a high-end shoe designer (specializing in "comfortable" six-inch stiletto heels with a fuck-me platform), then artistic director of La Perla, then CEO of Elite World Group, a vast international agency of models and talents? MUL offers little explanation except for the presence of Julia's second husband Silvio Scaglia Haart (yes, he took his name) – an Italian billionaire who owned La Perla and oh, he also happens to be also co-owner of Elite World Group. . Silvio, in other words, is Julia's fairy godmother (as well as her Prince Charming). It would be great to know more about their working relationship and how he could have guided her. Instead, Silvio's role is mostly to gaze adoringly at Julia and pout when she's too busy for the romantic interludes he's planning. Silvio is then a figure, the sexy Italian lover who serves as an antitype to Julia's unglamorous and observant first husband (who appears occasionally and seems reasonable and kind, although Julia describes this first marriage as "a prison").
And in fact, the characters are mostly played as "stock" here – static types with one-note storylines, rather than fully demarcated humans. Younger daughter Miriam appears determined to be Julia's mini-me – an adventure seeker, wearing hot pants provocative – French-kiss his girlfriend in full view of his mother's business associates. The elder Batsheva is presented as an earlier incarnation of Julia herself, married since the age of 19 and struggling to balance her career aspirations with the demands of her more traditional husband. With his son Shlomo, law student, MUL focuses almost entirely on her sex life, or lack thereof. Still a virgin at 24 (premarital sex being verboten in Orthodox Judaism) Shlomo tiptoes into modern dating, with plenty of mom's lustful cheerleaders (whom he tolerates with good stoicism). child). And while it is uncomfortable to watch Shlomo's private religious and sexual struggle being used as fodder on television, it is downright excruciating to witness the plight of his younger brother Aron.
At fourteen and still living part-time in Monsey (under a shared custody arrangement), Aron is the family's dodger, clinging to strict Orthodox practice, in protest against the hedonism of his mother. His scenes with Julia reverse the usual parent-child conflicts: she berates him for NOT watching TV, not talking to girls, not listening to secular music. So as not to "have fun". With Aron, as with everyone else, Julia's approach seems to be to intimidate, goad and manipulate him into behaving "freely", that is, as she does. told him. He tends to respond with a gentle smile and a whispered reaffirmation of his religious beliefs. When (the big winner) Aron states that for religious reasons he cut off contact with a classmate, instead of discussing his motivation, Julia forces the issue by arranging a 'chance meeting' between the two teenagers, shaming his shy, pious teenage son to talk to the daughter – in full view of the cameras. (To be fair, Aron seems half grateful for breaking his vow of silence with the girls. In a way, his self-imposed restraints may stem in part from a teenage urge to rebel against his rebellious mother, and Julia seems to understand it.)
Overall, however, Julia is a pint-sized dynamo with an oversized need to control those around her. She preaches her gospel of money, pleasure and sex with all the zeal of the convert that she is. When Batsheva enthusiastically describes a business deal she made, Julia berates her for not asking for more money. When the bewildered Batsheva conscientiously tries to extract more money from her client, she loses the case entirely. When Julia's co-worker Robert Brotherton (the only non-family regular and by far the most complete and poignant character) confesses his deep reluctance to pursue romantic relationships, Julia ambushes him with a camera shoot with an intrusive matchmaker. The normally awesome Brotherton storms out of the room. In an extended subplot, the three oldest Haart children come to believe that their mother pits them against each other to determine who will get a coveted job at her agency. In the end, she explains that there was never a competition, but that she had simply "tested" their self-confidence. Children accept this explanation with relief, seemingly serene – or perhaps just too familiar – with their mother's Machiavellian tactics.
Time and time again, Julia demonstrates that instead of shedding the lifestyle she found so oppressive in Monsey, she instead incorporated her tactics as hers. She simply replaced the rules and regulations of Orthodox Judaism with those of high-stakes capitalism and other trade regimes, and replaced the Chief Rabbi with… herself. In Julia's hands, for example, the fashion industry looks a lot like another restrictive and demanding religion.
When Shlomo suggests he could buy a Chanel piece of clothing ahead of time, to gift it to a hopeful girlfriend in the future, Julia snaps that no woman worthy of the name would ever want an outdated couture item. With this, not only does she deflate one of her children's dreams again, but she proves her total dedication to the religion of fashion – with her ruthless precepts and calendar observances. And while Julia may avoid Monsey's modest clothes, how liberating are the catsuits, hot pants and stilettos that she wears and now markets? Don't the two extreme dress styles view women's bodies as hypersexualized objects, requiring either a protective blanket or exposure to ultra-racism? (Does anyone else remember the 'nude' jeweled fishnet dress Julia designed for Kendall Jenner a few years ago?)
Finally, I can't help but notice the Trumpian accents of My unorthodox life, with its dynastic family business, rich pornography, edgy rivalries, super sexy women, and a CEO at the helm who seems to confuse corporate success and thoughtless indulgence with freedom. At the end, MUL looks less like the story of a woman's liberation than a warning about the difficult proximity between the worlds of extreme religion and extreme capitalism.