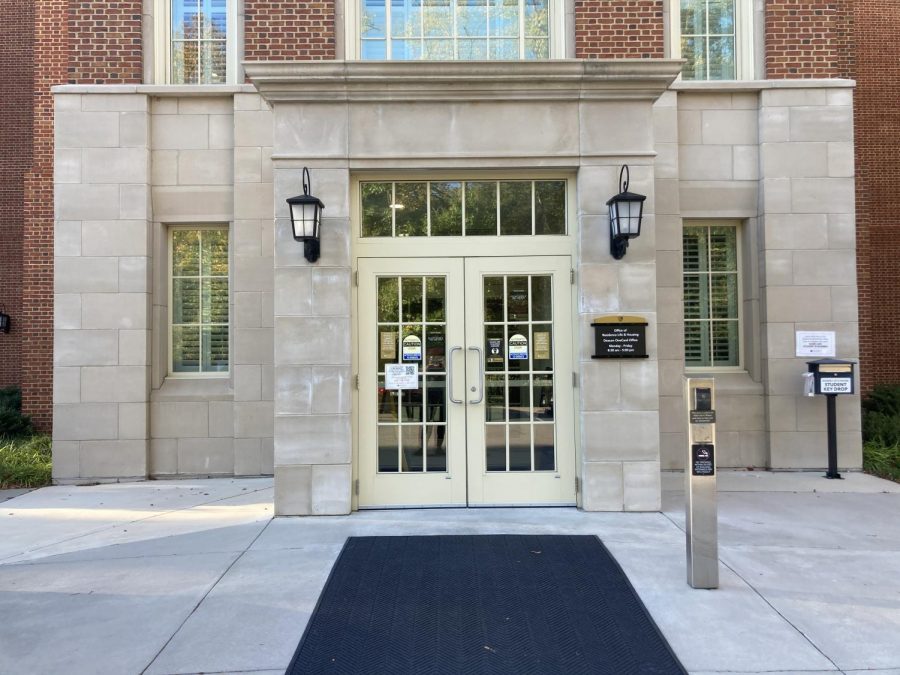 Nowhere to go for international students while on vacation – Old Gold & Black
On October 4th, the International Student Newsletter was sent on time to email inboxes. At the bottom of the email – under visa reminders, Chinese movie night, and volunteer opportunities – the students discovered shocking information:
Wake Forest will not be providing accommodation for international students during the four week winter break.
"I'm panicking," said Ruohan Li, a senior from Beijing, China. "I don't have a specific plan for what I'm going to do or where I'm going to live during the winter."
International students make up 9.2% of the undergraduate student body at Wake Forest, representing 46 different countries. Each country has its own travel rules and quarantine periods during the continuing global pandemic. China requires a quarantine of at least 14 days at a government-selected property or hotel at the traveller's expense. Other countries, like Brazil, have opened their borders and lifted quarantine requirements for travelers.
These unpredictable conditions, which require advance planning, highlight how difficult it is for international students to travel abroad today.
"If I go back to my hometown, there is a quarantine policy and maybe I will need to be quarantined at the hotel for almost a month." Heng Zhang, a freshman from Beijing, said. He is expected to return for the spring semester even before the end of the quarantine period.
Another freshman, Qianyue Zhang (unrelated), also from Beijing, is also unable to return home due to the quarantine policy.
"The quarantine lasts for a month and the winter vacation lasts only a month," said Qianyue Zhang.
The school's decision is largely financial, according to university officials. The policy allows the university to cut costs in a way that is not possible during the school year.
"This period provides a much needed break for university staff and services," said Zachary Blackmon, associate director of operations for residential and housing life, "In addition, the university is able to significantly reduce the energy consumption during this period by adjusting the buildings as the usual heating setpoints.
The university declined to account for the cost of running the facilities during the winter break.
In the newsletter from early October, the International Student Scholar Services included a petition to stay on campus during the holidays. Most of the students assumed this was the appeal process to live on campus during the break.
"I am confused because I thought we could stay on campus during the winter break," Qianyue Zhang said. "And I litI really don't know how to handle this.
Seeing the link, Li was optimistic that the administration would help international students deal with the housing problem during the winter, but was puzzled.
"So I clicked on it, but it was super weird, it wasn't going anywhere," Li said. "He directed me to the housing portal, but when I logged in there was no was nothing. I just don't know what to do.
Li, worried, emailed Residence Life and Housing on October 4, the day she saw the ISSS newsletter, but RLH did not respond until October 13.
"Unfortunately, that was misinformation," said Matt Clifford, assistant vice president for campus life and dean of residential and housing life. "Last year we used an application process. We are not using this process this year because we do not have a hotel.
Li was not satisfied with the response.
"They just said, 'sorry, we won't be providing any winter accommodation for international students and sorry for the inconvenience,'" Li said. 'explanations. "
Aside from the failed petition link, many students were completely unaware that accommodation would not be provided during the break.
"I didn't notice the information," Heng Zhang said. "It appears that our campus is unwilling to provide us with the residence. "
Some students are willing to pay for the school in order to offset the additional cost of running the dormitories.
"If you're really having financial trouble this year, we might actually pay more to stay here, because safety is a priority," Li said.
Qianyue Zhang also highlighted security, financing and transportation concerns as important factors that should have been taken into account.
"Staying in a hotel or renting a house is neither safe nor cheap," she said. "And besides, we don't have cars, so that's another big problem. We can't go anywhere, so we have to take Uber, which is also very expensive."
Some international students may return home but are disappointed with the school for being what they call "ignorant" and "indifferent" to their travel challenges related to COVID-19.
"I am very lucky to be able to return home," said Marina Velasco, a sophomore from Lima, Peru. "Honestly, the fact that the school doesn't even support us is very isolating. "
A feeling of ignorance and lack of compassion on the part of the university is a common feeling among students.
"There are a lot of things and expenses that you have to take care of," said Emy Yamamoto, a sophomore from Sao Paulo, Brazil. "Tell us to go back or have no place to go. It's just very inconsiderate.
Residence life and accommodation have reservations about leaving students on campus for the entire break. They would not be able to house the students together, meaning most would be spread across either end of the campus.
"They would certainly be worried about feeling lonely, but also about being scattered," Clifford said. "It's not ideal for them."
For many students, safety is actually the number one concern as they look for expensive options to stay in Winston-Salem between semesters.
"Staying on campus is the safest and most comfortable option for me," said Heng Zhang. "Maybe I have to go to a hotel or some other means to find my place of residence, and I think it is time consuming and a little difficult for me."
Still new to the United States, freshmen are concerned about their safety living alone. They "have never booked a hotel before in the United States" and they don't know if they can find "a suitable Airbnb," according to Heng Zhang.
Wake Forest rented rooms at the Best Western Hotel last year to dedicate space for quarantine and seclusion. Last winter, Wake Forest used this space to accommodate international students with single rooms and basic facilities.
"At the start of this year, knowing that we would have a highly vaccinated campus, we expected the need for quarantine isolation to be much lower," Clifford said. "We therefore made the decision to terminate the agreement with the hotel."
This eliminated the possibility for international students to request accommodation during the winter holidays in the hotel, as was the case last year.
Students can stay at the hotel for a "special rate" of just over $ 2,000 ($ 79 per night) for the duration of their stay. The money only covers the room, so international students have to pay extra for their transportation and meals. Last winter, students paid around $ 1,000 with meal plan options they can choose to purchase.
"I keep telling people that Wake Forest is my second home, and it's so sad when people here don't really care about you," said Khushi Arya, a junior from New Delhi, India. .
Arya continued, "The doors should be open, and they shouldn't be able to just kick us out and say, 'Well, good luck. ""
While the students are troubled by the situation, the ISSS noted that they are aware of the feelings on campus and are working with residence life and accommodation to resolve the issue.
The ISSS is monitoring the results of an Oct. 22 survey to assess the number of affected students. While the ISSS can advocate for students on the basis of results, residency and lifetime accommodation have final word on the matter.