office KGDVS designs the green Brussels headquarters for the VRT broadcaster
Flemish public broadcaster VRT is teaming up with architectural firm KGDVS for the construction of its new headquarters in Brussels. the project will replace the company's current office space, which has been in existence for more than four decades. the construction team, is nicknamed VRT morgen (translation into VRT tomorrow) and consists of the KGDVS office and the architects jaspers-eyes, bureau bas smets, tractebel, CES, ideal acoustics, willemen construct, jan de nul group and EEG. with its completion scheduled for summer 2026, the new media house focuses on flexibility and cooperation with meeting places where employees can meet and collaborate.
pictures © consortium VRT morgen
OFFICE kersten geers david van sevèren (KGDVS) with the VRT consortium morgen sees the head office as two superimposed volumes, compact and accessible. the building has a ground floor with a mezzanine and only three upper floors with an area of ​​285 by 285 feet. inside and outside of the new VRT house will be woven of lush vegetation. the call for new construction projects, which is part of the transformation of the reyers district and the creation of mediapark.brussels, started in February 2020. the project marks the winning proposal out of seven applications.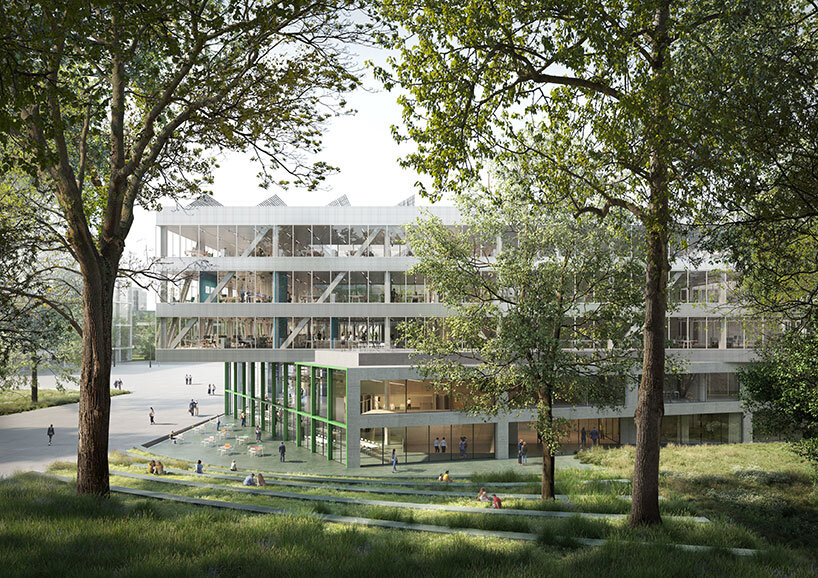 KGDVS designs its VRT head office in Brussels with an octagonal volume at its base, welcoming a spacious hall. this space will house meeting places for employees and visitors as well as three large television studios. above is the second volume, the working area, consisting of only three floors. each floor has an extremely spacious collaborative workspace. VRT is a creative house and in the future it will be possible to create content very easily on any office floor. flexibility and media creation go hand in hand.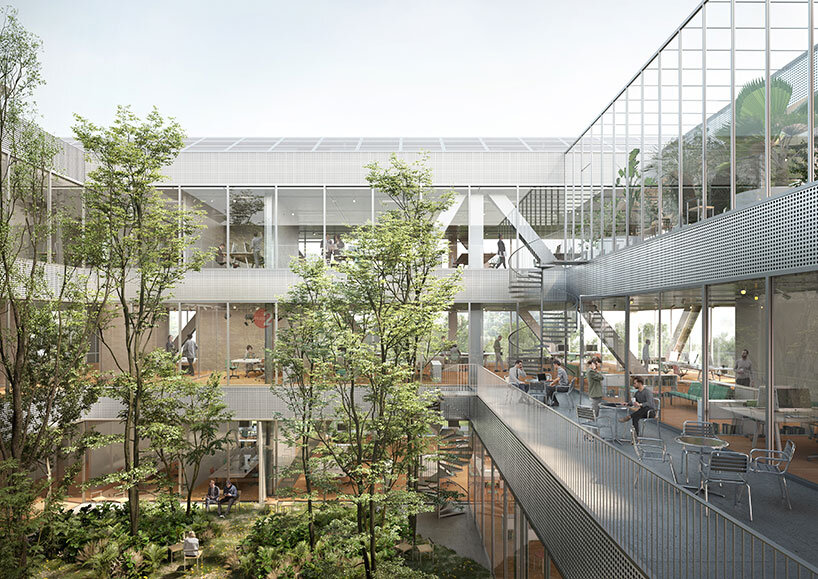 the new VRT house is a compact building, integrated into the natural environment and with a limited ecological footprint. on the one hand, the construction project made the choice to preserve the most existing trees and, on the other hand, the new building is completely free of fossil fuels. an insulating building envelope is used and the building is fully heated using recovered heat and heat pumps. An additional 2,300 square meters (24,757 square feet) of solar panels are installed on the roof to support the electrical installation. VRT literally opted for a green building with five large interior gardens and adjoining terraces. the combination with the trees and the park makes it a distinct green environment, both inside and out.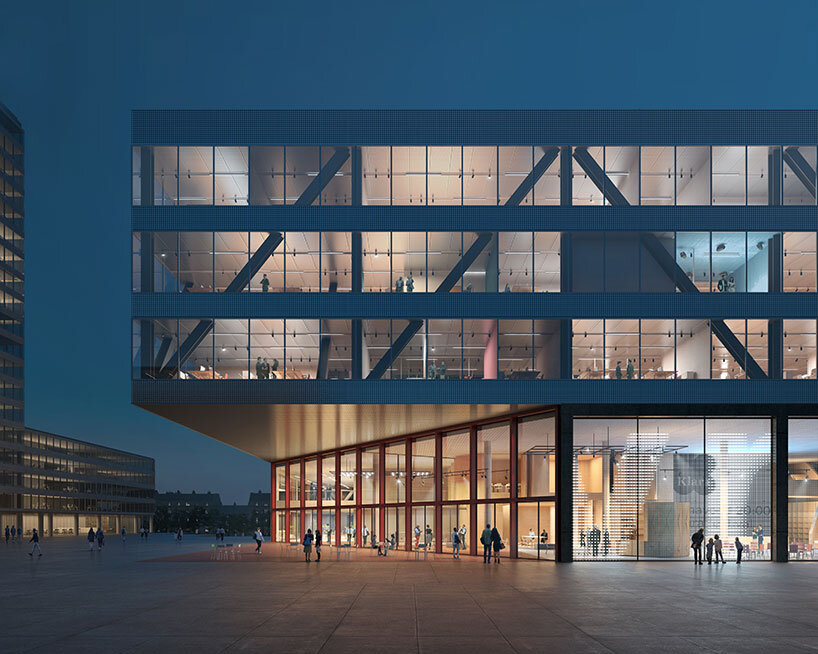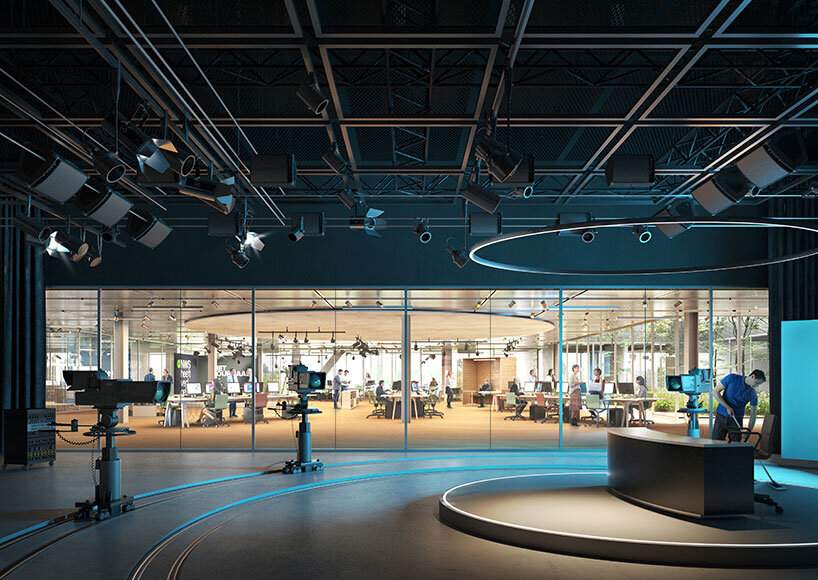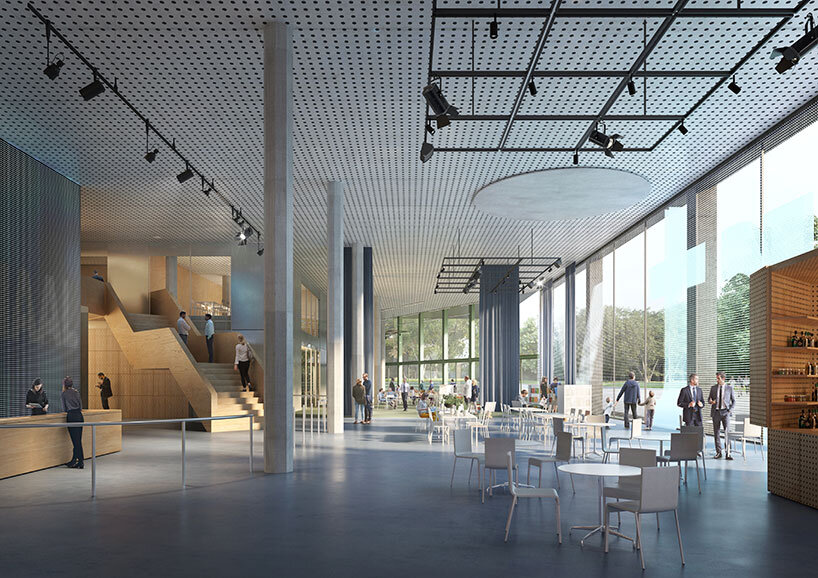 project info:
Project title: VRT headquarters
design team: OFFICE kersten geers david van sevèren (KGDVS), jaspers-eyes architects, bureau bas smets, tractebel engineering, CES, ideal acoustics
entrepreneurs: construction willemen, jan de nul and EEG
customer: VRT
site: Brussels, Belgium
status: competition winner, proposal
visualizations: © consortium VRT morgen