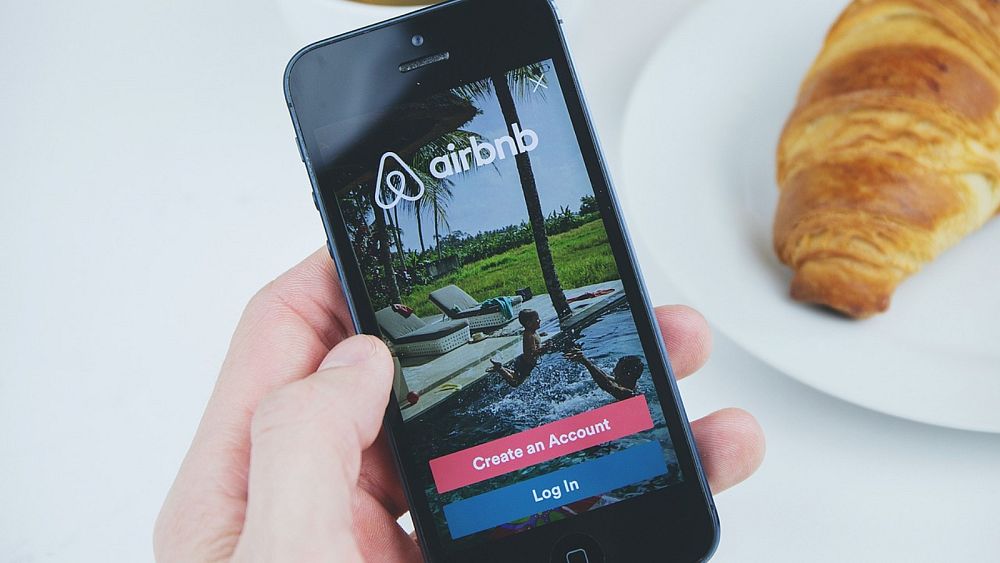 Owners switch to long-term rentals as COVID hits European short-stay market on Airbnb
Where regulators have failed, the pandemic has succeeded.
With countries imposing severe travel restrictions and virus variants spreading across borders, Airbnb owners are abandoning short-term stays for tourists and betting on long-term rentals for residents instead.
The change in preference hit the company hard.
In 2020, turnover down 30% compared to 2019, from $ 4.8 billion to $ 3.4 billion (from € 4.07 billion to € 2.89 billion).
The double-digit drop, however, did not deter the platform from going public on Wall Street. In December, the shares were initially offered at $ 68 each and have since tripled in value, although they have seen several highs and lows.
Airbnb is now hoping that last year's market volatility and consumer reluctance gives way to a strong tourism rebound in 2021, fueled by widespread vaccination.
But the extreme impact of COVID-19, which has altered virtually every aspect of life, could turn temporary changes into permanent behaviors.
"Many landlords have decided to take their homes out of the short-term rental market and put them on the long-term rental market," Mario Breglia, president of Scenari Immobiliari, an independent research center, told Euronews focused on real estate.
"There was a sudden increase in the supply of rental homes in Italy that we haven't seen in decades. The owners did their math and preferred to earn a little less over a year, but with a good tenant. who always pays. "
Popular European destinations such as Budapest, Rome and Amsterdam are experiencing a sharp decline in the number of Airbnb listings available. In Prague, registrations fell by 50% in 2020, according to AirDNA analyzes.
Rise and backlash
Since its launch in 2008, Airbnb has become the essential site for affordable accommodation. Its worldwide popularity is twofold: on the one hand, it offers budget-conscious travelers options that are significantly cheaper than hotels; and on the other hand, it offers homeowners an easy way to make money with their properties.
Airbnb, which stands for "Airbed and Breakfast", is currently available in 100,000 cities in more than 220 countries and regions around the world. The platform has around 5.6 million active ads and 4 million hosts (owners). According to company data, each Airbnb host earns an average of $ 7,900 (€ 6,710) per year.
But as his popularity and name recognition increased, so did the potential for a backlash.
The expansion of Airbnb accommodation for tourists has been linked to a sharp increase in rental prices for residents, especially in western capitals and other major cities. A Study 2019 by Harvard Review Business found that "a 1% increase in Airbnb listings is causally associated with a 0.018% increase in rental rates and a 0.026% increase in house prices."
Considering that the average business growth year-over-year is around 44%, "this means that, overall, roommate growth through Airbnb contributes about a fifth of the increase. annual average rent in the United States, "according to the study. noted.
Cities like Paris, Barcelona, ​​Berlin and New York City have already introduced measures and regulations to limit the number of short-term listings each owner can offer and how many days those rentals can last.
The backlash against the company is similar to other showdowns between digital and traditional businesses, such as taxi drivers against Uber, newspapers against Facebook, and cinemas against Netflix.
Airbnb defends by arguing that its business model "directly benefits communities," helps homeowners pay their bills, and allows tourists to spend more money on local businesses.
The European countries that recorded the greatest economic advantage in 2018 were France ($ 10.8 billion), Spain ($ 6.9 billion), Italy ($ 6.4 billion), United Kingdom ($ 5.6 billion), Portugal ($ 2.3 billion), Germany ($ 2.3 billion), Greece ($ 1.4 billion) and the Netherlands ($ 1.3 billion), estimates the company.
Tourism dependent countries like Spain and Greece are now at the forefront of an EU-wide vaccination passport, which the European Commission introduced – significantly modified – at the beginning of March with the objective of making it operational before the summer. The green pass is expected to help the travel industry, including Airbnb and other hotel services, bounce back from a disastrous 2020.
Affordable social housing
The debate is now focused on how to coexist with Airbnb, whose main intention is to continue to grow, and how to alleviate its harmful side effects.
The International Tenants Union argues that European governments should use money from the EU's € 750 billion stimulus fund to follow the example of Lisbon and Barcelona. As two of the most attractive destinations in Europe, both cities are increasingly beset by so-called "street tourism", a term which applies to short and intense stays.
Seeing that rent prices were becoming prohibitive, the municipalities of Lisbon and Barcelona began to buy houses available on Airbnb and turn them into social housing.
"We now have a huge amount of money coming to European states to start their economies. Many of them think this is the opportunity to change the whole housing market and use the EU [recovery fund] money to build a non-profit housing sector towards more affordable long-term housing, "said Barbara Steenbergen, Executive Committee member of the International Tenants Union.
However, EU competition law only allows public investment in housing for low-income people, leaving out the middle class, which also suffers from unsustainable rent prices across the continent.
Members of the European Parliament urge the European Commission and national governments to take action and recognize "access to decent and affordable housing as an enforceable human right".
"Housing is considered affordable if the occupant's remaining budget is at least sufficient to cover other essential expenses. While this threshold is currently set at 40%, more than a quarter of European tenants of commercial housing spend a higher percentage of their income on rent, "lawmakers said in A resolution adopted in January.
In a thinly veiled attack on Airbnb, MPs pointed out that "the exponential growth in short-term vacation rentals pulls homes off the market and pushes up prices, and can negatively impact the quality of life in cities and towns. urban and tourist centers "and called on the Commission to grant wide latitude to national and local authorities to" define proportionate rules for reception services ".
The text received 352 votes in favor, 179 against and 152 abstentions.
Leïla Chaibi, a French MEP member of the La Gauche group, was one of those who supported the resolution.
"When you allow investment in affordable public housing, you are essentially influencing the private stock because it brings down the price. You have the low-rental housing advantage in the market, so I think that's the main tool. to use, "Chaibi told Euronews.