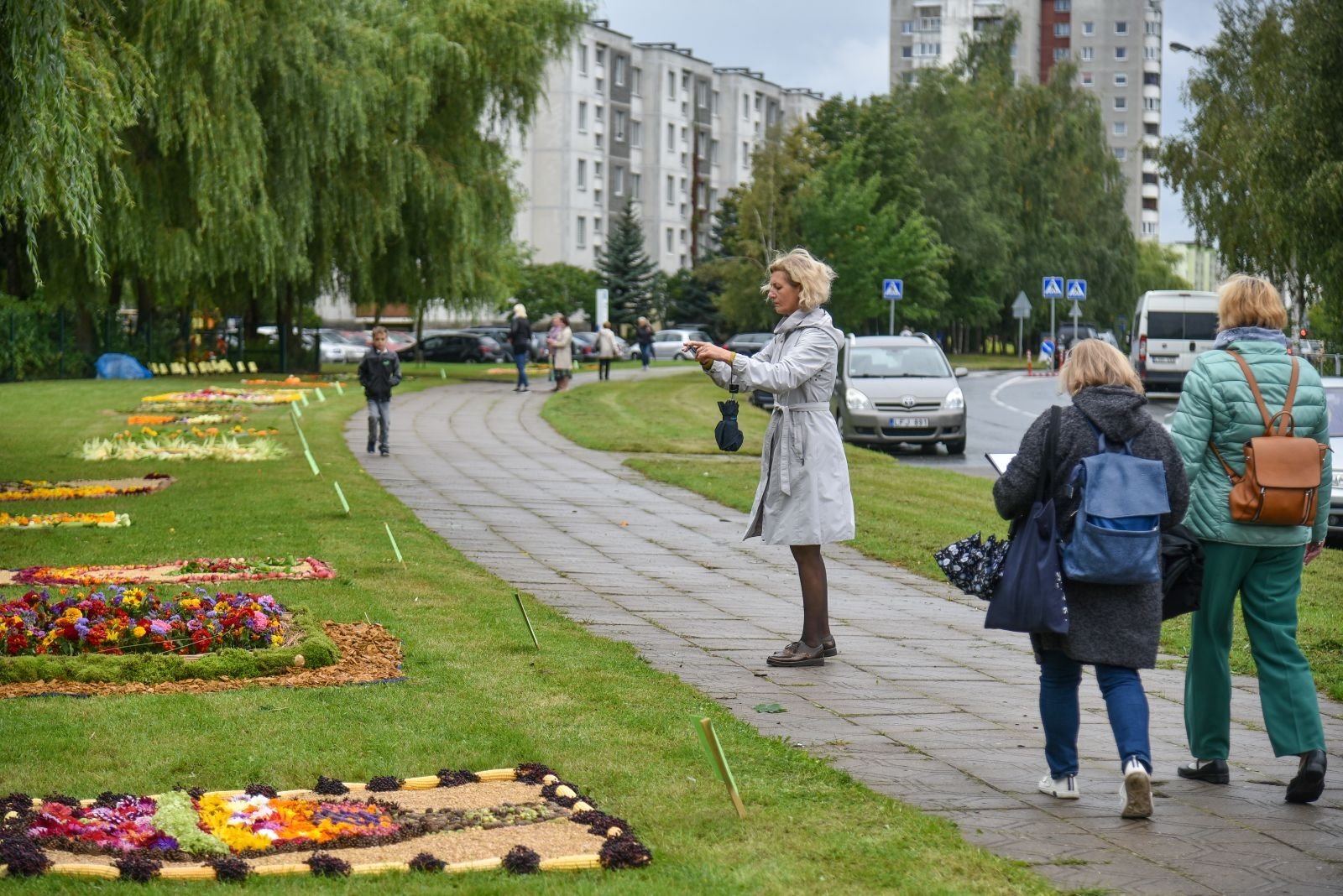 Panevėžys is surprised by the floral carpets decorated in the city
Until Freedom Squares reconstruction carpets made of flowers, fruits, and a wide variety of natural materials laid the lawn in the heart of the city. This time, the eye-catching works lay on Kniaudiškių Street, next to the event organizer's nursery-kindergarten "Puriena". Its director Zita Kuncienė says that some communities of educational institutions also want two carpets.
This year's project is called "Symphony of Flora", so the creators gave the carpets to their relatives from the names of image names: "Golden Autumn", "Colorful Rainbow", "Forest Conductor", "Autumn Slimes" and others.
"When the ring sticks to the ring, they are so fluffy, so fantastic. All participants have perfected so much that wow, "says Z. Kuncienė.
Puriena kindergarten itself had as many as three ideas. The idea of ​​Lina Davainytė, the kindergarten teacher who will be in the buses of the city teacher of the year awards this year, received the most votes. A variety of materials were used for the carpet – sunflowers, yellow carnations, grains, multicolored autumn flowers. According to the principal, these kindergarten communities brought so much material to compose the carpet that they would be enough to put together another real kindergarten area.
Carpet designers compete in 13 nominations: "Carpet with the most sympathy", "Children's rug", "Carefully woven rug", "Softest rug" and others.
It will be possible to admire the carpets all week – until next Tuesday.
Z. Kuncienė says that this beautiful idea originated eleven years ago. Initially, carpets were created only in the nursery area. The director recalls that when she first applied for permission to organize an event in the city, the City Municipality had to convince for a long time that the vandals would not touch the created beauty. And really – the villains of carpets have never been destroyed, only their details have been released in the Freedom Square by birds that have flown to such beauty.