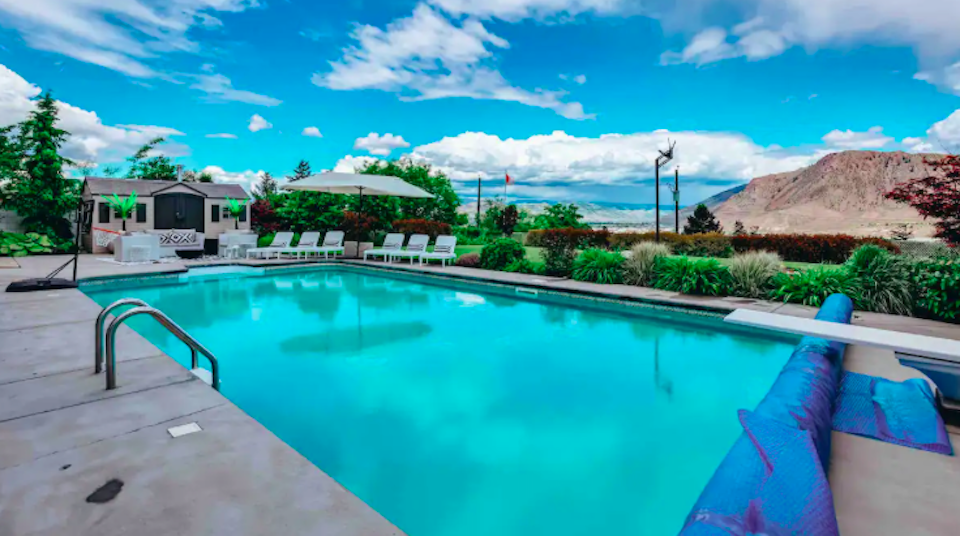 Pools: Check out the best Airbnb stays in British Columbia
Do you like to cool off in the summer but hate crowded swimming spots?
Travelers hoping to enjoy a little more privacy on their vacation have several options through Airbnb in British Columbia.
Whether you're looking for a modest abode in a remote location or a luxurious stay at a popular beach resort, Airbnb hosts offer a wide range of accommodations across British Columbia.
Now the vacation rental company says it's made it easier to discover the province's best pools with its all-new design built around Airbnb Categories. Using the new interface, customers can search curated collections, with more than 50 home categories chosen for their style, location or nearby activities, including "Amazing Pools".
Many popular destinations are packed with tourists during British Columbia's short sunny season, making it difficult to relax on beaches and public pools.
Okanagan Lake, for example, welcomes thousands of visitors to its sandy shore. But if battling the crowds isn't your idea of ​​a perfect summer day, you'll want to stay somewhere that offers private respite.
Even Whistler, a destination renowned for its world-class ski resort, sees tourists flocking to its mountain lakes in droves for refreshing summer swims.
In the Lower Mainland, West Vancouver's Ambleside Beach is breathtaking, but it's far from a secret swimming spot. Crowds of locals flood the city's shoreline in hot weather.
The best way to avoid crowded swimming spots is to book a private vacation at a destination across the province.
Pools in British Columbia Airbnb Placements
Private Resort Style Family Stay in Kamloops
Described as "family-friendly" and "resort-style," sleeps 12 in this five-bedroom, six-bathroom, two-bathroom Kamloops home.
The property also has a private heated swimming pool, basketball court, outdoor barbecue, karaoke machine, table football, spike ball and tennis court. "fire pit for roasting s'mores or stargazing," according to the listing.
The accommodation is also located close to shops, restaurants, parks, the lake and the city center.
Red Cedar Log Cabin on Bowen Island
Eight people can stay in this four-bedroom red cedar log cabin located on a wooded Bowen Island waterfront. It has eight beds, three and a half bathrooms, an infinity pool and a hot tub.
The host writes that it "is ideally located, about [five] minutes drive from the quaint main town "Snug Cove" and its shops, restaurants, pubs and the ferry to the mainland. It is also a 10 minute walk to our local beach, September Morn."
Family rental with a view in Peachland
This home in Peachland can sleep up to eight people and has three bedrooms, six beds, and two bathrooms. Guests have access to the top floor of the house, as well as the two terraces, the courtyard and the saltwater swimming pool (open from May 1 to September 26). Of course, one of the property's biggest draws is the stunning view of Okanagan Lake.
An on-site caretaker lives in a basement suite with a separate entrance so guests have privacy and exclusive access to all amenities, including the pool.
Suite with pool and hot tub in West Vancouver
Up to six people can stay in this West Vancouver suite, which features two bedrooms, four beds and a bathroom. The property also has a great pool and hot tub, but they're shared.
The private guest suite is ideal for families and groups of friends, writes the host in the listing. It has its own private entrance and is located close to beaches, public transit, hiking, skiing, Whistler and all that the beautiful area has to offer.
Described as a "luxury staycation", this beautiful ski-in ski-out chalet in Whistler sleeps up to 12 people, six bathrooms, 13 bedrooms and seven and a half bathrooms and is located in the "exclusive neighborhood of Kadenwood. "
There is also a comfortable hot tub, swimming pool, lounge with fireplace on the balcony and private access to the gondola.
"Maximizing its mountain views, Esha uses an open-concept design and floor-to-ceiling windows, spread over 4 panoramic floors, to make its guests feel at one with the rugged surroundings," the host describes.