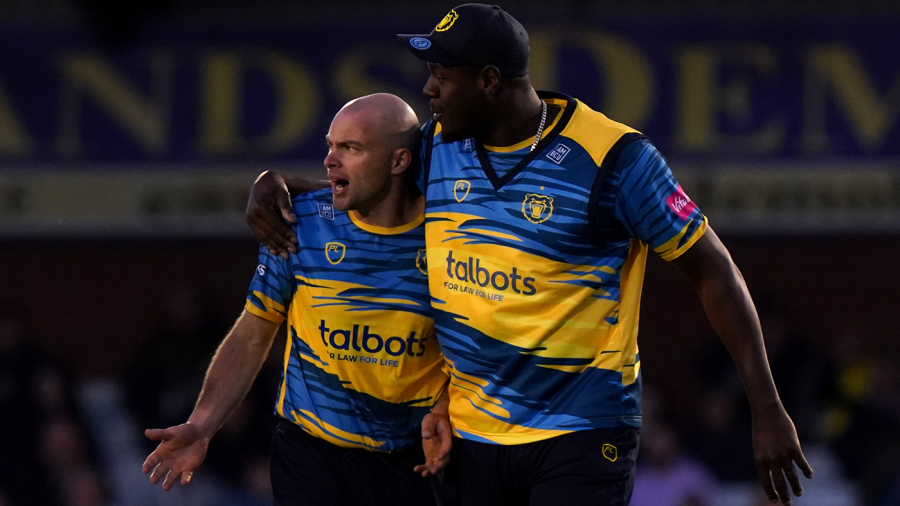 Recent Match Report – Derbyshire vs Birmingham Bears, Vitality Blast 2022, Group North
Birmingham Bears 200 for 6 (Hose 55, Benjamin 48*) beat derbyshire 197 for 8 (Guest 54, Lintott 2-30, Briggs 2-30) by three runs
Birmingham Bears survived a late push from the Derbyshire Falcons to win a thrilling Vitality Blast North Group game in Derby by three points.
The Bears seemed on course for a convincing victory when Adam Pipe scored 55 on 31 balls and Chris Benjamin an unbeaten 43 from 18 including five sixes as the fifth wicket pair plundered 98 from 42 balls.
The Bears have beaten 89 over the last five overs to reach 200 for the second night of racing but the Falcons fought back and nearly pulled off what would have been their biggest T20 pursuit.
Brooke's Guest54 of 34 balls almost swung the game into a dramatic finale, but Craig Miles kept his cool as the Falcons finished 197 for 8.
The Bears demolished Northamptonshire the night before, so it looked ominous for the Falcons when Paul Stirling took five limits in the first two overs.
The Irishman dragged Sam Conners deep into the crowd in the fourth, but when he tried to repeat the shot from the next ball he broke through the middle of the wicket.
Alex Davies pushed George Scrimshaw for 6 to take the Bears to 54-for-1 late in the power play, but Jacob Bethell's attempt to drive the fast bowler to the top landed in the middle hands.
Scrimshaw used the shortball well to stem the rush of the run and when Sam Hain was puzzled on the way out to lead Mark Watt and Davies was caught behind the cut to Mattie McKiernan, the Bears had slipped to 89 for 4.
After McKiernan finished his spell, the Falcons looked to limit the Bears to around 160, but Hose and Benjamin let loose in the final five overs.
Watt went for 24 on the 16th and after Hose drove Kerr for six to reach 50 on 28 balls, Benjamin crushed him for two more highs with another 24 coming from the 19th.
Hose pulled Conners to deep midwicket, but that ushered in Carlos Brathwaite for a brutal cameo. It left Derbyshire with an unlikely pursuit and their chances were reduced when Shan Masood drove Danny Briggs halfway into the third plus.
Leus du Plooy and Wayne Madsen gave the Falcons hope, but when they fell in back-to-back overs the game turned for the better.
The Falcons demanded an unlikely 112 from 10 overs but McKiernan and Guest boosted home fans' hopes by adding 48 from 26 balls, with Brathwaite conceding 21 from the 16th overs.
Henry Brookes added to the drama when he was taken off for two heads-up shots on the 18th, but Brathwaite responded with a superb overhand to leave the Falcons needing 18 on six balls.
The guest cut Miles to the point boundary and then drove him on for six before a ball pitch changed the odds again, but after picking Bethell in the middle of the deep wicket, Miles recovered from impressive way to see the Bears beyond the line.