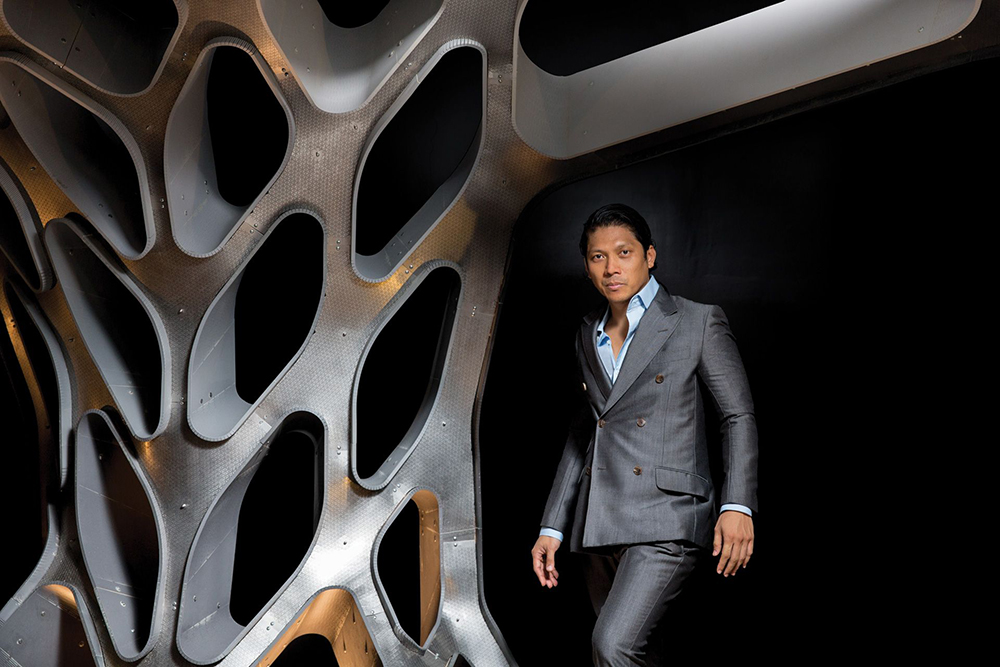 Robbie Antonio, the maverick behind a real estate revolution
Robbie Antonio is the man behind the powerful Revolution Precrafted company. An innovative company that strives to bring both art and architecture to more than the wealthy elite. By combining prefabricated and luxurious living, exclusively designed by leading architects, artists and designers around the world, making it more affordable and accessible to many potential buyers and developers. This noble goal stems from his love of art, architecture and democratic design ethics – the guiding principle of his business.
He is the son of Jose EB Antonio, owner of Century Properties. Prior to founding Revolution Precrafted, he was its Managing Director responsible for leading major projects such as the Trump Tower in Manila, the Paris Hilton condo collection, Milano Resides by Versace, Acqua Livingstone by Missoni Home and the world's first, the Forbes Tower. . In his interview with Tech Wire Asia, he admitted to having made approximately "$ 2.1 billion in branded deals for the family business." He has had years of learning and understanding the weak spots in real estate and has used this hands-on experience as inspiration to start his own business.
Robbie is the youngest to be on the Forbes 2017 list of the 50 richest people in the Philippines. He graduated from Northwestern University with a BA in Economics and an MBA from Stanford University. Founded Antonio Development, gained experience as Managing Director of Century Properties and founded Revolution Precrafted in December 2015. He is an avid art collector and has been recognized several times over the years by Artnet and Builtworlds. Placed alongside Leonardo DiCaprio and Bernard Arnault. His obsession with art is one of the influencing factors in his development of accessible and branded design houses.
"My inspiration for the project came from my own passion and my experience in collecting art. I wanted to make the architecture of collection, but at an accessible price.
Revolution Precrafted, the first ever unicorn from the Philippines, valued at US $ 1 billion, with subsequent investments and funding from 500 startups and K2 Global in 2017. Provides exclusive transportable properties and highly customizable design. Structures such as modular homes, condominiums, pavilions, pop-up retail stores and fitness centers. These were made available through collaboration with world famous architects and designers such as Zaha Hadid, David Salle, Tom Dixon and Marcel Wanders.
Robbie Antonio has worked with 13 more Pritzker Prize winners than anyone else in the world. He enjoys working with the best people and considers it a privilege to learn from them. The only instruction he gave to his designers was that the structure be 50 to 250 square meters with components that could easily fit into shipping containers. This type of brand collaboration is not a new business concept, it has already been done in retail by Rodarte for Target and Balmain for H&M, but it is a new idea for the real estate industry. It produces a design that is inherently different and increases the value of buildings and eliminates the idea that manufactured homes are cheap.
"We have the intellectual property on all of these names, you can get them at a ridiculously high price and wait a number of years, or we get it in three months at a much cheaper price… We are the only company out there. branded housing in the world. "
Manufactured off-site, shipped and assembled to any location, investing in these manufactured homes means you don't have to hire your own architect, or the hassle of putting together a team of contractors, builders, or fabricators, or wait a long time to move into your newly built home. A 50 square meter house can be assembled in just 90 days. The average price is US $ 120,000.
"We are at odds with the traditional real estate company. We are addressing the world. We don't need to be site specific, buy land, take out construction loans, or have inventory.
Robbie admits taking inspiration from Airbnb's simple business model with no land, zero inventory, global footprint, and the ability to use technology in disruptive ways, which he wants his own business to achieve. With low expenses, no real estate where she is forced to sell on particular sites and structures built as quickly as three months, she gets her cash flow faster than traditional brick and mortar businesses. As of March 2017, the company had booked orders of US $ 110 million for real estate projects.
"I would like to believe that we have fundamentally transformed the real estate / property development industry by bringing affordability, accessibility, simplicity, convenience and sustainability into an otherwise intimidating, complicated and generally expensive industry. He further states that the factors contributing to the success of his startup are "based on solving the most common problems faced by homebuyers – speed, quality, cost, design and complexity of the process." He envisions Revolution Precrafted as the future "Ikea of ​​residential construction".
Although the company's main markets are in Southeast Asia, it has already started to establish itself in the American, Middle Eastern and European markets.