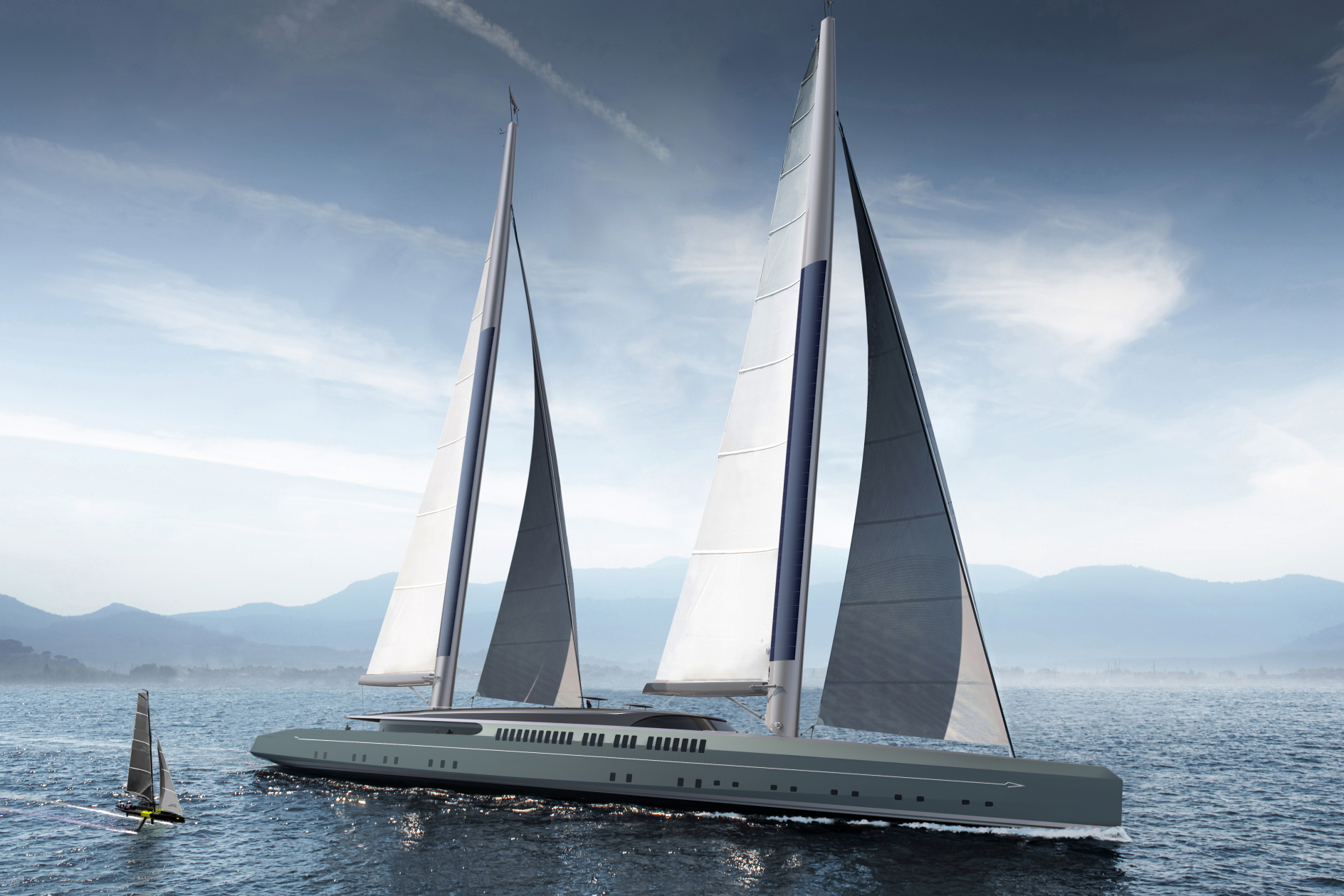 Royal Huisman unveils Wing 100 megayacht

(09/22/22)
Royal Huisman, Dykstra Naval Architects and Mark Whiteley Design have unveiled the Wing 100, a concept that the companies say redefines oversized sailing yachts by offering an entirely new class of megayacht.
The aluminum-hulled Wing 100 is a real sailboat – not a heavy sailing motor yacht. It has been designed not only to appeal to sailing yacht owners, but also to offer the perfect crossover for motor yacht owners who wish to minimize their environmental footprint by reducing the weight of their yacht, whilst maintaining the highest standards. pleasure and comfort.
Wing 100 next to a 7m / 23ft sportsboat
With a very advanced rig from Rondal, the wing masts have aerodynamic profiles; are self-contained and rotate to provide very powerful integrated airfoils with the sails, and due to its shape the airfoil can be adjusted easily and remotely to maximize or reduce power.
Being self-contained, the wing masts have no standing rig or associated deck clutter, maximizing safe and clean amenity space on deck. The wing masts are also remote controlled to ensure fast and energy-efficient sailing, as well as a comfortable experience for all on board.
"The emergence of sailboats on this scale, with the level of energy efficiency and eco-responsibility offered by Wing 100, would have been unthinkable just ten years ago," said Royal Huisman CEO Jan Timmerman. . "The team is incredibly excited to be at the forefront of this design revolution. We look forward to applying our proven innovation and engineering skills to delivering this highly ambitious project – creating the fourth and largest Royal Huisman build to date in the world's top 10 oversized sailing yachts.
The range of new technologies applied by the Royal Huisman shipyard to maximize the energy efficiency of the 100 wing will bring substantial benefits to the owner – and not just when exploring the outer corners of our vulnerable planet.
To find out more, Royal Huisman will be present at the Monaco Yacht Show 2022 from September 28 to October 1.