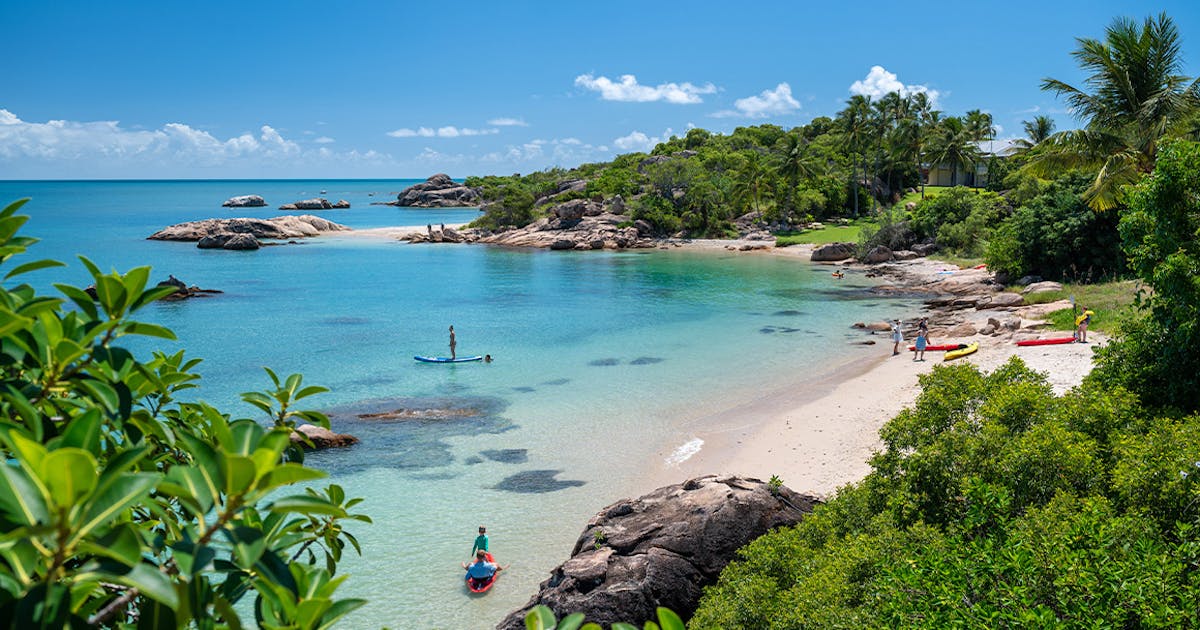 Seek some serenity in 5 of Queensland's most beautiful beach towns
As Queenslanders, traveling to beaches outside of our great state always seems like unnecessary travel. Crystal clear waters and white sandy beaches are a regular feature of Insta stories whenever the mercury rises above 24 degrees. Unfortunately, Queensland's best beaches are our worst-kept secret, so relaxing seaside getaways can be hard to come by. But at times like these, we all desperately need a vacation, which is why we're spilling the beans on five Queensland beach towns that haven't lost their quaint, tranquil charm. Book yourself a beachfront cabin and hit the road.
Bowen
If you haven't heard of Bowen, it's probably because the name has been lost to whispered declarations of awe and wonder at the peninsula's most popular attraction, Horseshoe Bay. The iconic beach is regularly listed as one of Australia's best (no surprise there, it's in Queensland) thanks to its two granite outcrops that offer perfect snorkeling conditions just steps away from the beach. Of course, the other beaches in Bowen are not to be sniffed at either. The calm, azure waters of Gray's Bay make boating and paddleboarding easy, and secluded Murray Bay is a great fishing spot (good advice, book at Whitsunday Sands Resort will allow you to easily access each of them). If you're a Big Pineapple fan, you can tick off another of Australia's ridiculously oversized fruit structures by visiting the Big Bowen Mango. Even better, bite into a real one while you're at it.
1770 And Agnes Water
Located about six hours north of Brisbane, the twin seaside towns of Agnes Water and 1770 mark the northernmost surf beaches in Australia. They also happen to sit on the southern tip of the Great Barrier Reef, which means they're a little piece of tropical paradise without the exxy resort fees (especially if you're staying at 1770 beach huts, which basically puts you on the sand). These quaint coastal towns offer visitors the chance to surf, swim, and snorkel while enjoying some well-deserved rest and rest in stunning coastal surroundings. The many walking trails offer scenic views of the Munro Range and Bustard Bay, as well as the chance to spot the magnificent Blue Tiger Butterfly. Plus, if you time it right, you may be able to see populations of Queensland green and loggerhead sea turtles nesting along the beach. Who doesn't love turtles?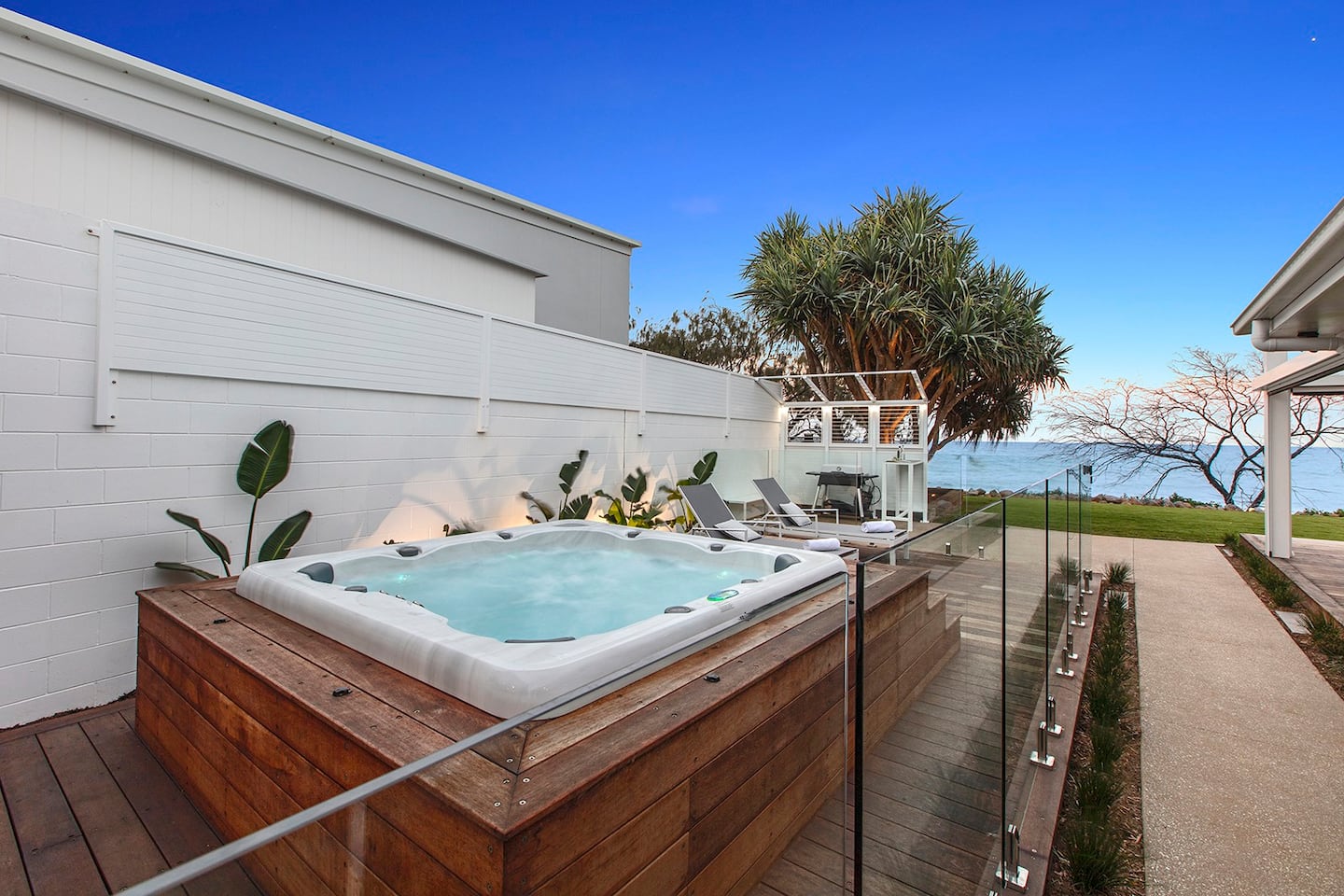 bargara
When you were promised seaside towns, it's a safe bet that Bundaberg was not the first place in your mind, nor the second. Or the tenth. But trust us, Bargara is everything you want and more in a perfect seaside getaway. Just 10 km east of Bundaberg town center you will be greeted by the sight of palm trees lining the foreshore and golden sands stretching out to the sparkling turquoise ocean. On the Coral Coast, swimming is a year-round activity, and when the tide comes in, we suggest heading to The Basin to feed the fish that will compete for your attention as soon as you enter the water. Of course, the beaches aren't the only thing on offer – we recommend working up an appetite for the delicious cafes and bars that dot the town and stopping by Robertson Flower Farm to smell the flowers on your way. But to get the full Bargara effect, you'll want to stay in a cute and cozy beach hut or cottage – we recommend this one, this one or even this one with its own outdoor spa, gym and fire pit.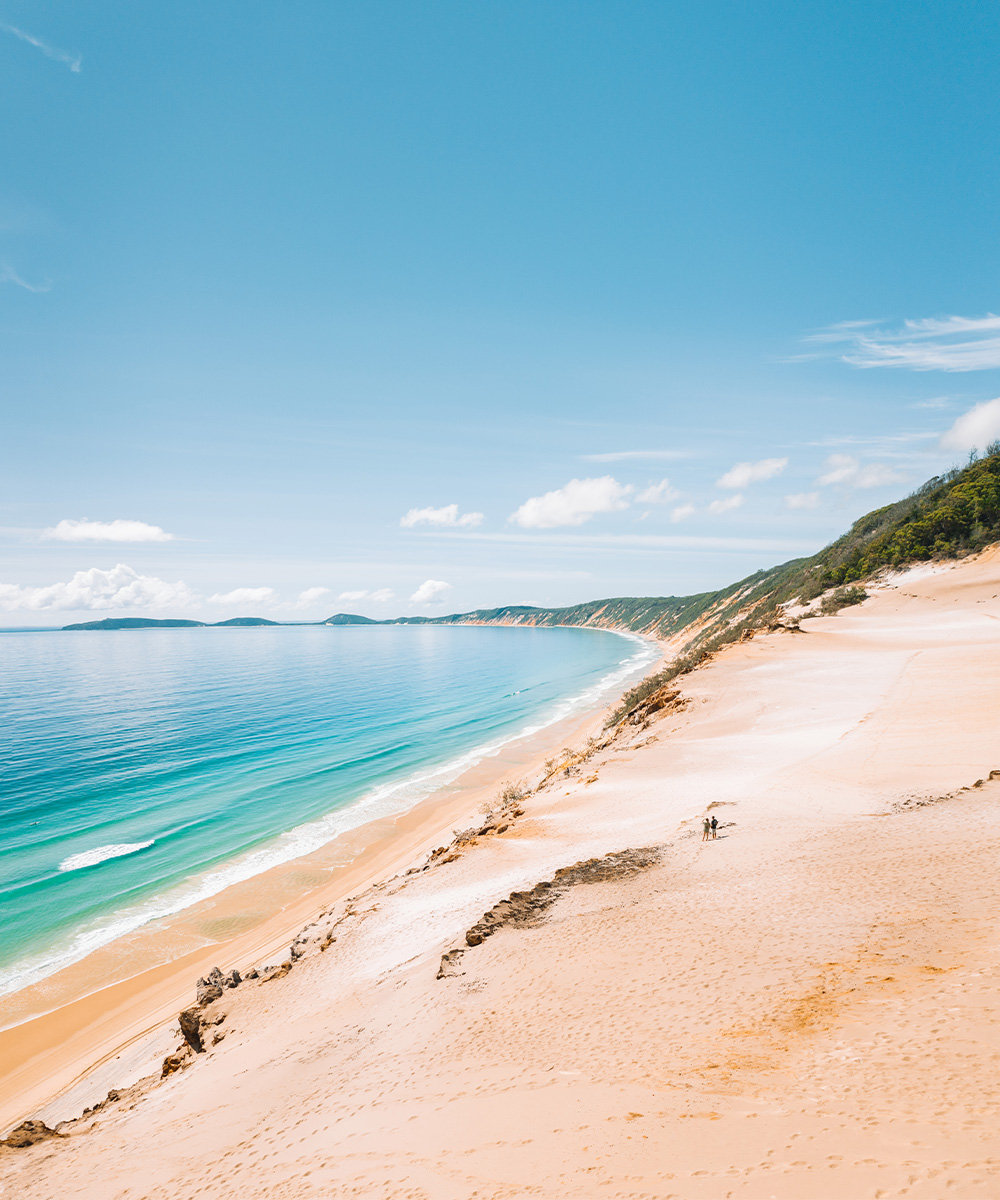 rainbow beach
Too often overshadowed by its famous neighbour, listed as a World Heritage Site K'gari (Fraser Island), Rainbow Beach is a hidden gem just waiting to be discovered. The sleepy surf town takes its name from a gorgeous stretch of beachside cliffs colored in undulating shades of orange, red, amber and brown – you won't spend much time inside, so the cozy but perfectly located At Debbie's motel is a great place to lay your head. You'll want to head to Double Island Point to check out its 19th-century lighthouse and walk over a huge pile of sand at the Carlo Sand Blow. But if you're looking for adventure, don't be fooled by the town's laid-back facade: Rainbow Beach is home to Wolf Rock, one of the world's most sought-after natural dive sites. The four volcanic pinnacles that make up the site are an official marine sanctuary for critically endangered gray nurse sharks, so you're sure to make some fishy friends. You can go on tour with Wolf Rock Diving to see the rock, but if you're looking to head underwater you'll need a scuba diving certificate.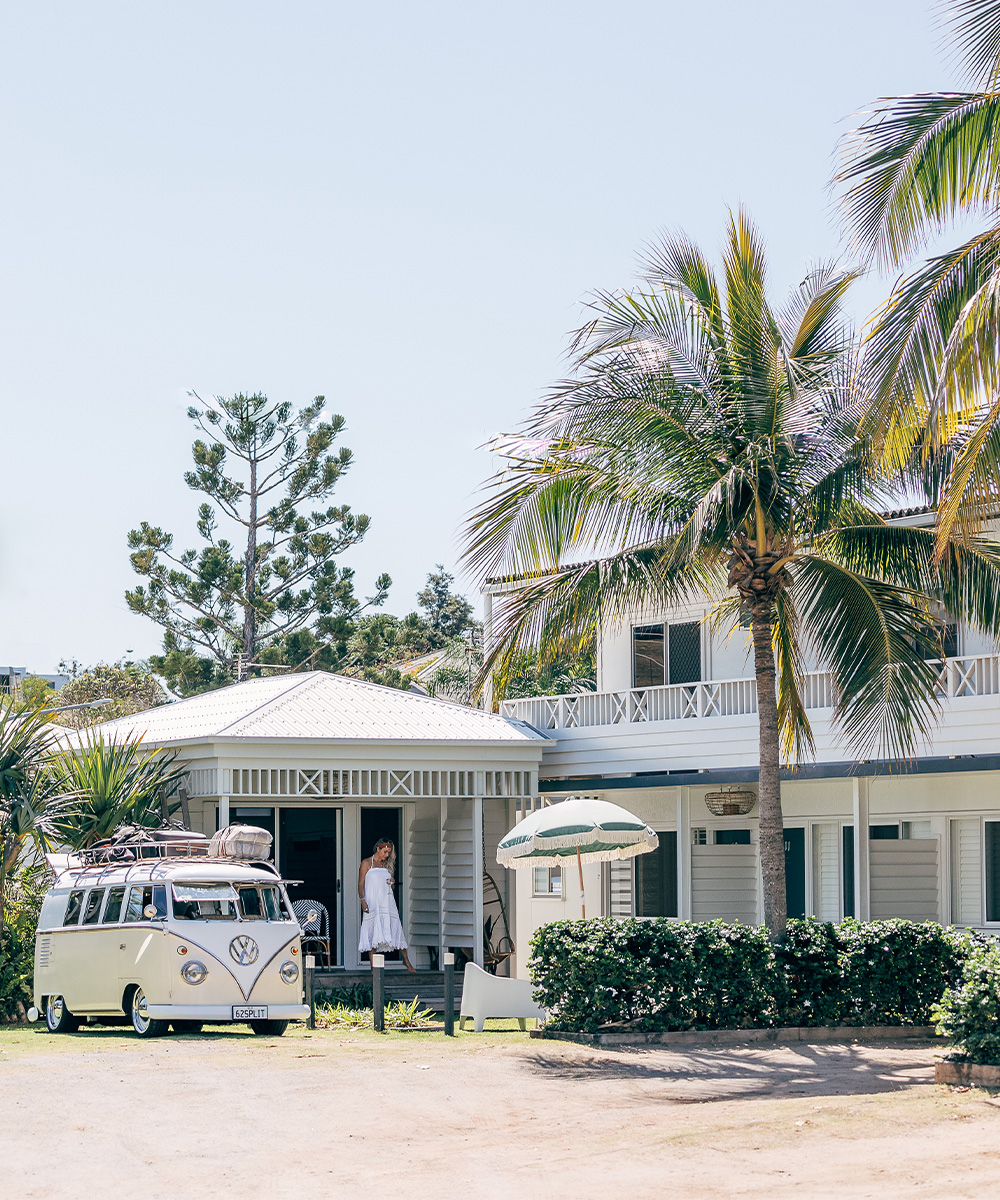 Yeppoon
Just under 40 minutes' drive from Rockhampton is Yeppoon, a stunning coastal town along the Capricorn Coast. Full of chic beach shops, murals and farm shops, there's plenty to keep you entertained before your feet even hit the sand. But once the waves start to call, hit the water and see if you can spot a dugong hiding among the seagrass, or wait for the tide to go out to explore the caves and rock pools. The town even has its own lagoon, with an infinity pool by the beach, and if you can get up early, it's a great place to watch the sunrise. Boasting delicious tropical produce and fresh seafood, Yeppoon is an idyllic introduction to seaside living – so good luck getting you home, especially if you've booked a room at the hipster-cool Yeppoon Surfside Motelwhich is literally steps from the beach.
Want to travel elsewhere? Here are Australia's best under-the-radar beach towns.
Image credit: Tourism & Events Queensland, Airbnb