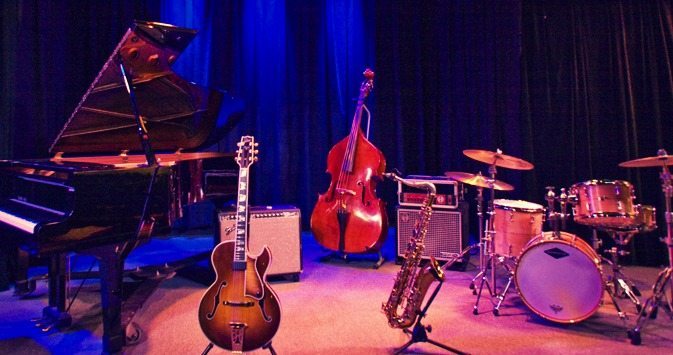 Sensual Places to Listen to Live Jazz in the Orlando Area
When I lived in New York, I loved strolling the streets of Greenwich Village, diving into a dimly lit living room to listen to a jazz trio and ending the night in a French bar and bistro with red wine and brie.
It's not just New York and New Orleans that have talented musicians and enviable jazz bars, lounges and dance halls. Central Florida is home to some great music venues with unique atmospheres all their own.
Whether you like jazz for dancing, crooning, or enjoying a dirty martini, there are jazz tunes in The City Beautiful for everyone. Use this list to create your own date night, centered around embracing America's national treasure – jazz – and supporting our city's musicians and venues.
Updated September 2022 by Kelsey Glennon
Live Jazz in the Orlando area
Blue Bamboo Arts Center
Located just off Fairbanks in Winter Park, the Blue Bamboo Center is bursting with art and music. Their very first jazz festival offers free concerts. But Blue Bamboo's "crown jewel" is the Orlando Jazz Orchestra. This orchestra is made up of some of the best jazz musicians in central Florida and led by Greg Parnell, former road manager and drummer of the Glenn Miller Orchestra.
You can also enjoy the Eddie Marshall Blue Bamboo Big Band, as well as the jazz trios and guest artists you can discover on the Blue Bamboo Events Calendar. On Thursday evenings, come around 8 a.m. to watch local musicians in a "jaz jam," where musicians bring their instruments and "sit" or improvise together.
Blue Bamboo Arts Center
1905 Kentucky Avenue, Winter Park
Located just off Kaley Street, you can drive right by Timucua as it looks like a residence in the Delaney Park area. Owners Benoit and Elaine built the house specifically to host concerts. The three-level theater offers sweeping views of the stage and visitors rave about the acoustics.
Enjoy visiting artists and jazz trios (plus an array of other live music, comedy, poetry, and performers) in a small and intimate atmosphere. Bring your own beer or wine to share and meet new friends. It's best to check their live schedule so you don't miss any jazz artists when they come to Orlando. See what's playing
Follow Timucua Arts Foundation on Instagram to stay up to date on their events and shows.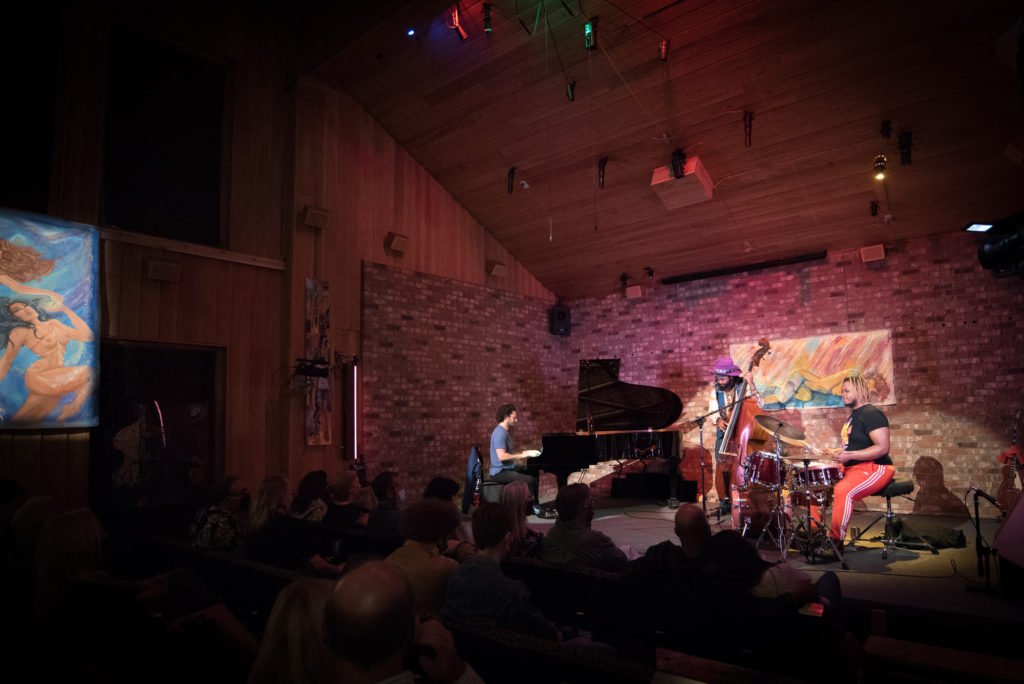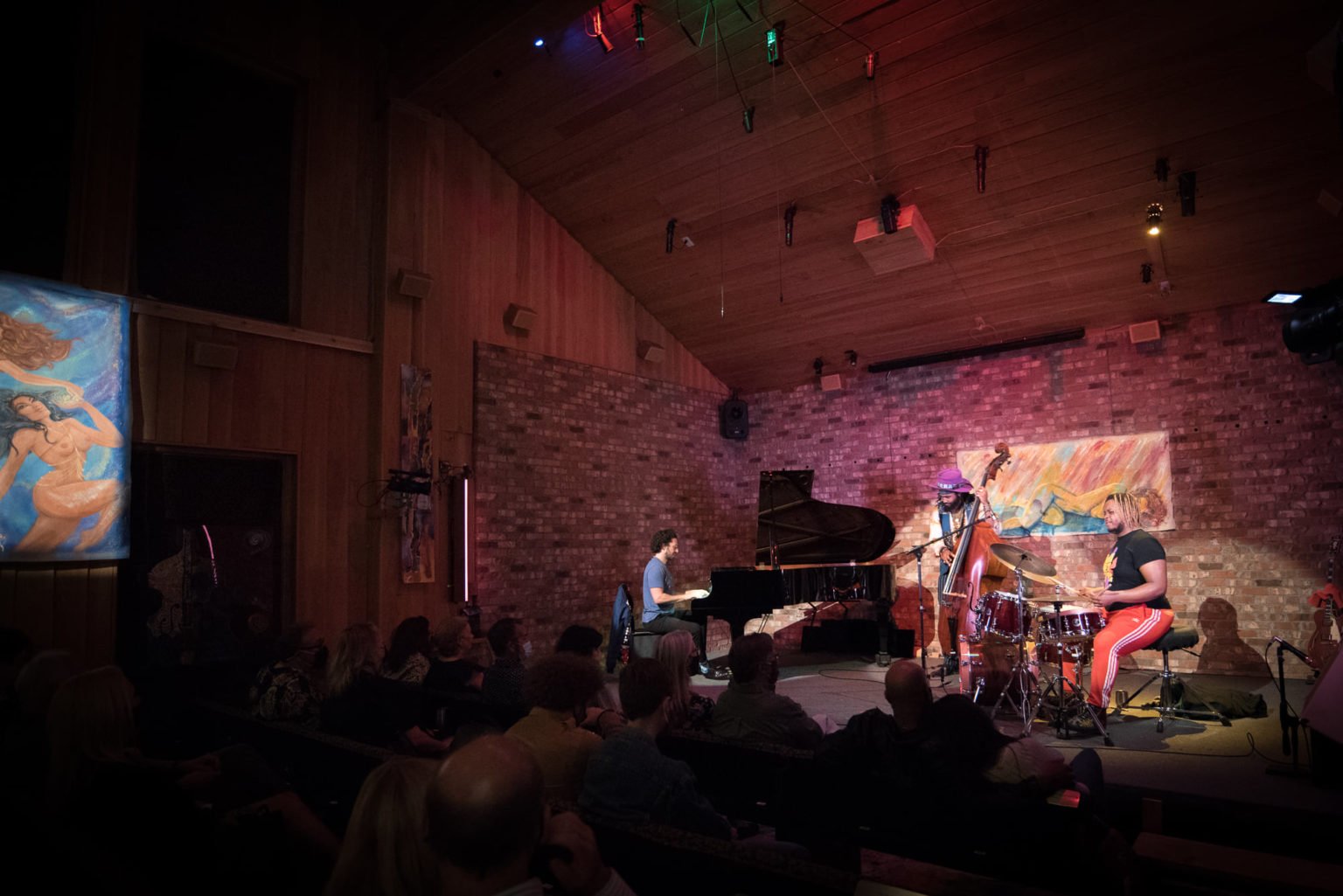 This family-friendly jazz venue in Maitland offers live jazz performances as well as a full bar and seasonally rotating restaurant menu, perfect for a full night out. Check out the full entertainment schedule for weekly events (like Brazilian Jazz Nights) and special performances.
FYI: there is an entrance fee of $10/person on Friday and Saturday evenings.
Make a reservation at Jazz Tastings.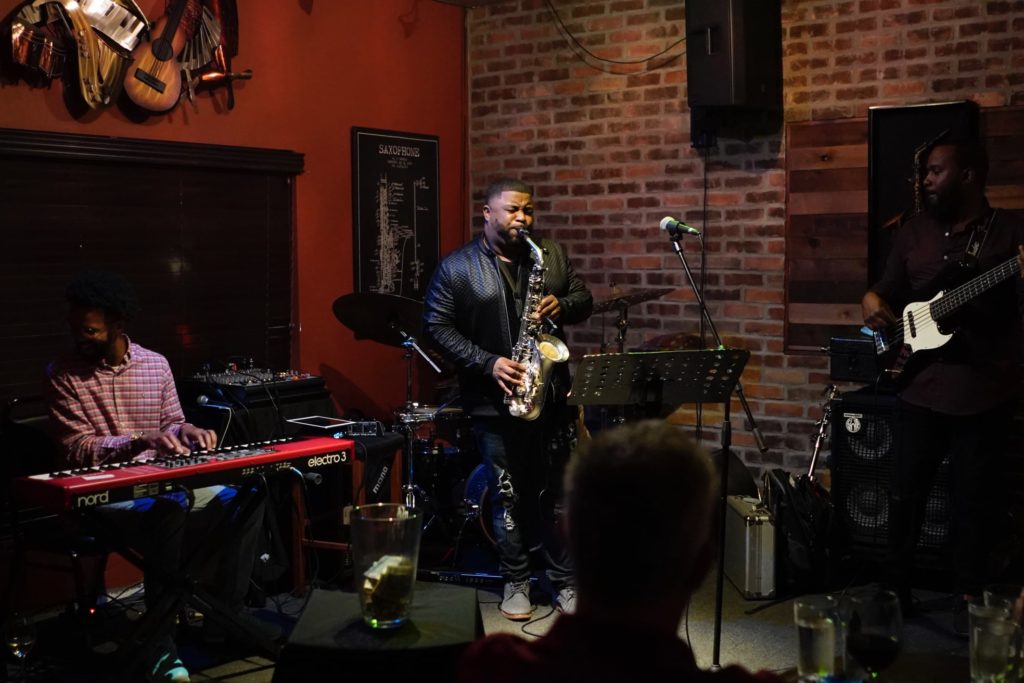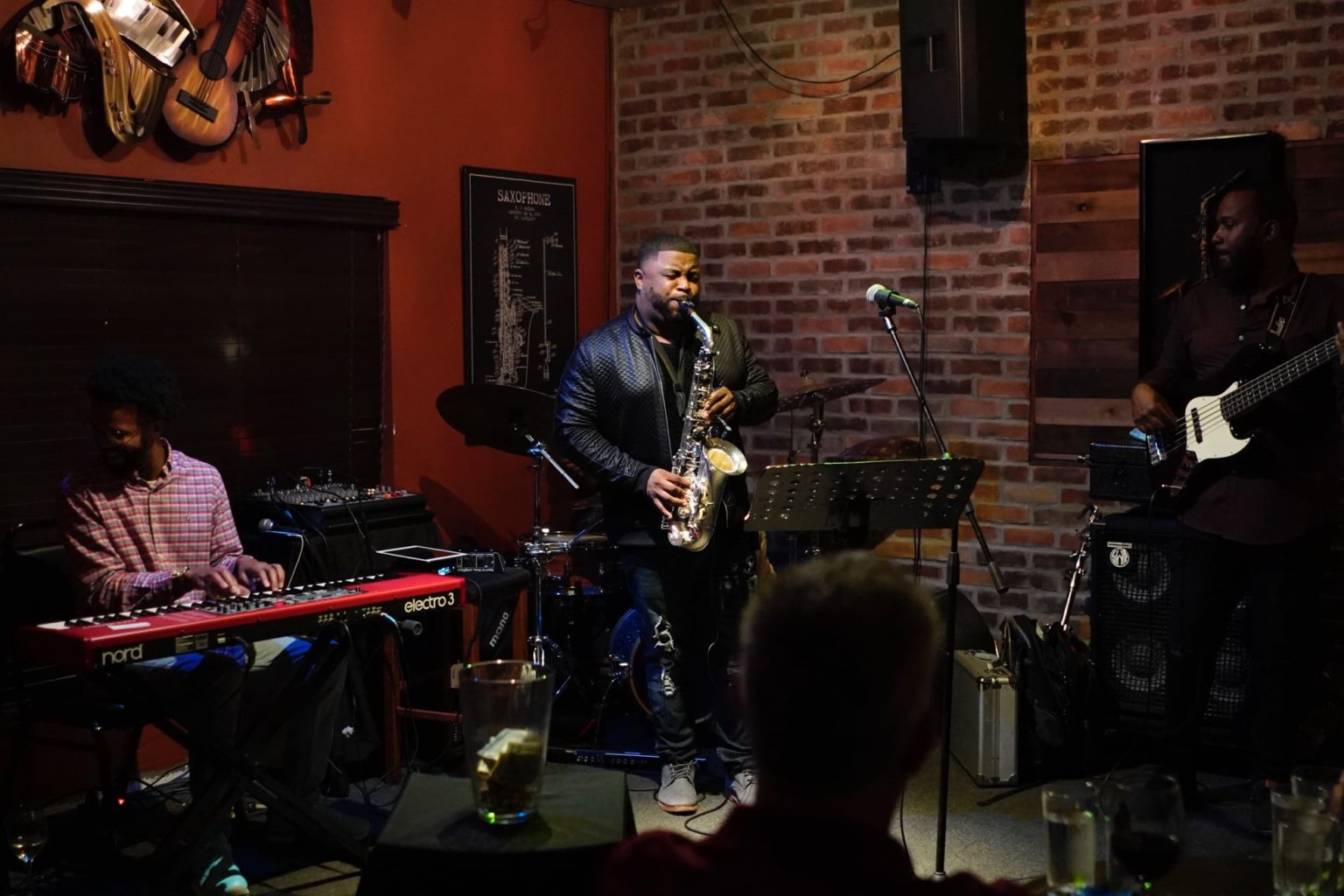 Eddie V's is the kind of place where jazz musicians play in costume and fresh Florida seafood is brought to your table like a "tower", – The shell tower of lobster, shrimp, oysters and colossal crab. Prime seafood and live jazz go together well, and Eddie V's has perfected that blend.
The entertainment program in the V Lounge features live jazz seven nights a week and describes the vibe as "civilized seduction". With locations nationwide, and 3 in Florida alone (Visit the others in Ft. Lauderdale or Tampa), Eddie V is what you would call standard – timeless.
Enjoy happy hour Sunday to Thursday from 4:00 p.m. to 6:30 p.m.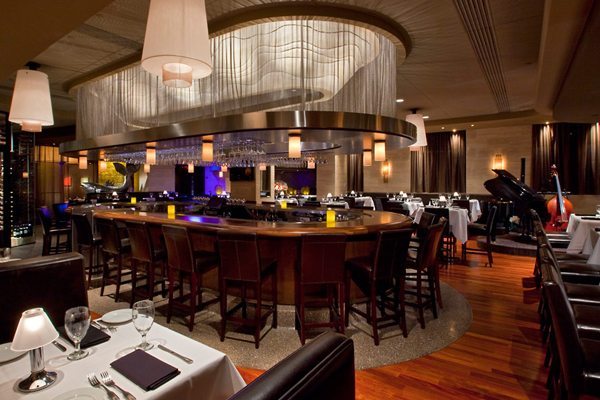 This intimate wine bar and restaurant is tucked away in the cobblestone streets of Hannibal Square in Winter Park. In addition to the fantastic European wine list and homemade dishes tapas, this unmissable event also hosts live musicians every Thursday evening. Here you'll find a variety of shows ranging from classical jazz and bossanova to Brazilian jazz and flamenco. Be sure to book ahead, as Thursday nights are popular and seating is limited.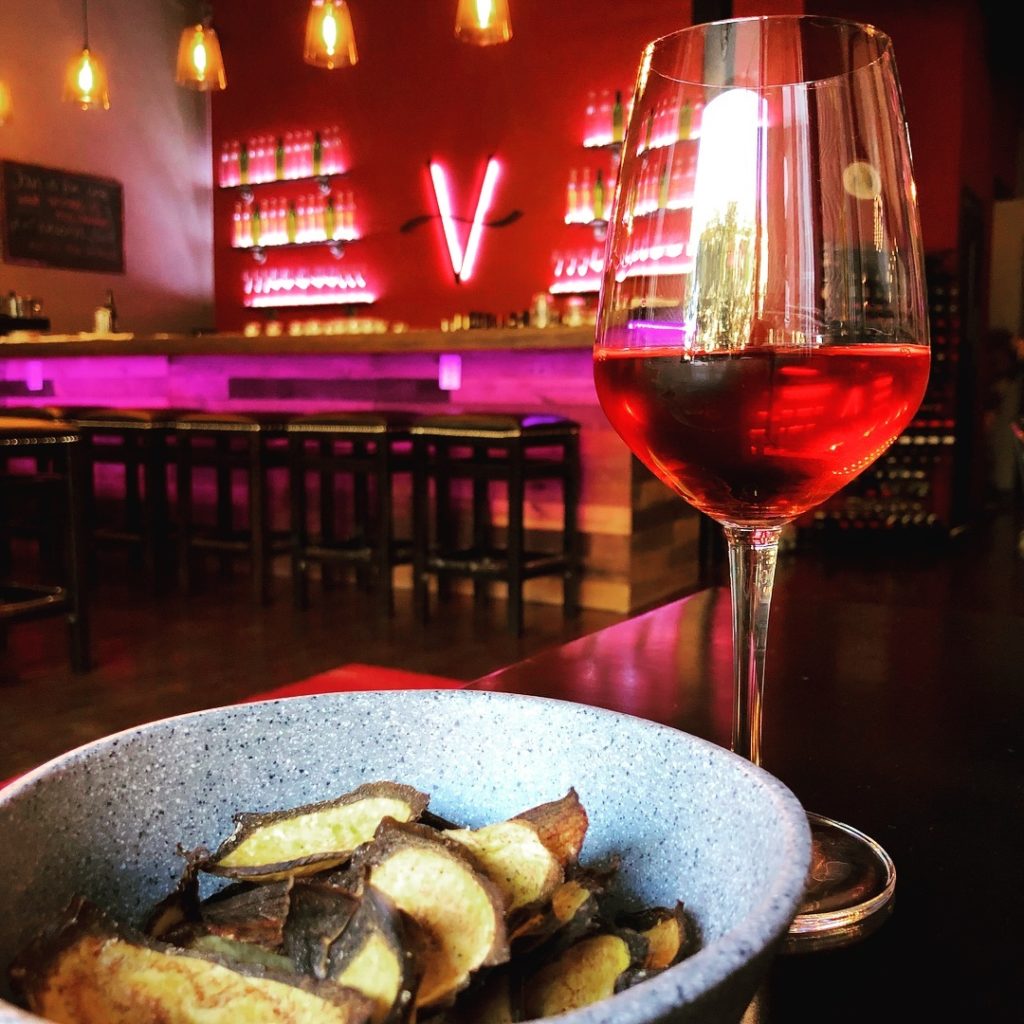 READ MORE: Orlando's Most Romantic Restaurants
Get your fix of jazz and classical music during Howey-in-the-Hills Mansion's monthly music series. Most shows take place outside on the beautiful terrace. The series highlights classical and jazz music from top performers.
Tickets are usually around $25/person and we encourage you to bring a picnic basket and chairs. See what's going on Howey Mansion musical series webpage.
Not too far down the I4 from downtown Orlando is an underrated Central Florida suburb, From Landhome to this funky live music venue with a outdoor terrace both intimate and spacious. More New Orleans style and atmosphere, Cafe DaVinci occasionally hosts live jazz performances. Check out the schedule of upcoming shows.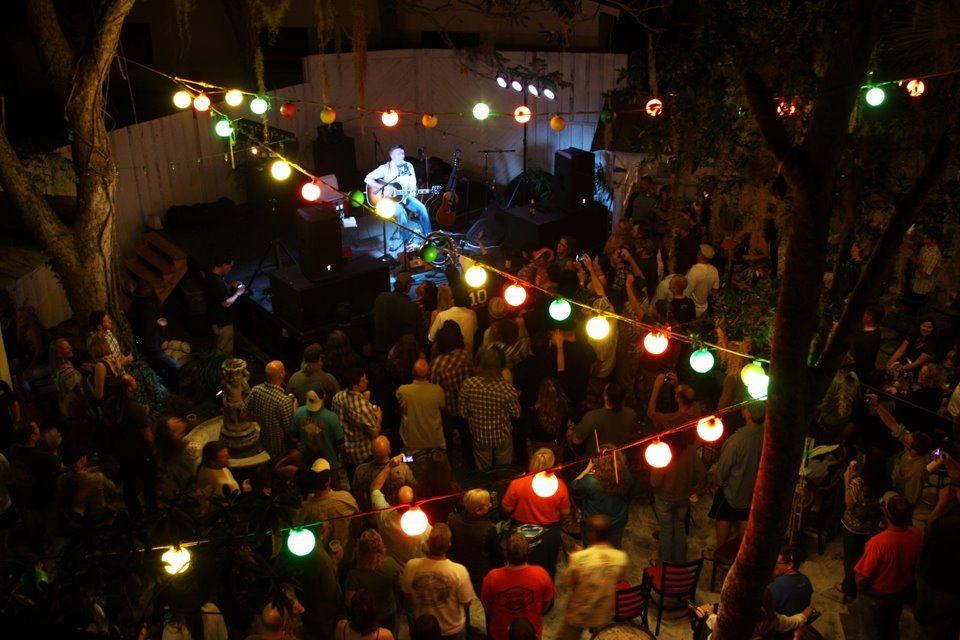 This 24-hour hangout in Winter Park is no ordinary cafe. In addition to offering organic coffee and tea, Austin's Coffee has a lively calendar of events. The highlight for jazz lovers being the weekly Jazz Jamz on Thursday evenings at 9.30pm. There is no cover to get in, but get there early to get a good seat in the little shop.
READ MORE: Unique Orlando Cafes
A jammer since 1992, Heidi's is only a short drive from the Space Coast where there is live music Wednesday through Sunday. Do you consider yourself a jazz enthusiast? Heidi's website hosts a page dedicated to showcasing her rotating musicians, so you can develop your taste and find your audience.
You love jazz and just want to stay up to date with gigs, consider joining the Central Florida Jazz Society to keep an impulse on what plays.
To note – Heidi's takes a break every September and reopens in early October.
Jazz Swing Dancing in Orlando
Lindy Hop, East Coast Swing, West Coast Swing, Shim Sham. Step back to the 1940s to rock out to the sounds of Benny Goodman, Glenn Miller, Woody Herman and more.
Join Orlando Area Swing Dancers Facebook Groupand the Dancing Orlando Facebook Group to stay up to date on the latest swing dance socials. For just a few dollars you can join a social activity (no partner required) and learn some moves and meet new people.
Saturdays in Casselberry, the Orlando Big Band accompanied a social swing dance called Saturday night swing. For just $15 you get a dance lesson, live big band music, and a night of happy dancing.
4921 US HWY 1792 Casselberry Florida4921 US HWY 1792 Casselberry Florida
Going Gatsby in Orlando: 5 Places to Have a Good Time
MORE LIVE JAZZ EVENTS
If you love the history and glamor of jazz, don't miss the Crealde School of Art exhibition "From Ella to Coltrane: The Jazz Photography of Roger Kallins." The art exhibit commemorates the images of photographer Roger Kalllins (1938-2013) who captured scenes from the Golden Age of Jazz over a span of 50 years. These original 35mm black and white scans show iconic moments from some of jazz's greatest artists.
View the exhibition from September 16 to January 16, 2023. Come and attend the opening and see a performance by the Eddie Marshal Trio at the Hannibal Square Heritage Center from 8:30 p.m. to 10 p.m. on September 16.
642 W. New England Ave, Winter Park FL 32789
So make your date, grab a glass (a bottle?) of wine, and enjoy some live jazz talent from Central Florida.
Image credit: Bud, Not Buddy