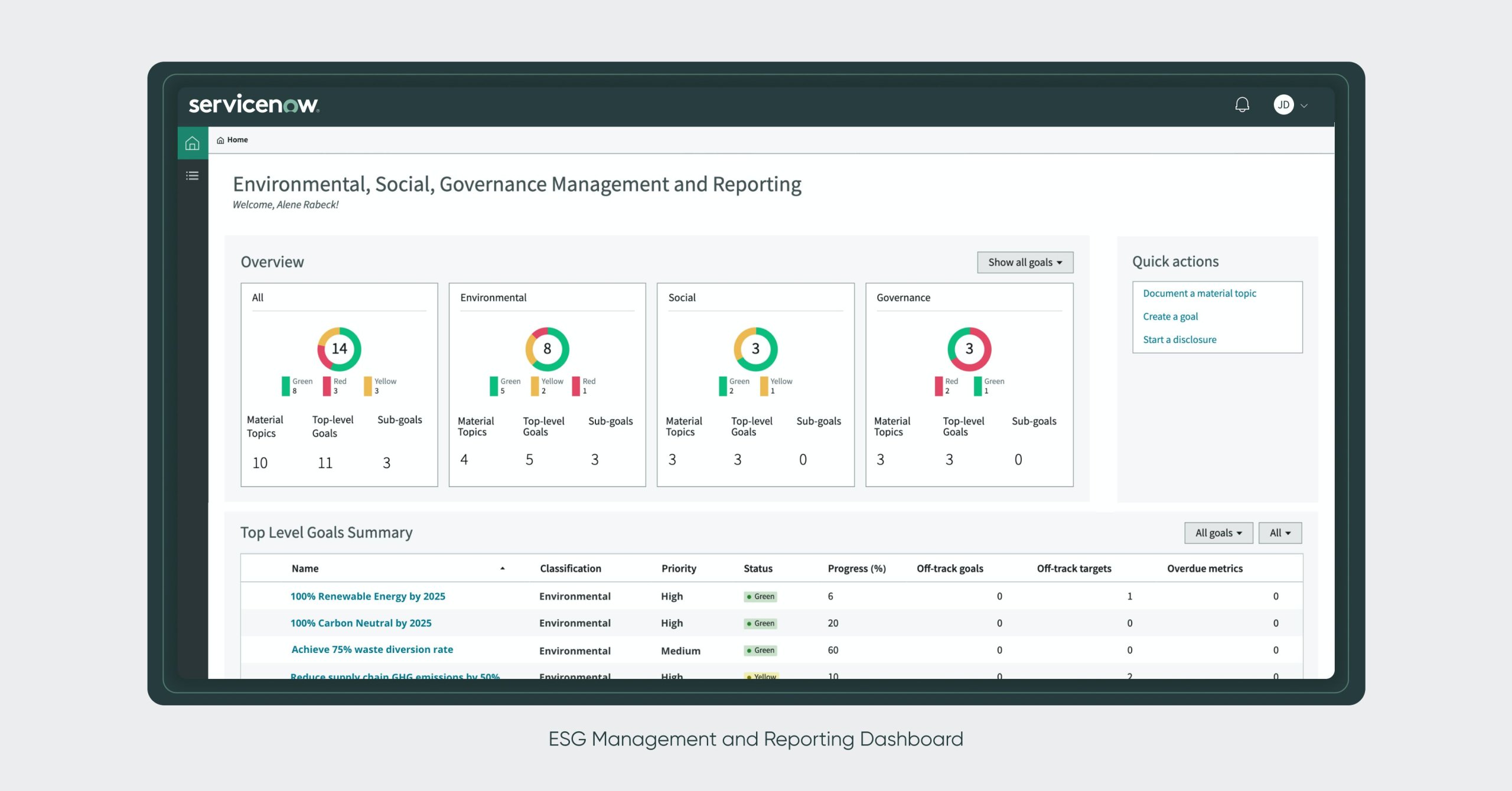 ServiceNow presents a new integrated ESG solution
Dubai, United Arab Emirates, October 26, 2021: Service now, the leading digital workflow company that makes people work more efficiently, announced a new ESG solution powered by the Now platform that helps companies activate ESG strategies, programs and initiatives – from improving diversity and inclusion and reducing carbon emissions to business resilience – in the whole company. ServiceNow's ESG solution combines the power of the Now Platform, new and existing products, and the ServiceNow partner ecosystem to help organizations plan, manage, govern and report on their ESG programs and initiatives to help organizations plan, manage, govern and report on their ESG programs and initiatives. increase their environmental, social and commercial impact.
Companies are increasingly prioritizing ESG initiatives to contribute to a more sustainable, fair and ethical world, build customer and stakeholder confidence and achieve successful business results. According to recent studies, 88% of investors agree that companies that prioritize ESG initiatives represent better opportunities for long-term performance than companies that don't, and global consumers are almost five times more likely trust, buy, defend and protect companies with a strong ESG objective.
ESG efforts today are often ad hoc, siled and manual. Currently available technology products support discrete and disconnected ESG efforts, compounding the problem. At the same time, global ESG regulations continue to evolve rapidly: more than 170 ESG regulatory measures proposed have been created since 2018, and 82 percent of investors believe companies are not ready to comply with ESG reporting regulations. Companies need to be able to connect their disparate ESG products and operational systems and support proposed new and existing regulatory requirements to scale up their ESG efforts, achieve their ESG goals and support increasing stakeholder expectations for higher levels. transparency and disclosure. ServiceNow's ESG solution, which leverages the unique data model and unique architecture of the Now Platform, helps organizations achieve these goals.
"ESG is a major issue for the C-suite today. Executives need better ways to plan, manage, govern and account for their companies' investments towards a more sustainable, equitable and ethical world," said Gina Mastantuono, Chief Financial Officer of ServiceNow. "With the power of the Now platform, ServiceNow is well suited as a strategic ESG platform partner for enterprises, ultimately helping executives take operational control over their growing number of ESG initiatives to drive a positive and lasting change on a global scale ".
"For ESG initiatives to be effective, companies need to have a comprehensive view of their ESG efforts and performance to know how they are progressing towards their goals," said Kim Knickle, Research Director at Verdantix. "We anticipate that ServiceNow's new ESG solution will leverage the company's existing platform to better enable this visibility.
With its latest integrated ESG solution, ServiceNow takes a holistic approach to help organizations drive impact and build trust among customers, investors and employees. Organizations can turn ESG goals into meaningful impact and create long-term value by innovating processes and delivering sustainable results.
Provide a unified solution for enabling ESG across the enterprise
Harnessing the power of the Now Platform, ServiceNow's new ESG solution serves as an operational control tower to help turn companies' ESG goals into reality by providing visibility and transparency across their ESG programs and initiatives and helping them develop strategies, manage, govern and account for these. Efforts on a Single Platform Key components of ServiceNow's integrated solution include:
* NEW * ESG ServiceNow management and reporting Enables companies to document important topics, establish goals and KPIs, track performance, collect and validate audit-ready data, and create information that complies with key ESG reporting frameworks.
ServiceNow Project and portfolio management helps create and maintain a company's ESG roadmap, including strategy, planning and budgeting tools, as well as continuous monitoring of costs, resources and results. Companies gain visibility on their ESG investments and improve the scale and impact of their ESG efforts.
ServiceNow Integrated Risk Management provides basic governance capabilities as well as advanced risk assessments, continuous monitoring, AI, audits, privacy, automation, and more. It integrates ESG considerations and data into effective enterprise-wide risk and compliance management with a real-time view of ESG compliance and risks as well as rich analytics that enhance decision-making and business performance.
These products work seamlessly with ServiceNow low-code tools and solutions such as Business continuity management, Supplier risk management, Security operations, Management of physical assets, and HR service delivery to drive even more ESG value and impact across the enterprise.
Collaborate with the ServiceNow ecosystem to solve new and existing ESG challenges
ServiceNow's ecosystem of partners, developers, customers and other third parties will serve as a force multiplier for ServiceNow's ESG solution. Today Service Now Also announcement an expanded alliance with KPMG, where KPMG will be the main launch partner of ServiceNow's ESG solution. The two companies will work closely to enable ESG across the enterprise for their mutual customers, while creating new ESG workflows on the Now platform to further extend the capabilities of the solution.
Thanks to his Developer program, ServiceNow also engages ISVs, as well as other third parties and customers, to create specialized ESG workflows that meet the unique requirements of various industries and geographies, address specific hardware issues, and extend ESG initiatives across the board. – beyond the business to the supply chain. For example:
EcoVadis provides a sustainability assessment platform to assess environmental, social and ethical practices. By integrating EcoVadis into the ServiceNow Vendor Risk Management product, we can help clients consider third party sustainability performance as well as other types of risk, providing a comprehensive view of third party risks.
Watershed enables companies to measure, reduce, eliminate and report their carbon emissions. Leading companies including ServiceNow, Airbnb, DoorDash, Stripe, Shopify, and sweetgreen are using Watershed to achieve zero carbon. By integrating with ServiceNow ESG Management and Reporting, companies can integrate their climate work into their overall ESG program, by importing Watershed's carbon metrics into ServiceNow.
Standardization bodies are engaged with ServiceNow to integrate their standards into the ESG management and reporting product. For example, ServiceNow has previously licensed SASB standards from the Value Reporting Foundation. And ServiceNow is currently in the process of applying for permission to use Global Reporting Initiative (GRI) content in its ESG management and reporting solution before year-end. These product capabilities will enable companies to produce reports and information that conform to some of the most commonly used reporting standards.
Availability and additional information
ESG management and reporting will generally be available on November 18. Learn more about https://www.servicenow.com/products/esg-management.html