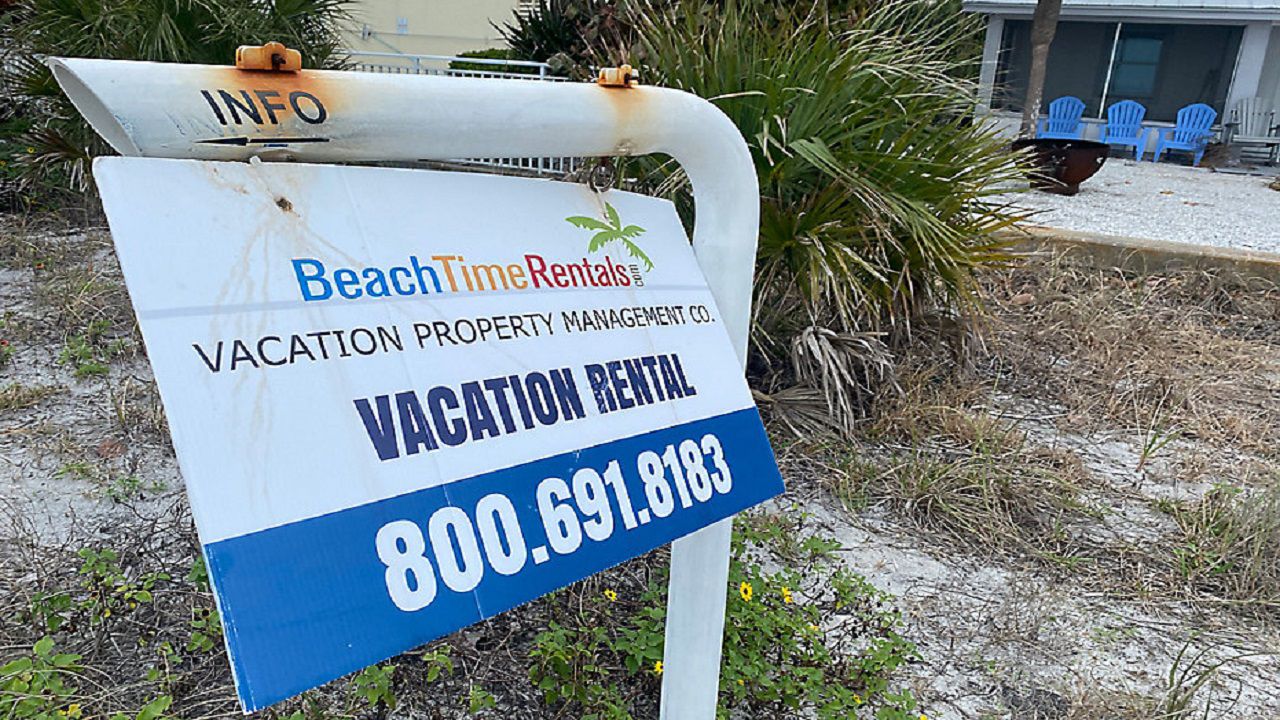 Short-term rental changes may occur at Indian Rocks Beach
INDIAN ROCKS BEACH, Fla. — Residents and landlords will have a chance to speak to city commissioners on Tuesday night regarding an influx of short-term rentals and Airbnbs in the beach town.
Many streets in the Indian Rocks Beach neighborhood are dotted with street signs supporting opposing viewpoints. Some signs read "IRB loves tourists – Our home is your home" while others have "Homes NOT hotels!" in red capitals.
John Pfanstiehl has lived in his Indian Rocks Beach waterfront home for more than 30 years and says that on the street in his neighborhood alone, there are 37 homes that have been converted to short-term rentals.
"If you live in a residential area, do you want a hotel next to you? These short-term rentals are accommodations for transients," he said.
Pfanstiehl says these homes accommodate a revolving door of people and are often overcrowded. He says some homes advertise they can sleep more than 10 people despite having only a few bedrooms, leading to excessive noise and a party culture, among other issues.
He says that with the constant turnover, he no longer feels safe in his home like he used to.
"Unregulated, unsupervised hotels next to a home where a family is trying to raise children or where people have chosen to retire are just plain wrong," he said. "It's not a residential area if you have these businesses trying to attract hundreds of thousands of people."
Pfanstiehl says his ultimate goal is to remove Airbnbs and short-term rentals from residential streets in the city. While it's beyond the city's control, he hopes Tallahassee lawmakers are watching.
Florida law does not allow local governments to completely ban short-term rentals, but they can pass ordinances to regulate the industry.
Kenny Hayslett owns two properties on Indian Rocks Beach and manages 40 others through his vacation property rental business.
"It's a world-class tourist destination…and yes, we have to coexist with the people who come here," he said.
Hayslett says his properties have the noise ordinance clearly displayed and cameras that monitor noise levels and capacity. If there are more residents at the house than listed on the rental agreement or if any issues are reported, he says a member of staff will intervene.
"Unfortunately, the city has done a poor job enforcing the current ordinances that are in place and if they did, everything would be fine," Hayslett said.
He believes that responsible operators should not be penalized because of a few who do not comply with regulations. His big concern is also for the tourism industry and the small businesses in the town he loves.
"The tourism that Pinellas County relies on to replenish our beaches to do a lot of things to help our communities, all of those taxes are in jeopardy now," he said. "Not to mention small business owners who are going to be very exposed."
City commissioners have indicated they will be looking to make changes to the rules around short-term rentals. These changes could include adding registration fees, occupancy limits or mandatory inspections. They will hear from residents and talk about any changes they want to consider at Tuesday night's meeting.
The meeting is scheduled to begin at 5 p.m. in the Indian Rocks Beach Town Hall Auditorium located at 1507 Bay Palm Boulevard.
It is also available on zoom using this information
Join Zoom Meeting
https://us06web.zoom.us/j/2156370712?pwd=Q3Bhb2FoVEhMN0ZTV0pFeXJQc2xQZz09
Meeting ID: 215 637 0712
Password: STVR
One-click mobile
+13052241968,,2156370712#,,,,*640922# US
+16469313860,,2156370712#,,,,*640922# United States