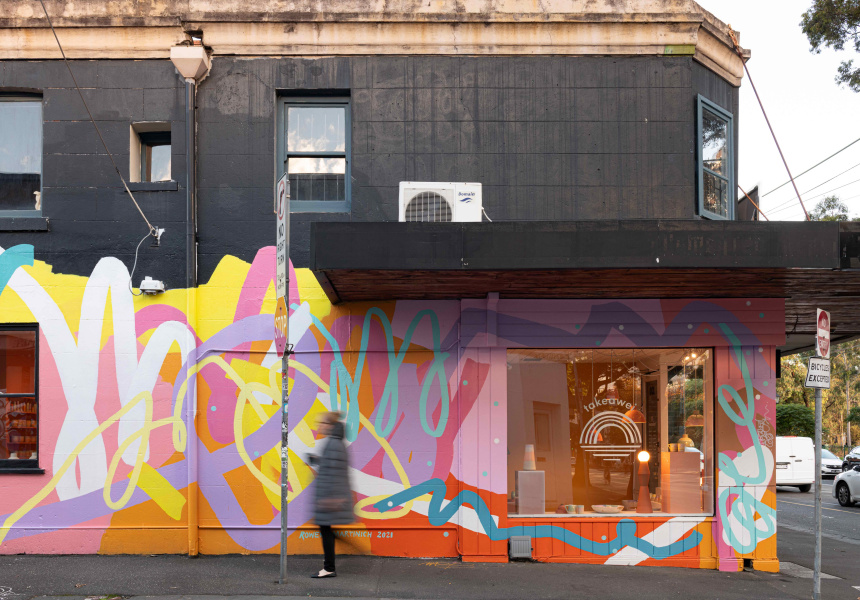 Takeawei opens brightly colored ceramics store – and upstairs Airbnb with the same charm
At the corner of Gertrude and Young streets in Fitzroy is a brightly colored store that combines fun and functionality. This is the new home of Takeawei Ceramics.
When Chela Edmunds started in 2013, "It was just me doing everything… a bag of clay and a really old pottery wheel," she laughs. But since then, the local label has gone from being an online exclusive to bricks and mortar in Edmunds' 'dream location'.
And it's impossible to miss, not least because of the large and radiant exterior mural that Edmunds commissioned Melbourne artist Rowena Martinich to create.
The Takeawei team has a studio in Torquay where all of their ceramics are handcrafted – and where they host workshops for those who wish to gain hands-on experience. And at the Fitzroy store, there's an ever-changing rotation of multi-colored, pastel-hued creations: interestingly shaped vases, striking fruit bowls and platters, and dinnerware. There is also a range of "breasts", or jewelry boxes in the shape of breasts.
Plus, a different limited edition mug is released each month (here's a look at what you might find). "Once it's used up, we move on to the next style," says Edmunds. "That way we can kind of get one out and anyone who wants to can get it – and then we move forward creatively. "
In addition to ceramics, Takeawei sells other items to help make your home more comfortable: woolen blankets designed by Edmunds (made at the Geelong Weaving Factory), bed linen and loungewear. from the Society of Wanderers and works by local artists, including Martinich.
It's not just a store, however. Upstairs is a beautifully appointed Airbnb – a small one-bedroom hideaway called Gertrude's Apartment – which has the same charm as the store and shows how well some of the more popular rooms can work in situ. The space has beautiful wood floors, a plush lime-green sofa, Australian chairs and side tables, and a secluded, leafy balcony.
Gertrude's apartment costs $ 120 per night and can be booked online.