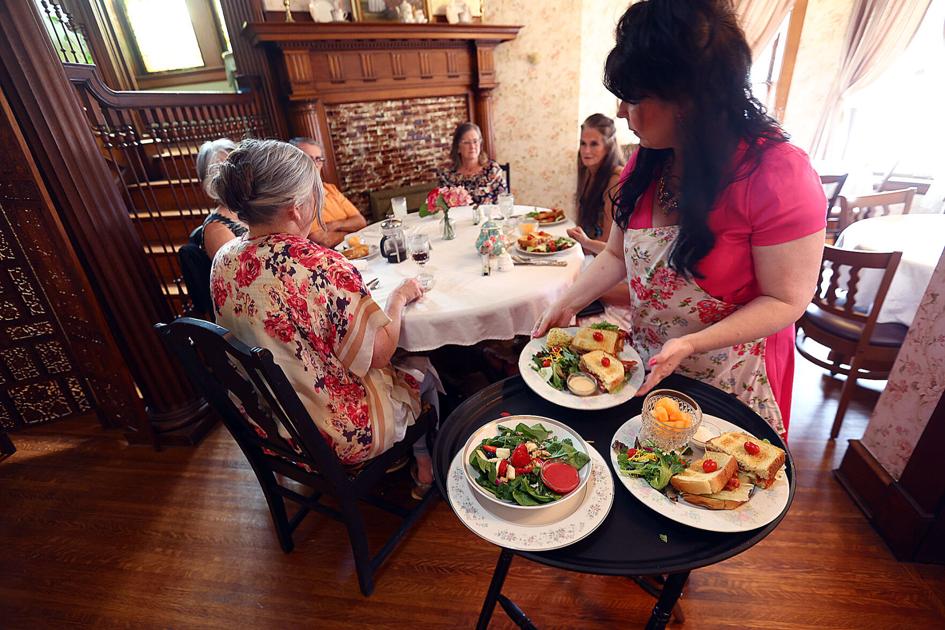 Tea room, cafe opens inside a unique Victorian house | New
You don't have to travel to England to sample an authentic high tea. Just head to The English Rose Cafe & Tea Room.
The new restaurant opened earlier this month inside the 118-year-old Queen Anne Victorian home at 502 W. Jefferson St. The home features original stained glass windows, coffered ceilings and chandeliers. and is considered one of the best houses of its kind in its entirety.
Owners JoAnn and Henry David Dellenger said this kind of old-fashioned style makes it the perfect place to enjoy one of their extensive selections of homemade teas, scones and other goodies.
The cafe offers four different tea experiences, such as cream tea, which includes a freshly baked scone and a cup of soup. The Great English Rose Tea offers three teas, two sandwich choices, two freshly made scones, and a variety of sweet treats, all presented on a three-tiered service tower.
For those who want a more traditional meal, the cafe also serves waffles, quiches, pancakes, salads, grilled cheese sandwiches, BLTs, and chicken salad.
Henry David said no matter what guests order they are guaranteed a relaxed yet upscale dining experience, with fresh linens on every table in rooms decorated with fine china and 19th-century art.
"We want it to be a very calming environment," he said. "We want people to come and everything else to melt and feel almost like they're in a different place, even if it's only for an hour. "
Due to the limited number of places, reservations are required and can be made by calling 765-450-4934. About 30 people can sit inside, and the outside tables can accommodate 20 more.
A living room houses a small shop selling loose teas, Amish syrup, local postcards, candles, bath salts, and other items.
For the Dellengs, opening the tea room inside a Victorian house has made a lifelong dream come true. Last year, the two began searching for Victorian homes across the United States to buy them and turn them into a tea room, and they ended up moving into the Kokomo house.
"It's a style of house that we really love, especially the Queen Anne Victorian style, because I love porches," JoAnn said. "They don't make them like that anymore."
The two moved from their Greenwood home to Kokomo in June and spent two months working hard to brew the coffee. JoAnn said it helped the former owner of the house also operate a tea room and sell them tables and materials to start them up.
Over the past two months, the Dellengers have also refurbished another small residence on the Airbnb rental property. Henry David said the rental already had reservations through December.
Now that business is going well, the two are already looking for ways to improve and expand the operation. JoAnne said options they were considering include catering, opening a guest room space on the third floor, and hosting weddings on the property.
And although they've only been open for about two weeks, the Dellengers have said they already feel at home in Kokomo.
"Our customers have been so supportive and so wonderful," said Henry David.