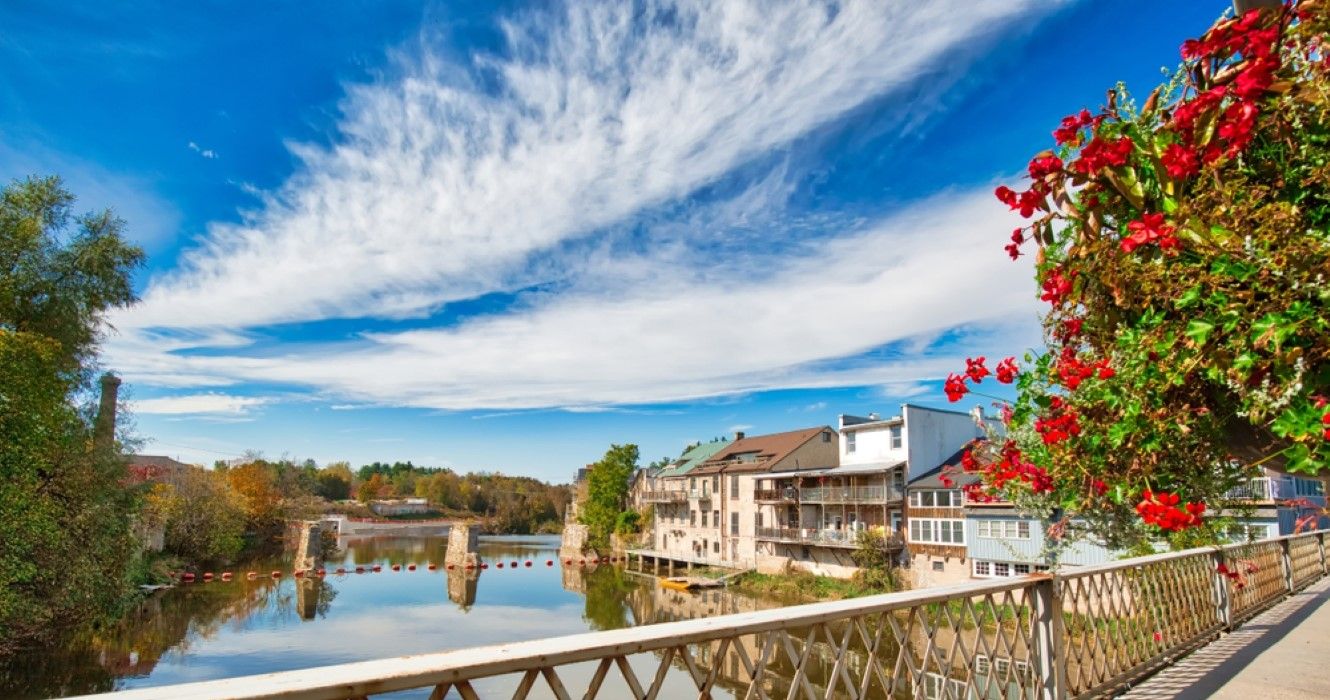 The 10 Most Charming Small Towns in Ontario to Visit This Summer
Summer is the time of year when most people book their vacations to soak up the sun, but that doesn't necessarily mean visiting an international destination. Canadians looking to travel locally this summer can explore these quaint towns that thrive on summer tourism. For international travelers heading to Toronto this summer, rent a car and take a day trip (or spend a few days) to one of these destinations to experience Ontario's unique small-town charm.
ten

Elora

Elora, Ontario is located in Wellington County and boasts beautiful 19th century limestone architecture. Elora is a quaint little town that sits beside the Grand River and was nicknamed "the most beautiful village in Ontario" by Canadian artist AJ Casson of the Group of Seven. A focal point of the village is the Elora Mill which backs onto the river and is an upscale wedding venue and spa. Visitors exploring Elora for a day can stroll the quiet streets, visit local shops, eat at one of the many patios, and hike the Elora Gorge.
9

Stratford

Stratford is Ontario's theater town, famous for hosting the Stratford Festival, where there is an impressive line-up of shows each season. This artsy little town is the birthplace of musician Justin Bieber and is just over an hour from Toronto, making it easy to visit on a day trip. There are plenty of quaint shops and delicious restaurants to try before hitting the theater.



8

Paris

Looking for a quaint Canadian town to spend a summer day in? Paris, Ontario may not have an Eiffel Tower, but it's called the cobblestone capital of Canada for its charming streets and traditional architecture. It is located where the Nith River meets the Grand River and has been named "Canada's Prettiest Little Town" by Harrowsmith Magazine. Take an ice cream Parisian Twist Treats before strolling through the beautiful streets and taking some photos of this small town.
seven

Goderich

Goderich is a coastal town in Huron County, Ontario. It overlooks the shores of Lake Huron, one of the five Great Lakes. Goderich has a quaint historic district and stunning views of the blue waters that stretch off the coast. The shocking blue tint of Goderich's water is due to the salt content of the water since Goderich has a large salt mining industry. Some of the best things to do in Goderich include enjoying a scenic day at Goderich Main Beach, visiting the Goderich Lighthouse, or visiting the Huron County Museum.

Related: Foodie Destination Ontario: A Guide to Its Best Dishes
6

Perth

Perth, Ontario attracts less traveler attention than Perth in Western Australia, but it's still an interesting travel destination when you visit Toronto. It takes approximately 3.5 hour drive to Perth from Toronto, so it's well worth spending a night or two in this charming town en route to Ottawa. Perth has beautiful green spaces like Stewart Park and Perth Wildlife Reserve, but it also offers a chance to learn about local history at McMartin House and the Perth Museum. Don't miss mammoth cheesemade from the milk of 10,000 cows.



5

South Hampton

South Hampton, Ontario is a small, upscale town in Bruce County on Lake Huron. It is a stunning seaside town that is perfect for exploring during the summer months, whether on a day trip or on vacation. There are cabins for rent in the area and tons of local restaurants serving high quality specialty dishes. For a taste of coastal living right here in Ontario, South Hampton is the place to be this summer.
4

big bend

Grand Bend is one of the best beach towns in all of Canada, so it's no wonder Ontarians flock to this beautiful destination from June to August each year. Grand Bend has a strong commitment to water safety and quality, ensuring visitors can swim at the beaches here each time they visit. For this reason, Grand Bend's main beach is 1 of 22 in the country to receive Blue Flag status for water safety.



3

Huntsville

Muskoka is Ontario's cottage country, and there's nothing quite like escaping the hustle and bustle of Toronto life for a rural getaway in Huntsville. This small Ontario town is home to the Deerhurst Resort, a popular wedding venue and retirement destination in the heart of Muskoka. Alternatively, travelers can rent a cabin or Airbnb on lakes like Fairy Lake, Lake Vernon, or Fox Lake. Prepare to see wildlife here, with deer, moose, black bears and even wolves frequenting the area. Mosquitoes are also ferocious in these parts of the province, so be sure to pack insect repellent.
2

Coburg

Cobourg is a tourist town east of Toronto that is famous for its beach. MoneySense magazine called Cobourg in Northumberland County one of the best places to live in Canada many times, and the city has a vibrant downtown that ensures visitors are never bored. Cobourg Beach is the city's main attraction; there is a large boardwalk, several scenic picnic areas, and a wading pool for children to play in.

Related: Here's How to Spend a Weekend in Ontario's Wine Country
1

picton

Picton is a beautiful little town located in Prince Edward County in southeastern Ontario. It is known for its many shops and historic architecture and for being the largest city in Prince Edward County. This region has wineries, craft breweries and cider houses open 12 months a year. So while summer is a fantastic time to visit when the weather is nice, it's a year-round entertainment destination in Ontario.