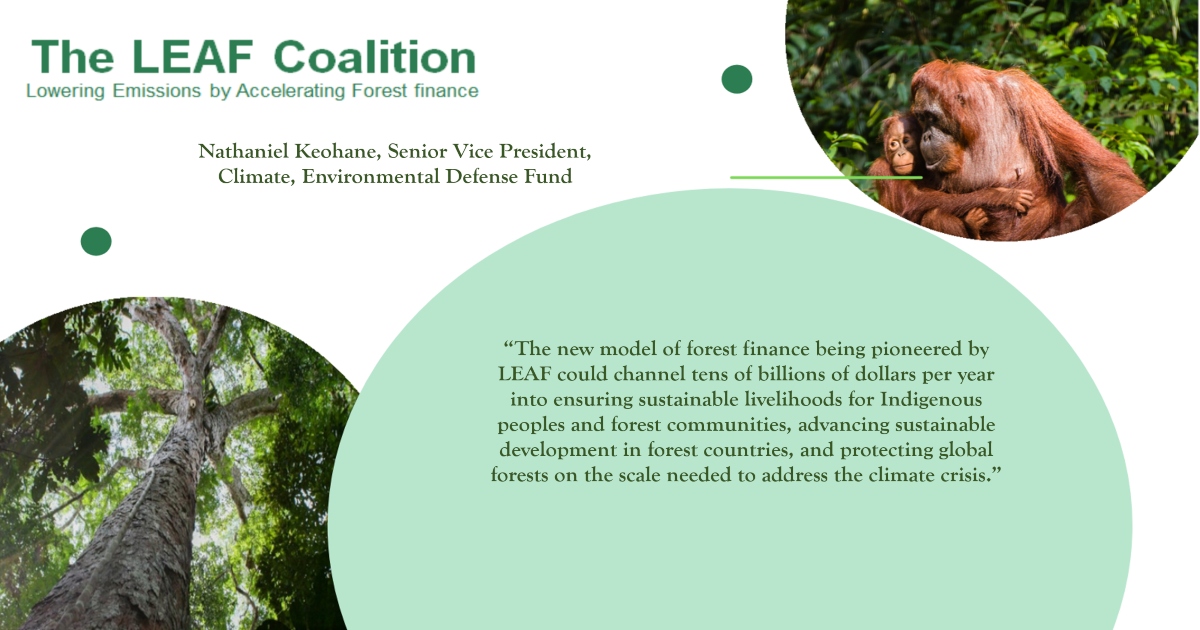 The Billion Dollar "LEAF" Coalition is a game-changer in the fight to save tropical forests, support indigenous communities and meet Paris climate goals
At today's Climate Leaders' Summit, three governments and nine leading companies announced a groundbreaking coalition to mobilize at least $ 1 billion this year for large-scale forest protection and sustainable development, which is designed for the benefit of indigenous peoples and forest communities. Known as LEAF, for "Lowering Emissions by Accelerating Forest financeThe global initiative is by far the largest private sector investment to protect tropical forests. The first participants are Airbnb, Amazon, Bayer, Boston Consulting Group, GlaxoSmithKline, McKinsey & Company, Nestlé, Salesforce and Unilever, as well as the governments of the United States, United Kingdom and Norway. Other participants are expected in the coming months. The results-based funding model used in LEAF builds on the work of the Environmental Defense Fund over two decades, in collaboration with indigenous communities, forest peoples, Brazilian and American NGOs and other partners, to protect Amazonian and tropical forests around the world.
"The LEAF Coalition is a game-changer in the fight to save tropical forests – a new model to catalyze finance, on a scale truly up to the challenge. Forests are vital to meeting the climate goals of the Paris Agreement. They support the livelihoods and traditions of indigenous peoples and forest communities. And they offer a myriad of other benefits, home to wonderful biodiversity and helping to regulate weather conditions on a continental scale.
As Victoria Tauli-Corpuz, former United Nations special rapporteur on the rights of indigenous peoples and executive director of Tebtebba (Indigenous Peoples International Center for Policy Research and Education) said: 'The power of this coalition is the example it sets, in particular for companies, whose participation is necessary to mobilize the funding necessary for the protection of tropical forests. The LEAF Coalition sets a high standard on how companies can supplement significant reductions in their own emissions by investing in further reductions in emissions from tropical and subtropical forests and also ensuring that the rights of indigenous peoples who have and who continue to protect these forests are respected. and fulfilled. These emission reductions do not replace – but are in addition to – significant reductions in emissions from their own value chains, in line with science-based reduction targets. '
"Tropical and subtropical countries have proven that it is possible to protect forests and develop their economies. What they need now is large-scale investments to support truly sustainable development, to protect against illegal clearing and to benefit the indigenous peoples and traditional communities who manage the forest.
"Participating companies are committed to reducing emissions from their own operations and supply chains in accordance with the demands of science. Climate leadership must also mean that companies work with partners to tackle their local impacts on air and water pollution that disproportionately harms the health of marginalized communities. What LEAF offers companies is the opportunity to do even more: contribute to global emission reductions beyond what they can achieve on their own, by protecting tropical and subtropical forests.
"This announcement is just the tip of the iceberg. In the future, the new forest finance model developed by LEAF could channel tens of billions of dollars per year to ensure sustainable livelihoods for indigenous peoples and forest communities, advance sustainable development in forest countries. and protect the world's forests on the scale needed to tackle the climate crisis.
"LEAF also represents a further step forward in social and environmental integrity. Strong social and environmental guarantees are at the heart of the TREES standard which will be used to measure and verify emission reductions. These guarantees incorporate the contribution of experts from around the world and reflect the success of years of advocacy by indigenous peoples in United Nations climate negotiations for these rights and protections in forest protection policies.
"The LEAF Coalition comes at a critical time. Ending the loss of tropical and subtropical forests by 2030 is essential for achieving global climate, biodiversity and sustainable development goals, as well as for sustaining the well-being and cultures of indigenous peoples and others. forest communities. Time is running out and the fate of the world's forests – and the climate – is at stake. It is not too early to mobilize large-scale investment.
# # #
Background
LEAF will use rigorous criteria defined by an independent standard, the REDD + Environmental Excellence Standard (TREES) established by the Architecture for REDD + Transactions (ART), to ensure that emission reductions are real and verified and that social and environmental guarantees are respected.
The initiative is administered by Emerging forest finance accelerator, a nonprofit connector of companies that wish to purchase credits or otherwise fund high quality tropical forest emission reductions and the tropical forest jurisdictions that can generate those reductions. EDF, in collaboration with partners, contributed to the creation of ART. EDF created Emergent in 2019 because we saw the need for an innovative new financing facility that could catalyze transactions for large-scale high-quality tropical forest protection credits.
EDF also joined forces with Emergent and the United Nations REDD Program (UN-REDD) to launch the Gigaton Green Challenge, a global initiative to catalyze the financing of a gigatonne (billion tonnes) of high-quality emission reductions from tropical forests by 2025. Nathaniel Keohane, EDF Senior Vice President for Climate, Headquarters Emergent's advisor, and Ruben Lubowski, associate vice-president of EDF President for forests and climate and chief natural resources economist, is a senior operating advisor for Emergent.
For more information on the LEAF Coalition, visit www.leafcoalition.org.