The coolest American houseboats on Airbnb: make your sea captain dreams come true
These little floating paradises are the ultimate refuge.
While 2020 was without a doubt the year of the motorhome, it's time we turned our attention to another formidable contender in the competition for the world's most unique travel experiences: the Noble Houseboat. These little floating houses are undoubtedly the ultimate summer retreat, giving you easy access to beaches, plenty of water space for kayaking or swimming, and plenty of sunbathing opportunities on the upper deck. Plus, when night falls, you'll fall asleep to the sound of the waves. Find the perfect floating paradise among these Airbnb houseboats across the United States.
Charleston, South Carolina
Rate: $ 412 / night
Once featured on HGTV Small house hunters, the Yacht Mascota was redesigned in 2016 for comfort on board. It can accommodate up to 6 adults, making it the perfect place for small parties. You can fish, take in the view of the Ravenel Bridge, or take bikes through historic Charleston. And animals are allowed!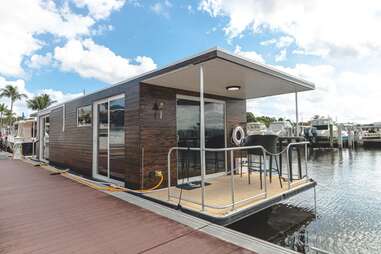 Stuart, Florida
Rate: $ 125 / night
Certainly the most elegant houseboat on the list, this Florida gem is a five-minute walk from historic downtown Stuart and six miles from Martin County beaches. The marina has its own amenities, including a restaurant, cafe and free bikes. Several reviewers have also noted surprise dolphin visits.
Los Angeles, California
Rate: $ 500 / night
This LA yacht screams old-school glamor, with beautiful wood furnishings, fine linens, and plenty of space. It's private, peaceful and secure, with 24 hour security and key card access. You can walk from the boardwalk to the beach, take dedicated bike paths, or, if you're lucky, catch a passing whale.
Portland, Oregon
Rate: $ 115 / night
This cozy wooden cabin with 360 degree views of the Columbia River is one of the few boats in this tranquil marina and includes an upgraded kitchenette, wifi, cable TV, and free kayaks. An ideal base for exploring nearby Portland, you can discover all the city has to offer by day and enjoy a low-key, quiet hideaway at night.
Queens, New York
Rate: $ 244 / night
Also known as 'James Franco', this funky little boat is moored in a private marina that's home to an artist-slash-surfer-slash-fisher community. Ultra kitschy space is enough to set up on your own, but if you're looking for an escape, the Rockaways are only two blocks away. Included in your stay: longboards and ukuleles.
Damariscotta, Maine
Rate: 245 $ / night
On the yacht Nebi, you will have a magnificent view of the picturesque town of Damariscotta, Maine, famous for its oysters. While on the water, you can kayak downstream and spot wildlife, including seals and ospreys, or visit a scenic lighthouse nearby.
Providence, Rhode Island
Rate: $ 160 / night
Your next weekend could be spent inside a converted 1956 tugboat. It has all the charming nautical details – bronze portholes, wooden boat wheels – and is within walking distance of downtown Providence. Drink your morning coffee in the comfortable wheelhouse, then sit on the aft deck to take in the city views. There is heat, air conditioning, and strong Wi-Fi.
Carolina Beach, North Carolina
Rate: $ 137 / night
With its bright green sail and mahogany interior, the Halo sailboat is the perfect setting for a Ralph Lauren photo shoot. You will have easy access to the beach, as well as restaurants and bars. And don't be fooled by the photos: guests often mention how surprisingly spacious the boat is inside.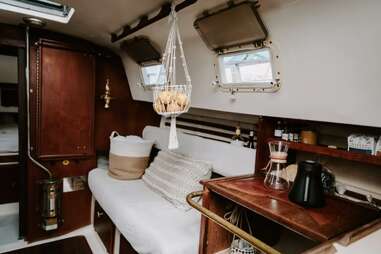 Bay City, Michigan
Rate: $ 103 / night
This comfortable sailboat is moored in a marina in Bay City, Michigan, just outside of the Bay City River Walk. With relatively limited amenities – the ship comes with electricity and running water, but you will need to bring your own linens and wash in the marina shower – it's about as close to the marina as you can get. camping on the water. You can also opt for a sunset stroll with your host.
East Dubuque, Illinois
Rate: $ 311 / night
Located on the backwaters of the Mississippi River, this refurbished 70-foot houseboat has a surprising amount of space, with a custom kitchen, master bedroom, bunkhouse, and basement for you to enjoy. The marina offers live music on weekends, as well as kayak rentals. Plus, you'll be a short drive from the aquariums, museums, and botanical gardens of Dubuque, Iowa, as well as the well-preserved 19th-century buildings of Galena, Illinois.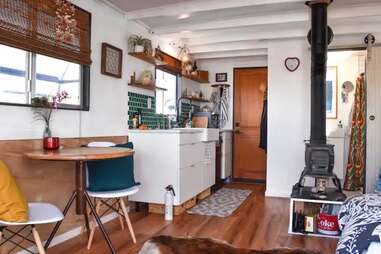 San rafael, california
Rate: $ 98 / night
If you want to spend a weekend exploring Muir Woods or Mount Tamalpais, this bright and Pinterest-perfect houseboat in San Rafael is the perfect stay. Take the ship's kayak down the San Rafael Canal or visit the nearby Terrapins Crossroads to listen to live music.
Want more thrills? Follow us on Instagram, Twitter, Pinterest, YouTube, TikTok and Snapchat.
Jessica Sulima is an Editorial Assistant at Thrillist and most certainly dreams of being a Navy Captain.