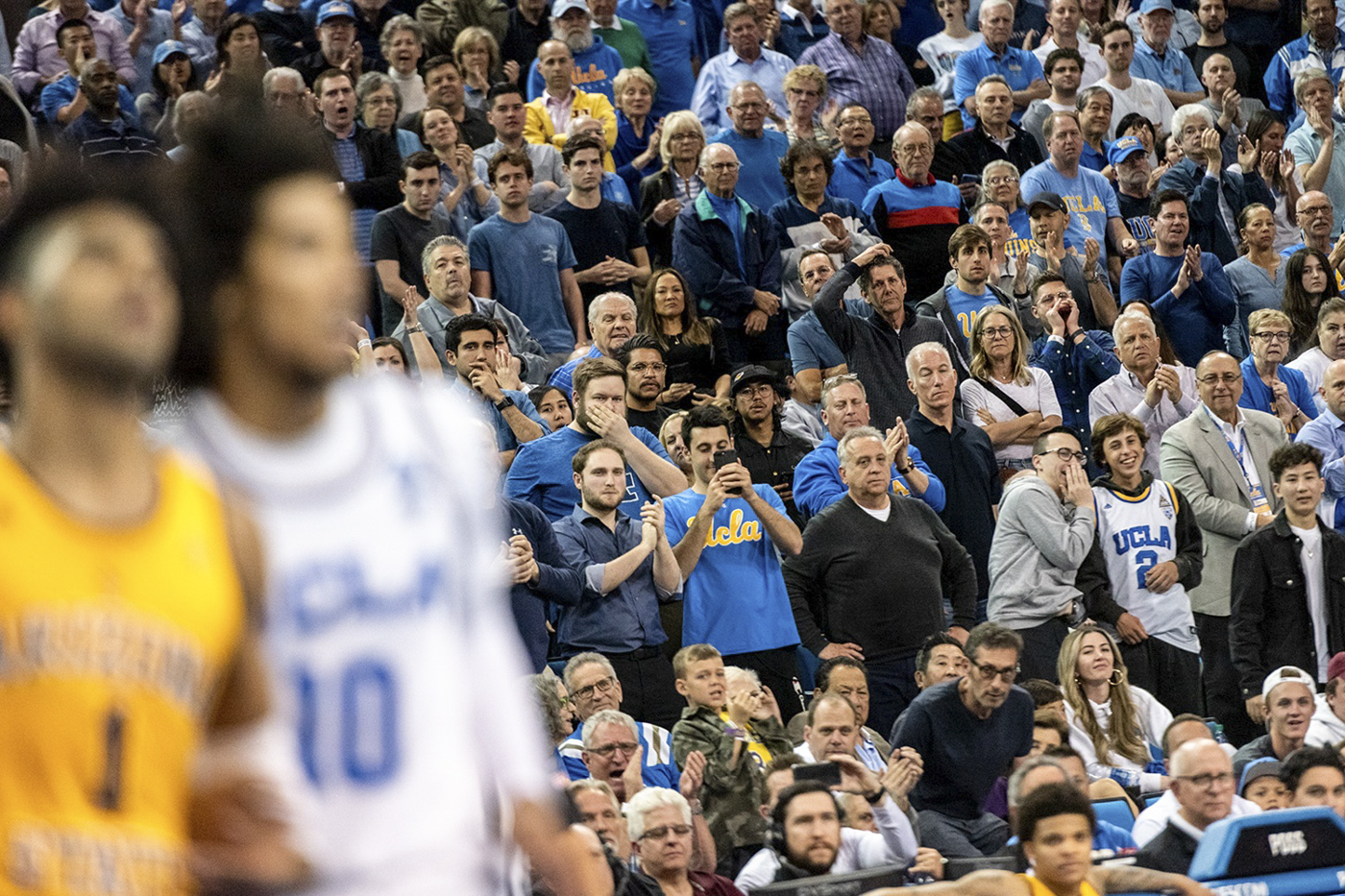 The excitement is Bruin in Indianapolis as the Den prepares for the UCLA Final Four game
INDIANAPOLIS – The Bruins have had a full season under their belt this year, but it has come at a cost.
The lair was not there to see him.
At least not until March Madness.
"It's crazy," said fourth-year political science student Jake Gibbons. "We've only seen wins this entire season."
Gibbons, fourth-year computer science student Brendon Ng, and fourth-year psychology student Maddy Perdue booked their trip to Indianapolis the night the UCLA men's basketball (22-9, 13-6 Pac -12) was selected to play in the Top Four Returning on Selection Sunday. For the first time this year, they could see the Bruins take the field in person.
Each member of the trio is on the Den Operations Club board of directors – Ng is president, Gibbons is director of internal affairs and Perdue is director of social media. The club that runs the student section of UCLA has nearly 60 members, but only four flew east to watch the first games after a season of virtual parties.
One of the group had to leave for another vacation they had planned, leaving Ng, Gibbons and Perdue as the last remnants of Den Operations to cheer on the Bruins.
That's exactly what they did, and now their team is heading into the Final Four.
"We were all, of course, disappointed that we couldn't attend any of the games this year, but I think it surpasses it," Ng said. "Honestly, it was amazing. I wouldn't trade it.
They watched UCLA take down the State of Michigan, No.11 seed, BYU, No.14 seed, Abilene Christian, No.2 seed, Alabama, No.1 seed and Michigan, following the team across the state of Indiana to see this happen. live.
As with any spring break trip, there was at least a little planning to do, and theirs didn't really show much faith in the Bruins.
"We really didn't know what to expect because it's March, you can't predict anything," Perdue said. "If we lost (in) the First Four, we were planning to train all the way to Chicago and spend the weekend there. We kind of had a back-up plan because we really weren't sure.
Den members initially booked a return flight to Los Angeles for March 23, and they have since had to change their flights twice in order to accommodate the upset victories. The extended stay also resulted in the three fans jumping from hotel to hotel, eventually ending up in an Airbnb to try and save some money.
Even though travel plans showed otherwise, Gibbons said he set some tough ground rules for trying and there would be wins.
"My whole thing was, I didn't buy any product until we got to the Final Four," Gibbons said. "I was ready for us to go all the way."
Ng, Gibbons and Perdue will be in Indianapolis for 17 days by the time Saturday's Final Four game kicks off, meaning they have had plenty of time to get comfortable in their new surroundings.
The first week of the NCAA tournament was held during UCLA winter quarterfinal week, and all of the Indianapolis students had to juggle exams and homework with the games they came in. see in town. Gibbons even said their bedroom started to feel like home – a cramped Westwood apartment filled with college students trying to balance academics and intense fandom.
After two weeks of exploring the city on shareable bikes and hitting the District Tap for post-game celebrations, while surrounded by Final Four paraphernalia, Ng said a one-site tournament should become the new normal.
"I think they should do all the March craziness in a city every year," Ng said. "It's great for the city. It's great for the fans. Especially non-COVID, that would be absolutely glowing. "
In terms of games played, the Bruins have a perfect 5-0 record with the reduced Den cheering them on from the stands.
They brought all the classics with them on their trip: 8-claps, the appeal and more. But this team was different, they said, and the bench celebrations of junior goalie Russell Stong and first-year forward Logan Cremonesi and the constant dancing of red-shirted second-year forward Kenneth Nwuba helped. to bring these Bruins to life in a whole new way.
"Culture is just contagious," Perdue said. "We're all so into it because they're so into it."
About 20 more members of Den Operations are expected to arrive before the game on Saturday, just a small chunk of UCLA fans coming from afar to see him take on No.1 seed Gonzaga in the show's first Final Four since 2008. Three Dedicated fans will be in Indianapolis to show them the ropes and welcome them with open arms – from a distance, of course.
"We're just the luckiest people in the world to be here," Gibbons said. "I will be 100 years old and I won't forget a second."