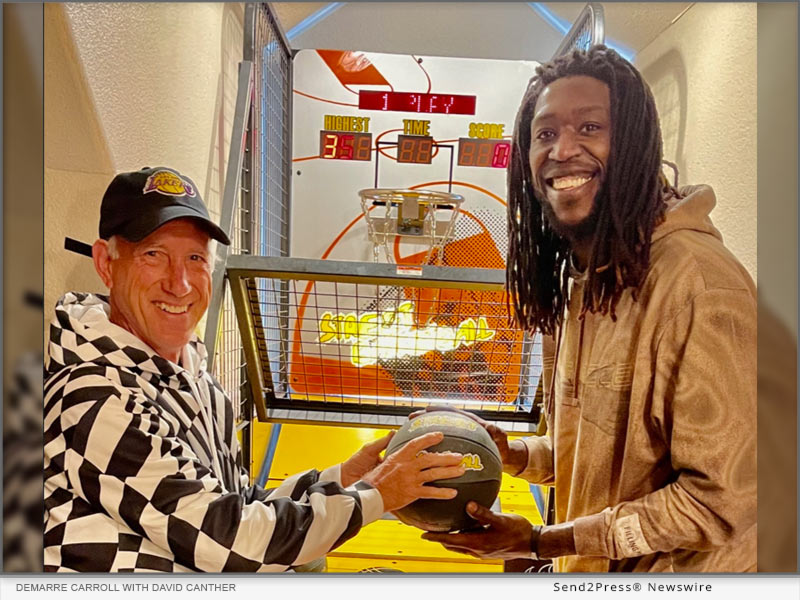 The world's only truly immersive sports AirBnB receives visits – and competitions – from professional athletes
ORLANDO, Fla., Jan. 24, 2023 (SEND2PRESS NEWSWIRE) — A sprawling 54-acre, sports-themed AirBnB-style resort near Orlando is defying what market pundits call the "AirBnBust," Orlando Area announced today Luxury Rentals LLC.
Photo caption: DeMarre Carroll, former NBA star, with
The owner of Lake Louisa Castle, David Canther.
Lake Louisa Castle, adjacent to the beach at Lake Louisa State Park in central Florida, is a dream come true for sports and outdoor enthusiasts. Sports legends and famous athletes have already begun to take notice and are vying not just to stay at Lake Louisa Castle, but to compete there as well.
During his time at the estate, recently retired NBA player DeMarre Carroll broke the Castle's high score in the arcade basketball game, but his feat was soon overtaken by a high school teenager whose family rented the estate shortly thereafter. A few weeks later, former Titans player Michael Harrington stayed on the field and tied what now remains the current best score of 422.
With families traveling from all over to stay at Lake Louisa Castle, it's only a matter of time before another amateur athlete beats a pro's top score.
As AirBnBs across the country begin to fail, Lake Louisa Castle has clearly hit a home run and remains impressively booked throughout the year.
Owner David Canther says part of the secret to what he calls his "AirBn-SLAM DUNK" is to deliver a unique and immersive experience. "When you invest your heart and soul in building a home, people will pick up on that energy and come play – and stay."
The Lake Louisa Castle Sports Mansion also offers a huge screened-in pool, karaoke, home theater, inflatable human foosball, Connect Four hoops, boating, fishing, and more.
See Lake Louisa Castle here: https://www.laclouisachateau.com/.
About Orlando Area Luxury Rentals LLC:
Orlando Area Luxury Rentals LLC is a Central Florida company offering unique mansions for rent on a gated estate. A unique brand of "Themed Home Experience" combined with "6-Star Service" has helped OALR maintain a world-class reputation for excellence among travelers. Learn more: https://orlandoarealuxuryrentals.com/.
No celebrity endorsements claimed or implied.
News source: Luxury Rentals in the Orlando Area LLC