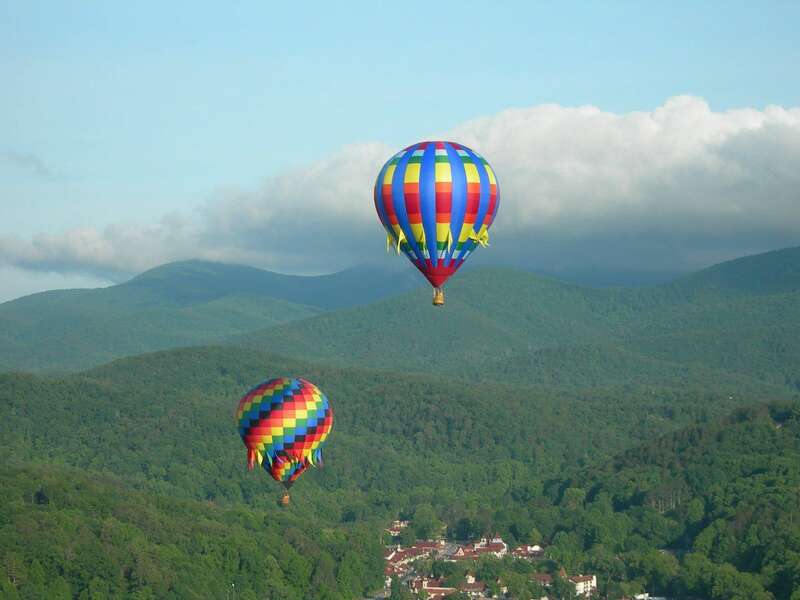 Things to do in Helen, Georgia: 7 reasons to travel this summer
It's time for a change of scenery.
In the depths of summer, you are undoubtedly planning your next escape from Atlanta. Considering you've probably been trying to beat the heat this summer while visiting Savannah and / or one of the many great beach towns in the Southeast, it's time for a drastic change of scenery. Lucky for us Atlanta residents, there are countless travel destinations around Georgia, and most, if not all, are within driving distance. One of those must-see destinations is Helen, a mountain town in northeast Georgia that attracts families, beer lovers, and lovebirds all year round. Whether it's essentially a hidden mini-Germany on top of Georgia or its plethora of fun water attractions, this unique Bavarian-style town definitely proves that you don't have to go to the beach. to have a good time during the summer. Still, if you still need a little more conviction, we get it. Here are over 50 compelling reasons to visit Helen, Georgia.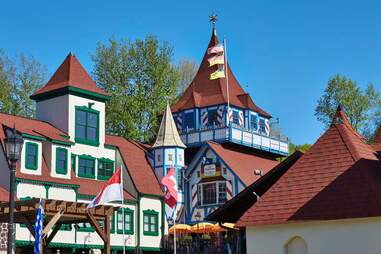 Courtesy of The Heidelberg German Restaurant, Bar & Music Hall – Helen, GA
Taste German cuisine without leaving Georgia
One of the most fascinating aspects of Helen is that it is a picturesque replica of a Bavarian Alpine village in Germany. Towards the end of the 20th century, Helen was redesigned to bring a classic German touch to North Georgia, and in addition to her quaint visual aesthetic, the European influence is also present in the mountain town's restaurants. In Helen there are several restaurants where you can go to enjoy an authentic German dining experience, including German restaurant, pub and music hall The Heidelberg, The Trolls Tavern and Restaurant, Bodensee, Hofer bakery and cafe, Restaurant-Pub Hofbrauhaus, International Cafe, and Village Crepe Haus. Plus, there are still several great places that serve Southern fare and American classics for less adventurous travelers, including Cowboys & Angels, Paul's Steakhouse, Bigg Daddys Restaurant and Tavern, Tavern and pizzeria in the village of Nacoochee, and Betty's country store.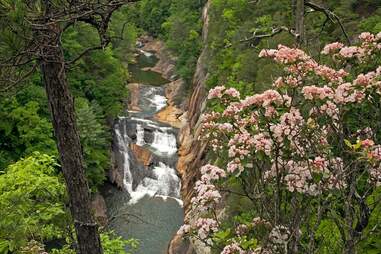 Courtesy of the Tallulah Gorge State Park page
Get some fresh air while visiting natural sites and historical monuments
In addition to the excellent dining options in Helen, the area is full of beautiful nature trails and historic landmarks to explore during your visit. The one mile trail Helen Heritage Trail to Hardman is an ADA-accessible scenic route that connects the Hardman Farm State Historic Site to Alpine Helen, and Smithgall Woods State Park and Raven Cliffs Trailhead Trailhead are two other peaceful hiking spots near Helen. History buffs can enjoy quick trips to both the Indian Mound Sautee Nacoochee and the Covered bridge of the Stovall mill, and for those who don't mind driving a little longer for breathtaking natural sites, both Bald brasstown—Aka the highest point in Georgia — and Tallulah Gorge State Park are less than 30 miles from Helen. However, if all else fails and you don't have enough time to experience all of the wonderful outdoor spaces in and around Helen, visit Anna Ruby Falls is a must. Whether you take the 0.4 mile trail suitable for novices or the challenging 4.6 mile hike to the base of the waterfalls, you will be absolutely blown away by the beautiful Twin Falls.
Courtesy of Bear Creek Lodge and Cabins Helen GA
Relax in the cabin
During the summer, you probably imagine your dream vacation as a resort getaway or a lakeside villa, but spending time in the mountains can be just as refreshing, especially with the vast assortment of cabins in Helen. By using chalet rental platforms like Hélène chalet rental, Georgia Mountain Rentals, and Pinnacle cabin rentals, visitors may find the perfect cabin for their trip to the Appalachians, but honestly, you can't go wrong booking one with Bear Creek Lodge and Cabins. From cozy treehouses that sleep five to riverside cabins specially designed for those who enjoy fishing, Bear Creek Lodge and Cabins offers an excellent variety of cabins. And like other great travel destinations, the Airbnbs in the area are also absolutely gorgeous, so whatever you're looking for a romantic cabin about six miles outside of Helen or one Bavarian-style condo within walking distance of downtown Helen, you will have even more accommodation options to choose from.
Courtesy of Screaming Eagle Aerial Adventures at Amicalola Falls State Park and Lodge
Cool off with high altitude attractions
So far we've covered all of the relaxing and peaceful aspects of Helen that make it such a lovely neighboring town to visit this summer, but there are also plenty of exciting and bloody activities to participate in. Thrill seekers who often spend their summers at Six Flags will be surprised that Helen has her own roller coaster – the small but electrifying and self-controlled. Georgia Mountain Coaster. You can also beat the heat by getting wet in the Helen Tubes and Water Park or by slaughtering the Chattahoochee with Cool river tube, and if you are a very good swimmer who doesn't mind driving around an hour for an exceptionally thrilling experience, White water rafting offers various rafting trips on the Chattooga River. For those looking to have fun without getting wet, you can zipline at Adventures of Nacoochee or the Unicoi Zipline and Aerial Adventure Park, and the Alpine amusement plant has everything you can think of from indoor and laser tag go-karts to an arcade and ice rink.
Discover the Bavarian charm of downtown Helen for yourself
As previously mentioned, part of what makes Helen one of Georgia's most popular tourist spots is its captivating alpine aesthetic. So when you're not roaming the skies or going down the Chattahoochee River, make an effort to explore downtown Helen. Museum attractions and activities like Alpine mini-golf, Outpost Gold & Gem Mining Co., Charlemagne's kingdom, Helen Arts and Heritage Center provide fun for visitors of all ages, and there are also plenty of shops to explore, including The glassblowing shop, the Hansel & Gretel candy kitchen, and the Nacoochee Village Antique Shopping Center.
Gertrude Herbert Art Institute.

| Courtesy of Explore Georgia
Explore the neighboring towns of North Georgia
One of the perks of visiting Helen is that you'll be closer than ever to many of Northeast Georgia's landmarks and must-see cities. So if you are staying in Helen for a while and don't mind hitting the road for 30-45 minutes, there is plenty to explore in the surrounding area. About 21 miles north there is Hiawassee– home to High Shoals Falls, riddled with waterfalls, Hiawassee Antique Mall and Hightower Creek Vineyards. You can also get closer to the Georgia-South Carolina border to see the Toccoa Falls– tallest single drop waterfall east of the Mississippi – in person. Helen is also within 30 miles of both Dahlonega and Blairsville, so you can either head southwest to stock up on vineyards or head northwest for peaceful outdoor recreation.
Courtesy of Yonah Mountain Vineyards
Hit a bunch of breweries and wineries
If you want to make an even more lively trip to Helen, you must take advantage of the multitude of wineries, breweries, wineries and bars. To start, whether you stay there or not, have a drink at the top of the Valhalla Resort Hotel Sky Bar is pretty darn close to an essential Helen experience. Then there are the cellars. Sweet Acre Farms Vineyard Tasting Room is a large family-owned winery in Helen, and for an even more extensive tasting experience, take a trip to the Unicoi Wine Route. The trail is essentially a wine exploration of northeast Georgia that includes six local vineyards and wineries, including Yonah Mountain Vineyards, Habersham Vineyard, Serenity Cellars, The chalet vineyard, Sylvan Valley Lodge & Winery, and CeNita vineyards and cellars. And of course, if you are just looking for some great local beers, Alpine brewing bridge and Tantrum brewing company are two must-see destinations for beer lovers.
Want more thrills? Follow us on Instagram, Twitter, Pinterest, YouTube, TikTok and Snapchat!
Joshua Robinson is an Atlanta-based entertainment critic and lifestyle writer for Thrillist. Follow him on Instagram at @roshrisky.