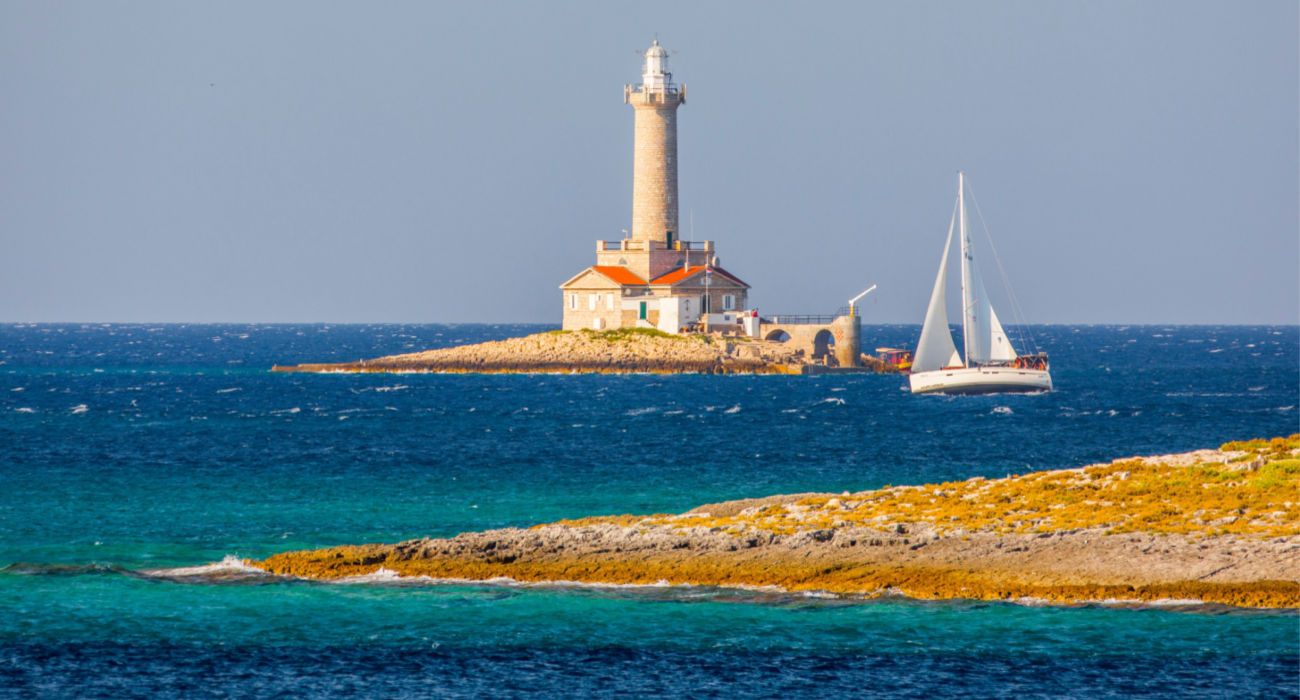 This Croatian Airbnb Listing Offers an Entire Lighthouse and Island
The Porer lighthouse offers a particularly original getaway option on the beautiful Croatian coastline.
Lighthouse Porer Premantura, Istria, Croatia
Croatia is a small Mediterranean country widely acclaimed for its spectacular coastlines rich in history. Some places like Dubrovnik were even used for the filming of Game of Thrones (there are also Game of Thrones tours). A completely different way to experience the Croatian coast is to stay at a lighthouse on an islet. Imagine having an entire lighthouse island as accommodation naturally; the island is only accessible by boat.
Porer Lighthouse is open for booking and is a great way for people to have a completely different Croatian experience. Croatia is one of the most popular tourist destinations in Europe and is famous for its spectacular coastlines. These coasts are full of things and places to see. Sometimes visitors struggle choose between stunning locations like Split and Dubrovnik along the coast.
Porer Lighthouse – The most unique Croatian accommodation
Porer Lighthouse is available for rent and is located on a small island of the same name. Porer Island and its Porer Lighthouse are located 2.5 km or 1.5 miles off the southern cape of Istria and close to the village of Premantura. The Porer Lighthouse was first built in 1833 and could accommodate four people in each of its two apartments.
Height: 35 meters
Built 1833
The lighthouse is accessible from the small village of Premantura. Premantura is a small village located at the southern end of the Istrian peninsula. The nearest town is Pula to the north. The area is full of coves and beaches, and the area is full of ancient history.
Access: By boat from the village of Premantura
Dinosaur footprints: A local attraction in Premantura Kemejak
Besides the many years of ancient empires and kingdoms that ruled the Croatian coast, there are also some 146 dinosaur footprints in Premantura Kamejak. These footprints are said to be over 90 million years old.
Related: How to See Fort Lovrijenac in Dubrovnik for the Ultimate 'Game of Thrones' Experience
Porer Lighthouse Facilities
The lighthouse has two apartments, each of which can accommodate up to four people. Each of the apartments has two bedrooms (both are equipped with large double beds and bunk beds). Other rooms in the apartments include a kitchen (equipped with an oven, fridge, hob, cooking utensils and other basics) and a bathroom.
Apartment A1:
Cut: 45m2
Rooms: 19m2 and 7m2
Bedrooms: A double bedroom and a bedroom with bunk beds
Apartment A2:
Cut: 42m2
Rooms: 10m2 and 14m2
Bedrooms: Two double bedrooms
Staying at the lighthouse is a retreat from the rest of the world; there is no Wifi access, and it is only accessible by boat. It will be necessary to bring all the necessary provisions on the island.
Related: Visit the 7th wonder of the ancient world: the lighthouse of Alexandria
Plan your visit to Porer Lighthouse
To get to the island, you will need to take a boat transfer from the coastal village of Premantura. Return transfer costs 100 euros per apartment. Boat transfers take place in the morning, although the exact duration of the crossing depends on the weather. Generally, the crossing takes between 25 and 35 minutes.
Transfer time: Between 25 and 35 minutes
Cost: 100 euros per apartment – return transfer
You have to plan ahead because there is nothing (no shops, convenience stores, etc.) on the island, so guests will need to bring everything they need with them. Groceries can be bought in Pula or Premantura before taking the boat for the transfer to the island.
There is a minimum stay on the island of 3 nights. Check-in is after 9:00 a.m. and check-out is before 9:00 a.m. Prices may vary by listing; we can see their ad on Airbnb. At Lighthouse Croatiathe price for the 2022 season is:
Apartment A1:
Out of season: €72 ($74)
Low season: €103 ($108)
High season: €134 ($138)
Apartment A2:
Out of season: €70 ($72)
Low season: €100 ($104)
High season: €130 ($134)
Seasons:
High season: July 1 to August 31
Low season: June 1 to June 30; September 1 to September 30
Out of season: October 1 to May 31
Staying in a lighthouse is a unique experience that you have to try once. It's a great option for those looking to disconnect – but be aware that once on the island it's very disconnected. It will be very difficult to just run around town for something.