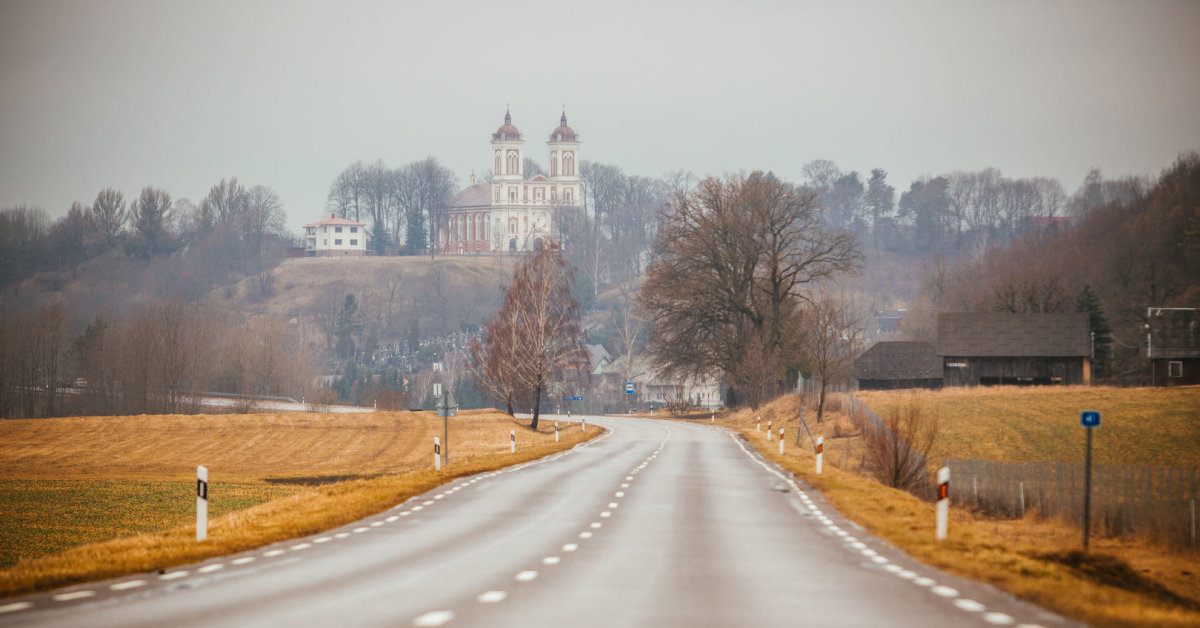 This road is an untapped opportunity for Lithuanian tourism. K.Žukauskas offers an idea to Lithuania
15min, with permission, shares his thoughts:
"Once again, the scandal in a flat place – trees are being cut down at Raudonė Castle, again the dissatisfaction of a part of the nation. And in a broader context, did anyone look? Here is one of the biggest untapped opportunities for Lithuanian tourism, and when there seems to be an attempt to move it a bit, Lithuanian resistance happens.
It is not surprising that Panemuniai Regional Park did not communicate in the context and left everything to the local elder to defend according to their communication abilities – but at least the locals can understand that they are cutting the branch on which they sit. Or rather, they are sitting on a large modern field of oil – tourism – and are not exploiting it. And still angry at those who try to dig up that oil for them.
You see, the matter here is simple, without wrapping in cotton wool – that Panemunė road from Kaunas to Jurbarkas is the ONLY real Lithuanian tourism product, it is easy to to mature "Path", ie a set of objects of one type on a certain section. We now have the "Beer Road", as if the "Cheese Road" had been created, maybe there was still or will be some Cold Borscht or 5G towers road, but all of them are just marketing projects, stretched and will only exist until advertised. However, the Panemunė road is already often used by travel agencies or travelers as the "Castle Road", but for some reason it is not understood by the local regional park or Kaunas district until then. and Jurbarkas municipality, and fails to develop this product.
The big brother of this Panemunė road is in Germany – Burgenstraße, or Castle road, or Castle Road. The Germans needed a mind back in 1951. a dozen castles combined into one product, called the Castle Road, to turn around communication and generate tourist pajamas. Later it expanded all the way to Prague, now the road is over 1000 km, and of course, certainly not all addicts are interesting. Part of the artificial test of the German Castle Road last year – the distances are bigger than in our country, the castles are different, so the experience is not concentrated. Much like the Cider Road in Normandy – faina, beautiful and delicious, but the passages are desirable.
Therefore, that tiny concentrated 80 km section between Kaunas and Jurbarkas really has potential. Here is the simplest, very easy, even banal route that you have probably tried the most, but can be the popular and famous Castle Road.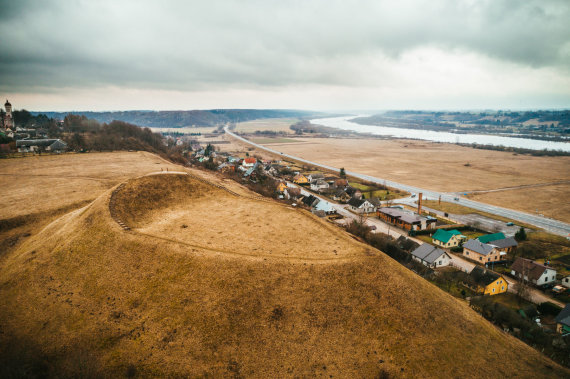 Photo by Irmantas Gelūnas / 15min / Seredžius
What does it take?
Need a scenic road – there is. Definitely one of the most beautiful road skirts of the year in Lithuania.
At least a few castles are needed, and there are other interesting objects around them. Starting from the well-maintained Raudondvaris castle (I intentionally call it not a manor, I think it's their mistake here), you can continue to practice and see something every 10 km: Vilkija church (also ferry), Seredžius mound, Belvederis manor (finally seeing), Veliuona mounds, Veliuona wooden manor, Raudonė castle, finally Panemunė castle (with the possibility to spend the night in a castle that we hardly have in Lithuania), there is still the Šilinė tavern with the park management and, if you want to extend it, Jurbarkas. And everything is just 80 km away – even a route suitable for bicycles.
At least some of these objects need to be visible to the naked eye while driving on that road. About that a little later.
What else is needed? Optional, but preferably:
The city and the airport are nearby – Kaunas.
On the way to towns and tourism infrastructure – there are places where you can find, find and more places to eat.
The opportunity extended the journey on an interesting road further – and there are several: from Jurbarkas to the east to Lithuania Minor, to the south – to the Zanavykai region and their manors, and if the route ends in Kaunas, there are not even any questions here.
The bonus is the Nemunas, without which the road would be interesting, but now even better. There is also the possibility of water tourism on the Castle Road.
I return to the visibility of objects. Whoever drove that road 10-15 years ago didn't see much of the objects on their own if you didn't follow the map. Fortunately, the mounded and hidden mounds have been arranged before, and these are the turn of the castles. The park of Panemunė Castle is being managed, and now it is Raudonė Castle 's turn.
Raudonė Castle stands on the beautiful slope of the Nemunas riverbed, at the bottom of which there is a road, which will be called the Castle Road. But at best, you could see only the top of the Raudonė castle tower, the castle was not visible, its façade was hidden from the Nemunas by a green slope. The slope bloomed before the Soviet era, but it is clear that no one observed that the Soviets valued our medieval prides in warehouses, schools, allowed trees to grow, and to each of them planted a farm next to each other – only to see less, to look scary.
Fortunately, what came to my mind was to ask for EU money to renovate the Red Castle Park and at the same time to unveil a view of the Nemunas. I haven't seen it live yet, but it should be impressive on both sides – both looking at the castle from the Nemunas or the road, and from the castle to the river. But it is not enough for someone to rejoice that such objects of the past are rediscovered (because when they acted like castles, those slopes were certainly not overgrown, because what is the purpose of building a castle on a slope where the image and possible attack are obscured by trees). The saddest thing is that the locals are opposed, who would go better than this fight and force their farm building to rent cozy Airbnb apartments.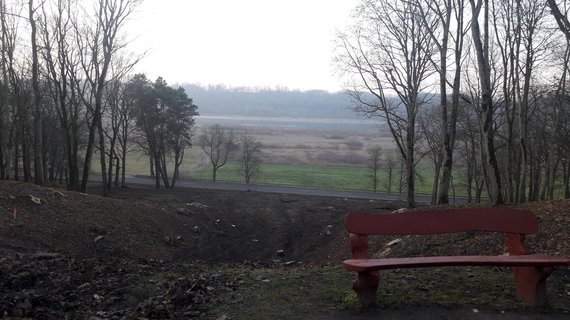 The view of the Nemunas opened from the Red Castle. Č. Photo of Meškauskas
So what does it take for this road to become a Castle Road? Practically everything is there, only a few things are missing, gift ideas for Panemuniai Regional Park:
Pack everything in a "Castle Road" product – you need a logo, you need descriptions of all objects and good photos, you need stories and stories. That product must appear in all tripadvisor and so on. in tourism channels where visitors can judge for themselves. It's not free.
Create a website with the address www.piliukelias.lt. I just bought the domain so that no one would think to resell it – if the park applies and promises that it will be used for its intended purpose, I will be happy to give it away.
You need an attractive drawn map with all the castles. Children's map of Lietuvon.lt (https://bit.ly/3cyvUOd) was written by my sister Neringa – I can sum it up if the park will be interesting. Clearly, drawing is not free.
You need to print those maps and add them to all the facilities and attractions on the same road and 50km around. For comparison, what the official map of Panemuniai Regional Park now looks like, offered to tourists: https://bit.ly/39wT1Kv. Castles are given as much importance here as they are for every forest square.
You need to know the signs at the beginning and end of the Castle Road – "Welcome to the Castle Road". In several languages.
Not only the usual brown tourist signs, but the exclusively designed Castle Road signs must be picked up at each object to be visited. They may be on top of those brown marks – I think an agreement can be reached with the Ministry of Transport.

Photo by Indrė Bungardaitė / 15min / Velelona

It is necessary to inform the visa tourist offices on the route that since then they have been working longer and working more (for example, this summer they call Panemunė Castle for the first time – "Will you accept for accommodation?" – "Oh, you know, we don't work on Mondays, even hotel ", or access to the Red Castle Tower should be possible from dawn to dusk), but has more tourists and more income. And locals are encouraged to think about some of the services they can offer tourists – everything from cheese to a unique overnight stay on the hay.
You also need a small communication campaign to get started. Then and promotional tools. Let the blunt and duller Bertulis and Mikaitis not knock on the roads of the USA now, but travel on the castle road and instastorina.
Car sharing and car rental companies need to be informed about this – they will bring travelers themselves to use only their services.
There is a need for attractions for children. Initially, at least a few larger playgrounds every 15-20 km, and later maybe others will priviliate the branch of Anykščiai Labyrinth Park. Or you will learn castle attractions for children from Šeimyniškėliai castle.
It is necessary to invent what a summer weekend was announced by the "Castle Day", and all the objects of the route were created for attractions for tourists. To make that road clogged with cars that weekend.
At least a couple more observation decks on the Nemunas side from the higher slope would not be mixed. One of these was built on the territory of Vilkija Church, but it seemed to stop working when I was last.
It is necessary to come up with and offer a couple check-in, a lunch or a day extension in Jurbarkas for those who want to continue the trip. You have an hour – see the mounds of the same impression as in Kernavė, only less knowledge – in Sudarge. He wants German heritage – he drives along the Nemunas further. He wants manors – with Zanavykus.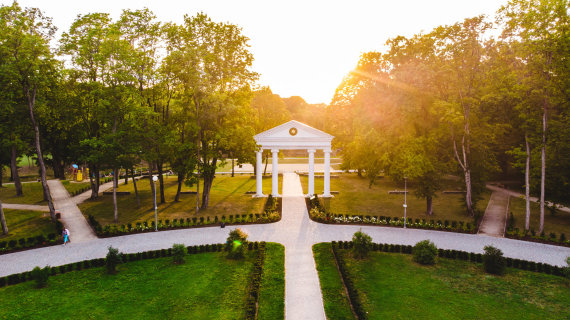 Photo by L.Bartašius / Jurbarkas manor
And when you do that, the additional work is the return route from Jurbarkas to Kaunas on the other side of the Nemunas, where an alternative to the Castle Road can be formed – the Manor Road. The objects are already there (Kiduliai manor – Gelgaudiškis manor – Zypliai manor with a wonderful kitchen of Kuchmistrai – wooden Ilguva manor – a couple of mounds along the way – and the completion of everything in Zapyškis church), just pack everything, just like with Piliai road.
And after expanding there, unique things can be included, such as the only stream-street in Plokščiai or the Four-Chapel on the aerodrome runway. I like the way the Sakiai Tourism Information Center works, so they are free to create it.
Does anyone believe this can attract tourists? Maybe then go to Anykščiai on a summer weekend – all they had to do was move their finger so much that it would become a center of attraction for summer travel. And there are more interesting objects in Panemunė.
In addition to the domain Panemuniai Regional Park, I can also donate several hours of this plan for the implementation of my work – just take it and do it. Ping, Panemuniai Regional Park. Writing myself, I believed that this plan is both easy and quick to implement, and has a place with several tourist competitors in Lithuania.
That's right, dear inhabitants of Panemunė, you don't need to be outraged by tree felling around the castle, but to make sure that all the beauty you have is open and suitable for tourism. And take the time to think about what services you can offer tourists when they bring you money.
I wanted to set aside 10 minutes. records of trees cut around the castle, but the impromptu got a little longer – I hope there will be those who want to do it. "