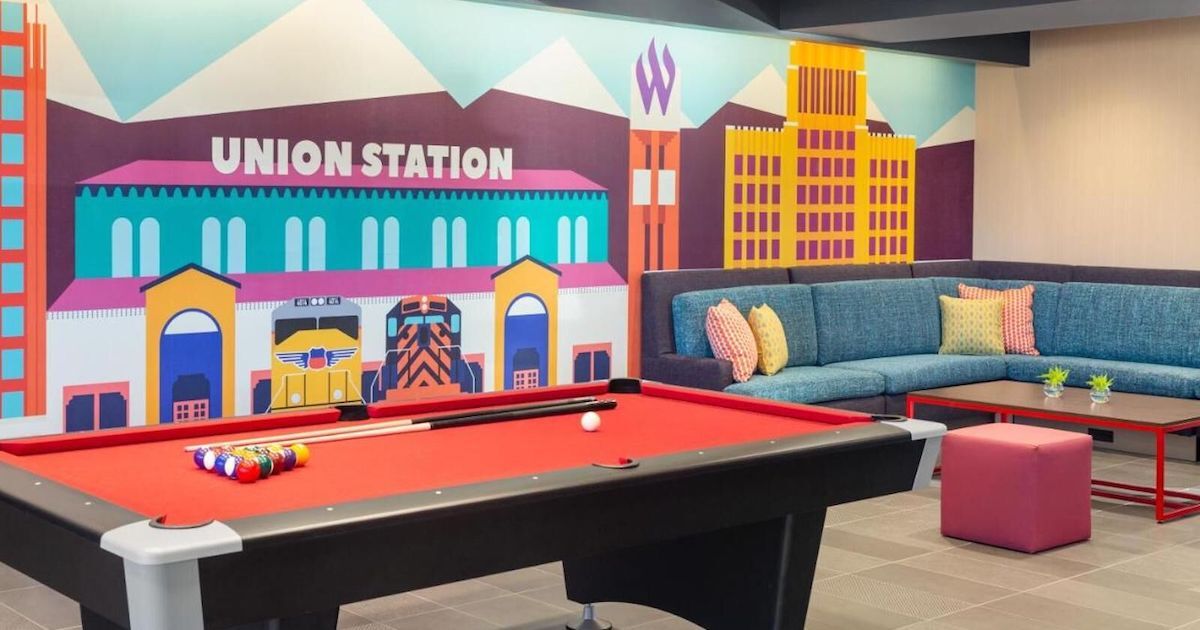 Tru by Hilton Ogden Review: The Perfect Adventure Basecamp
HIlton's first new branded offerings in this millennium, Tru by Hilton (founded in 2016) and Home2 Suites (founded in 2009) represent an attempt at contemporary freshness by the established hotel operator. They target people who travel often as part of a modern lifestyle and want well-equipped accommodation without having to shell out a month of disposable income for it. In Ogden, Utah, Tru and Home2 come together for a co-branded approach that brings together the hip business crowd of Home2 with the millennial audience of Tru by Hilton.
I spent a few nights at the Tru by Hilton/Home2 Suites Ogden in early September and found the property to be efficient in both accommodation and location. Ogden's Tru/Home2 mashup is a chain of hotels you really want to hang out at, rather than crashing and leaving first thing in the morning, stopping just long enough to refill your cup of coffee leaving. The result is a property that is, albeit unintentionally, perfect for the modern telecommuter.
We hope you love Tru By Hilton Ogden! Be aware that Matador may earn a small commission from the links on this page if you decide to book a stay. Prices shown are correct at time of publication.
Room to spread out and be productive
Charging outlets are everywhere, from the banquettes in the breakfast room to the pool table and dedicated work booths in the lobby lounge. My room on the Tru side of the hotel had chargers on both sides of the two queen beds. Neither my laptop nor my phone was ever far from a juice zap during our stay.
The living room looks like a modern A common workspace, because it is designed for both productivity and social connection. Three dedicated work desks enclosed in a half-capsule and with padded bench seats make this a perfect place to open the laptop during morning coffee. Desks also provide enough privacy that taking a call doesn't feel like a distraction to the whole room. Sofas and lounge chairs are also available, and, of course, the aforementioned pool table. This being Utah, no beer is sold on-site, but if you arrive prepared, the fire pit outside makes for a great happy hour or nightcap.
An inspiring place to stay in shape on the road
My favorite part of the Tru by Hilton/Home2Suites Ogden was its gym. As someone who travels regularly for work, I've spent a lot of time in dimly lit, cramped hotel gyms that would have been better designed as storage closets for housekeeping staff (and were probably formerly). The gym here is quite the opposite. Lined on two sides with large bay windows overlooking the city, there is not a single dark corner in the room. There's a free weight area with dumbbells on one side, machine weights on the other, and treadmills along the windows. Only one exercise bike was available, but I never had to wait for it. Modern pop was playing clearly but not too loudly on the stereo. The vibe felt like a hip, downtown big-city gym catering to the office crowd, which is sort of its intended user base, albeit relocated.
The indoor pool and hot tub are open year-round, and while the pool is certainly not Olympic-sized, it's big enough to do morning laps or play with the kids with as a bonus, at least during our stay, never have more than a handful of people using it at a time. Slipping into a hot tub after a long hike is one of life's greatest pleasures, and I was glad I didn't have to share the experience with a random family from Boston or Bridgeport.
Location and efficiency win
There's no more convenient location in Ogden. Lindquist Field, home of the Pioneer League's Ogden Raptors, is just across the street. Historic 25th Street, lined with Ogden's best restaurants, pubs and nightlife, is one block away. We were in town to hike the area's famous hiking trails, and several trailheads, including the 22nd and 29th street trailheads as well as the popular Coldwater Springs Canyon trailhead, are just a short walk away. minutes by car. For skiers and snowboarders, Snowbasin Resort is just 30 minutes from the hotel.
On-site, small sustainability efforts are apparent throughout the hotel. The bath in our room had no waste toiletries. Porcelain mugs are offered at breakfast and throughout the day at the coffee station. A water bottle refill station is located just outside the gymnasium.
Our room at Tru was basic but well appointed and efficient. A clothes rack was available instead of a closet – fine for most short hotel stays. A desk provided a productive space in the room, next to the television. The room overlooked the ballpark and was well lit with both natural light and LED lights. Laundry facilities are available on site and the lobby has a spacious 24-hour snack bar. The Temper Healy beds were comfy and plush, topped with crisp linens and a warm duvet that kept me warm even though my wife, Alisha, prefers to sleep in a cool – some might say cold – environment.
With a hot breakfast including omelettes, roast potatoes, waffles, and pancakes available, the hotel "wins at breakfast," as Alisha puts it. I love a good bagel, and these were plenty. There wasn't much to offer our granddaughter beyond a few bites of our meals, as the yoghurt packets and cereals available were loaded with sugar. But we stocked up each morning on eggs, potatoes and fruit before hitting the trail.
In the ongoing battle between hotel brands and short-term rental platforms, the inevitable winner is the traveler, and Tru by Hilton/Home2Suites Ogden is proof of that.